Smartphone App May Help Acute MI Survivors Stay Out of the Hospital
In a small, single-hospital study, the patient-friendly Corrie app slashed readmission rates and shows potential to save hospitals a bundle in penalties.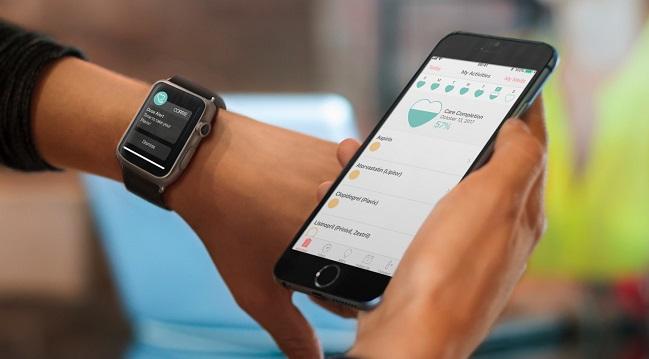 A smartphone app that helps patients keep track of medications and appointments after being discharged for an acute MI, plus engages them in ongoing self-care, shows potential to not only lower rates of 30-day rehospitalization but also provide significant savings in readmission penalties to hospitals, a new study suggests.
"We are really excited by the results that we've had so far," William Yang, MD (Johns Hopkins University Hospital, Baltimore, MD), said in an interview with TCTMD. The idea for the app grew out of feedback from patients who described feeling "lost" or confused by information they received either in the hospital or after discharge, or that was not easily remembered or ready when needed, he added.
The app, known as Corrie—Cor is Latin for heart—has a number of patient-friendly features such as a notes section for patients to write questions they may want to ask their doctors, photos of their physicians in addition to their names, and the ability to call a physician's office with a single click instead of having to look up and dial the number.
Yang, who presented results from the study on February 22, 2018, at the American College of Cardiology's Cardiovascular Summit in Las Vegas, NV, said the app addresses a key issue that often leads to noncompliance, namely, the ability to support patients in helping themselves at their own pace.
Readmissions Slashed, Savings High
The study consisted of 60 patients discharged for acute MI from a single institution. At the time of discharge, patients were either given the Corrie app to use on their personal iPhone, or if they did not own one, were loaned an iPhone for the 30-day duration of the study. All patients also were also supplied with Apple Watches, which synced with the app on the phone and collected data on heart rate and exercise.
Before patients were discharged, they were assisted with entering medication and physician information into the app and shown how to use it. Reminders were set up for medications and appointments, and information such as insurance cards and stent cards were scanned in for easy retrievability.
At 30 days, 3% of the study patients had been readmitted. By comparison, the risk-adjusted rate for acute MI readmissions typically seen at Yang's institution is 19%. The reduction in rehospitalization represented a savings of $262,500 in readmission penalties.
Currently the app is limited to patients enrolled in the ongoing Corrie study, but Yang said his team is actively working to expand its use to multiple sites, with the goal of ultimately conducting a randomized controlled trial. Showing efficacy will be important to long-term sustainability of the concept, which requires an up-front purchase of the iPhones to keep in circulation for patient use. But Yang said his group believes that the cost to institutions to set up the program and sustain it will be more than covered by how much hospitals will save.
"Seventy percent of the iPhones that we lend out actually come back to us, and the number is probably even higher than that," he noted. "But the cost to replace the 30% that doesn't come back to us is only 4% of what's saved in readmission penalties."
Yang said ongoing work with the Corrie app also is important for validating the concept of mobile health interventions, or mHealth.
"One of the challenges is that there's not a lot of evidence out there for efficacy of mHealth interventions," he noted. "A randomized controlled trial will help us determine how much of this effect we're seeing is from our app."
Photo Credit: Corrie Health

Sources
Yang W. Corrie and iShare: loaner smartphones as an effective model for mHealth. Presented at: American College of Cardiology's Cardiovascular Summit. February 22, 2018. Las Vegas, NV.
Disclosures
Yang reports no relevant conflicts of interest.