Smartwatch Device Accurately Detects A-fib Before Cardioversion
The KardiaBand device can be useful in certain situations, but diagnosis of an arrhythmia still needs to be made by a physician, one expert says.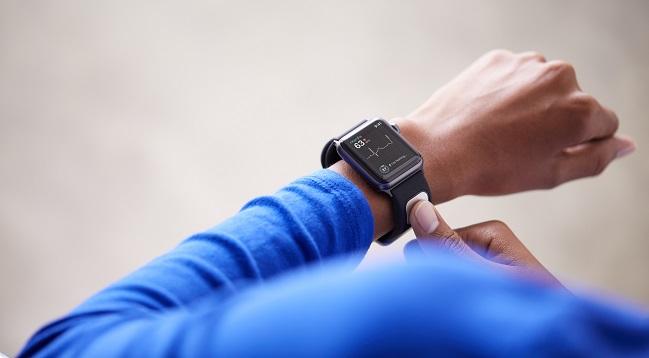 Demonstrating one potential application of the technology, an automated algorithm tied to the KardiaBand wearable ECG (AliveCor) performed "reasonably well" at detecting A-fib in patients scheduled for cardioversion when compared with physician interpretation of traditional 12-lead ECGs, a new study shows.
The KardiaBand attaches to an Apple Watch and provides a 30-second recording of an ECG rhythm strip when the user touches a sensor on the band.
The algorithm detected A-fib with 93% sensitivity and 84% specificity, "so not too many [bouts of] A-fib were missed, but some of them were overdiagnosed," senior author Khaldoun Tarakji, MD (Cleveland Clinic, OH), told TCTMD.
When physicians interpreted the readings from the US Food and Drug Administration-cleared device, sensitivity increased to 99%, with a specificity of 83%.
The study—scheduled to be presented by lead author Joseph Bumgarner, MD (Cleveland Clinic), during a poster presentation at the upcoming American College of Cardiology 2018 Scientific Session in Orlando, FL—provides evidence that the KardiaBand could be useful for screening patients for A-fib before a scheduled cardioversion. That could potentially save resources and streamline care by allowing those who are in sinus rhythm to avoid unnecessary trips to the electrophysiology lab, Tarakji said.
That's just one potential use, and Tarakji said there are plenty of opportunities to use the technology in the longitudinal management of patients with A-fib.
But, he added, care must be taken in how this and other similar wearable devices are applied in practice. "There's not only the question about the ability of the monitor to provide an interpretation," he said. "We need to be careful and cautious because we . . . don't always know what to do with short runs of atrial fibrillation, for example, in somebody who is completely asymptomatic. Does this warrant that person to be on anticoagulation? Sometimes the answer is yes, sometimes it's no."
Moreover, the flood of data from these wearable devices could become too much for physicians to handle. "It becomes noise. And what do I do with the information if somebody is completely asymptomatic?" Tarakji said. "I don't see this as a failure of the device, but these are gaps in knowledge that we have in electrophysiology."
In the current study, the investigators evaluated how well the KardiaBand and its associated automated algorithm differentiated A-fib from normal sinus rhythm when compared with physician-interpreted 12-lead ECGs in 100 patients who had known A-fib, were taking oral anticoagulation, and were scheduled to undergo cardioversion at a hospital-based electrophysiology practice. All underwent a precardioversion 12-lead ECG followed by a KardiaBand reading. Similar testing was done after cardioversion in those who underwent the procedure. Of the 15 patients who didn't undergo cardioversion, eight did not do so because they were found to be in normal sinus rhythm.
The study included 169 simultaneous ECG recordings. The automated algorithm provided a diagnosis for 112, with the rest considered unclassified. When physicians interpreted the KardiaBand recordings, however, 147 were interpretable and 22 were not. All 12-lead ECG readings were interpretable by physicians.
The study showed that the KardiaBand algorithm performed "reasonably well" for detecting A-fib, Tarakji said.
Commenting for TCTMD, Gregory Marcus, MD (University of California, San Francisco), said the results are reassuring because there had been some question about how the automated algorithm would perform. "It looks like for a final diagnosis of atrial fibrillation, certainly one where one would take actions such as decide on initiating anticoagulation, it appears that you would still need an overread from a physician first," Marcus said. "But I think it demonstrates that it could be useful for screening as well as for monitoring atrial fibrillation in patients who already have the disease."
The most immediate, clinically relevant application, Marcus said, will be for patients who have already been diagnosed with A-fib, are having symptoms, and are not sure whether what they're feeling is the arrhythmia. "So, for example, after an atrial fibrillation ablation, patients can often have symptoms where it's difficult to discern whether, in fact, they're having atrial fibrillation," he explained. "In that case, it can be helpful."
In the long run, however, the greatest clinical benefit might come in helping to make an initial diagnosis of A-fib, with the goal of getting patients on oral anticoagulation and preventing strokes, according to Marcus, who pointed out that that would require the device to be set up for passive monitoring. The devices might also help in picking up other types of arrhythmias as well, he added.
Notes of Caution
Marcus said it is relatively easy to incorporate use of wearable devices on the clinical side, but provided a word of caution.
There is "a general misconception that somehow physicians are well equipped and enthusiastic about receiving huge amounts of data from their patients that are now available on these devices. And so we do have to be careful regarding data overload," he said. "But I think in appropriately selected cases where knowing what the rhythm is at certain time points is useful and clinically relevant, it can be extremely useful."
We do we do have to be careful regarding data overload. Gregory Marcus
Marcus said it's important for people to be aware that wearable ECG technology is readily available now, but stressed that "the diagnosis of an arrhythmia still needs to be made in partnership with a treating physician."
Tarakji pointed out some potential obstacles to use of this type of wearable technology in practice. The devices are relatively affordable—the KardiaBand, for example, can be ordered for $199 on the AliveCor site—but are still priced too high for many people. In addition, Tarakji said, they are not currently covered by insurance.
Moreover, disrupting the status quo in terms of patient care can be difficult, requiring "champions" who are willing to challenge themselves and vet these new technologies, Tarakji said, noting that getting a new device on the market is just the first step toward having an impact on clinical practice.
"This is when the story starts from our end as a medical community," he said, adding that he hopes this study will trigger more excitement and enthusiasm among other institutions to evaluate these types of wearable devices.
Photo Credit: AliveCor

Todd Neale is the Associate News Editor for TCTMD and a Senior Medical Journalist. He got his start in journalism at …
Read Full Bio
Sources
Bumgarner JM. Assessing the accuracy of an automated atrial fibrillation detection algorithm using novel smartwatch technology. To be presented at: ACC 2018. March 11, 2018. Orlando, FL.
Disclosures
AliveCor provided the KardiaBand monitors, which were connected to an Apple Watch and paired via Bluetooth to a smartphone, for the study.
Bumgarner reports no relevant conflicts of interest.
Tarakji reports serving on the medical advisory board for AliveCor.
Marcus reports receiving research funding from Cardiogram and having received devices from AliveCor for various studies.