Some Concerns About New 'Tour de Force' Hypertension Guidelines
Editorialists worry about the impact on policy and reimbursement, plus how widely the guidance will apply in primary care.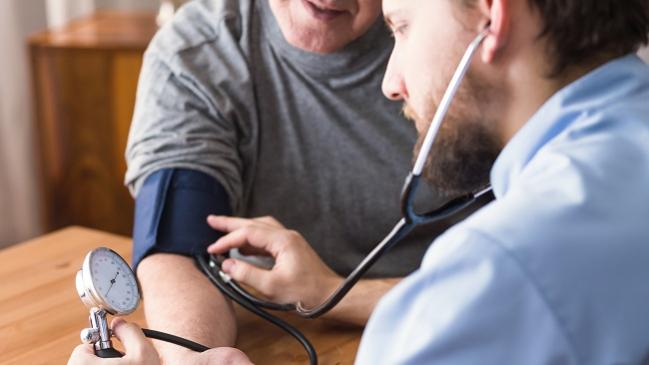 The new, comprehensive hypertension guidelines were met with mostly positive reviews when they were released last month at the American Heart Association (AHA) 2017 Scientific Sessions. Now that the medical community has had some time to digest the mammoth document, some concerns are surfacing.
Noteworthy changes in the guidance—which is approved by the AHA, American College of Cardiology, and nine other partnering organizations—include a lowering of recommended treatment goals and a reclassification of what different levels of blood pressure (BP) mean, effectively expanding the number US adults with hypertension overnight.
Raymond Townsend, MD (University of Pennsylvania, Philadelphia), told TCTMD shortly after the guidelines were released that successful implementation of the recommendations would depend on buy-in from patients and primary care physicians, indicating that there could be some challenges in that regard. "It's a handful to manage this thing," he said at the time, adding, however, that he thinks the recommendations will ultimately have a major impact and motivate doctors to start aiming for lower BP in their patients.
Now, Townsend and Jordana Cohen, MD (University of Pennsylvania), have detailed specific concerns in a commentary published online December 4, 2017, ahead of print in Annals of Internal Medicine.
While it's helpful to make people more aware of high blood pressure being important . . . I worry that it may cause a little bit of panic without necessarily providing the guidance on how best to manage some of the people who will be affected by these changes. Jordana Cohen
"The purpose of our commentary was by no means to put down the guidelines that came out," Cohen told TCTMD, noting that she and Townsend call the guidance a tour de force. "We think that they're an incredible resource of encyclopedic information," Cohen stressed.
In addition, she said, "I think it's good to make people more aware of hypertension as a problem in the community and to make patients hopefully more involved in their own health."
Nonetheless, there are some issues that need to be addressed, she said.
The guidelines lower the cutoff for defining stage 1 hypertension, setting it as a systolic pressure of 130 to 139 mm Hg or a diastolic pressure of 80 to 89 mm Hg. In people ages 20 to 45, the new definition triples the prevalence of hypertension in men and doubles it in women.
"This is a big issue because we really don't know how best to be managing these patients," Cohen said. Although the guidelines suggest lifestyle modification to control BP in this group, they do not provide advice on what to do if 3 to 6 months of lifestyle changes don't work, putting clinicians in uncharted territory, she said.
"While it's helpful to make people more aware of high blood pressure being important . . . I worry that it may cause a little bit of panic without necessarily providing the guidance on how best to manage some of the people who will be affected by these changes," Cohen said.
Implementation in the Community
A key aspect of the new guidance, according to Cohen, is that it provides a focus on how best to measure BP and includes discussions of home BP monitoring and the importance of screening for masked or white-coat hypertension.
But there are concerns, she said, about applying the recommendations in situations in which primary care doctors are not able to obtain perfect BP measurements as described in the document. The suggestions for measuring BP and reaching lower treatment goals are largely based on SPRINT, she added, but it's unclear how that guidance can be applied in communities where, due to heavy workloads and the lack of necessary support staff or other resources, it isn't possible to measure BP as well as it was done in the trial.
This is a major concern, especially in areas with lower socioeconomic status, where people often won't have the appropriate resources to perform home BP monitoring, Cohen explained. "I really worry if their clinics aren't able to measure their blood pressures correctly and if they're not able to do the correct type of home monitoring [whether] it's really appropriate to apply these blood pressure goals to people like that," she said, suggesting that overtreatment could be a potential consequence. "It really could cause more harm than good, especially in elderly patients, for instance, where risks of side effects from these medications can be quite significant."
Caution About Policy Implications
Another major issue Cohen highlighted is the fact that guidelines like these are often used to inform decisions about policy and insurance reimbursement.
"While it's really helpful to have this encyclopedic source of information to look at for academic physicians, it could cause harm for community physicians" if their reimbursement gets tied to their ability to treat patients to the lower, more aggressive BP goals, Cohen said, again noting that BP measurement might not be adequate in many community settings. "They may suffer in terms of their reimbursement, which would decrease interest in people in that community providing primary care and screening care that we need them for" and limit the availability of resources that would be needed to improve their methods for measuring BP, she added.
In their commentary, Cohen and Townsend note that "the Medicare Access and CHIP [Children's Health Insurance Program] Reauthorization Act and Merit-based Incentive Payment System may use these guidelines to define future healthcare payment models.
"Keeping that in mind, policymakers have tenaciously ignored home BP values when defining treatment goals," they explain. "Changes to reimbursement-linked, in-office hypertension thresholds can reap grave consequences in practices where broad implementation of more time-consuming, careful BP measurement is idealistic, particularly when the benefit to certain patient groups (such as those with diabetes and nonproteinuric chronic kidney disease) remains unclear."
Potential policy impacts and the feasibility of implementation in the wider community should be on the minds of guideline writers as they craft their recommendations, Cohen said.

Todd Neale is the Associate News Editor for TCTMD and a Senior Medical Journalist. He got his start in journalism at …
Read Full Bio
Sources
Cohen JB, Townsend RR. The ACC/AHA 2017 hypertension guidelines: both too much and not enough of a good thing? Ann Intern Med. 2017;Epub ahead of print.
Disclosures
Cohen and Townsend report no relevant conflicts of interest.