Targeted Delivery of Dexamethasone Combats Restenosis in Femoropopliteal Lesions: DANCE Trial
Data on nearly 200 treated limbs showed 13-month primary patency of around 80% with atherectomy or angioplasty plus the adjunctive therapy.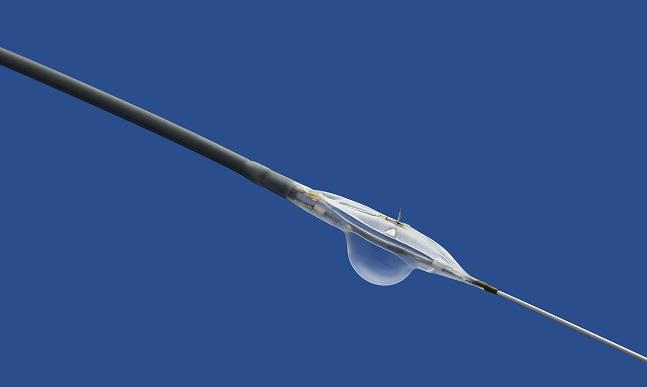 HOLLYWOOD, FL—Delivering dexamethasone, a steroid, to the adventitia via a microinfusion device after revascularization of femoropopliteal lesions is safe and offers better-than-expected primary patency rates through 13 months, researchers reported last week at the International Symposium on Endovascular Therapy (ISET) 2017.
According to co-principal investigator Mahmood Razavi, MD (St. Joseph's Hospital, Orange, CA), interest in the adventitia's role in neoatherosclerosis began around a decade ago. Use of microinfusion to deliver drugs efficiently "comes from the days of gene therapy and cell delivery," he explained to TCTMD, and it could potentially be applied to any lumen, for indications spanning from cardiology to urology.
In the case of the DANCE study, which looked at its applications in the peripheral territory, the idea was to combat restenosis at its roots. Upstream targeting of the early inflammatory process limits or eliminates downstream restenosis but allows healing, Razavi explained in his presentation.
Data from DANCE also were presented recently at the Leipzig Interventional Course (LINC) and at last year's VIVA meeting.
Angioplasty or Atherectomy
For DANCE, researchers separated 244 patients based on revascularization type: 157 limbs were treated with atherectomy and 124 with angioplasty. All were Rutherford class 2-4, with most (around 60%) being class 3. While the majority of lesions were TASC II type A or B, 7% in both treatment arms were TASC II type C or D.
Using the Bullfrog device (Mercator MedSystems) shortly after revascularization, Razavi and colleagues coadministered 80% dexamethasone along with 20% radio-opaque contrast media, which enabled operators to visualize distribution of the mix. The Bullfrog is tipped with a balloon-sheathed microneedle that can target vessels with diameters of 2 to 8 millimeters, and it is compatible with 0.014-inch guidewires and 5- to 7-Fr introducer sheaths. "The drug diffuses about 3 to 4 centimeters . . . circumferentially," Razavi noted, adding, "Basically, one injection per 5 centimeters is plenty."
There was no postoperative death within 30 days. By 1 year, there were no serious adverse events related to the drug or device. One patient in each revascularization group eventually required bypass, and one patient in the atherectomy group had an amputation within 1 year after the initial treatment.
The primary efficacy endpoint was 12-month primary patency, defined as core lab-adjudicated absence of binary restenosis and clinically driven TLR. Results were similar regardless of patient sex or diabetes status.
Kaplan-Meier Analysis: Primary Patency With Dexamethasone
| | | |
| --- | --- | --- |
|   | 12 Months | 13 Months |
| Angioplasty | 80.2% | 78.2% |
| Atherectomy | 83.6% | 80.0% |

Freedom from clinically driven TLR at 13 months was 88.7% in the atherectomy group and 89.1% in the angioplasty group. Among the 231 patients with full clinical follow-up, there were two noncardiovascular deaths (0.9%) and seven cardiovascular/unknown cause deaths (3.0%) by 365 days.
"The results seen here for angioplasty plus microinfusion compare favorably with the 52%-53% 1-year primary patency observed in the control arms of the LEVANT 2 and IN.PACT SFA trials," Razavi told TCTMD. Beyond that, he added, the results are comparable to what was seen in those trials' drug-coated balloon arms, which had 12-month rates of 65.2% and 82.2%, respectively.
The level of primary patency seen in DANCE for atherectomy patients in particular, given their severity of symptoms and the complexity of their lesions, "knocked my socks off," Razavi commented. "I am not an atherectomy fan. I've written a lot about it, and I think it causes more injury, [etc]. So this thing really surprised me, to be honest with you."
Importantly, Razavi stressed, there was little difference within the angioplasty arm between patients who did and did not receive stents with regard to 13-month primary patency (79.7% vs 73.6%). "In every other study, stents were superior," he noted. "And so there's something here, and we need to dig down." This raises the possibility of a much-streamlined procedure, according to Razavi, one in which you don't have to leave a stent behind and can treat as long of a lesion as you want with a single device.
What excites Razavi the most is the potential for combination therapies. The TWIST trial, now in the planning stages, aims to investigate the effects of an anti-inflammatory plus a cytostatic limus drug. "I think that's going to hit it out of the park," he predicted. Meanwhile, the randomized LIMBO-PTA and LIMBO-PTX trials continue to study dexamethasone alone.
Photo credit: David Hodges/DNK Digital

Sources
Razavi M. 12-month results from the DANCE trial: the effect of dexamethasone infused to the adventitia. Presented at: ISET 2017. February 7, 2017. Hollywood, FL.
Disclosures
Razavi reports consulting for Abbott Vascular, Bard Peripheral Vascular, Boston Scientific, Medtronic, Mercator MedSystems, Soundbite Medical, Penumbra, and Veniti.