TCT Mock Election: And the Winner Is...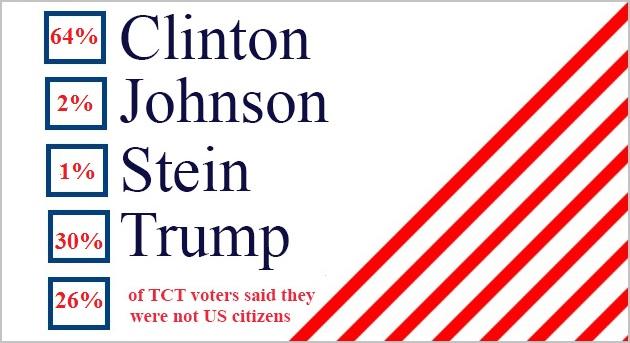 WASHINGTON, DC—In the final lead-up to the US election, Washington, DC, has come down with a severe case of election fever. To get in the spirit during TCT 2016, the TCTMD editorial team staged a mock presidential election over the first 4 days of the meeting.
Ballot boxes were distributed to various locations around the convention center, and attendees were provided with a ballot when they picked up their badge, with extra ballots at the impromptu polling stations. Convention-goers were urged to vote just once, but voting was open to everybody—whether they are US citizens or not.
Votes were counted at 4:30 PM on Tuesday, and Hillary Clinton was declared the (totally unofficial) president, with 64% of the votes, at the Jon Meacham event later that night. Donald Trump garnered 30% of the votes, Gary Johnson 2%, and Jill Stein 1%. More than one-quarter of voters declared themselves to be non-US citizens: 23% of Trump voters were non-US citizens as compared with 39% of the voters who chose Clinton.
A full 2% of voters spoiled their ballots—many added an additional check-box for their candidate of choice. Barack Obama, Earvin "Magic" Johnson, Russian President Vladimir Putin, Turkish president Recep Tayyip Erdoğan, and TCT Course Director Martin Leon, MD, each got 1 vote.
Voter turnout, however, was dismal. Just 3% of TCT 2016 attendees participated in the mock election.

Shelley Wood is Managing Editor of TCTMD and the Editorial Director at CRF. She did her undergraduate degree at McGill…
Read Full Bio