TCTMD Welcomes Mamas Mamas as Senior Clinical Editor
Mamas, whose research links big data with real-world patients, will work closely with the editorial team led by Shelley Wood.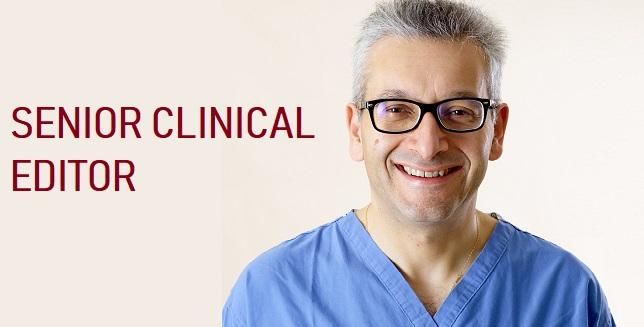 Mamas Mamas BMBCh, DPhil, is joining TCTMD as Senior Clinical Editor, where he will work closely with Managing Editor Shelley Wood and her team of reporters.
"I am excited to join the dynamic TCTMD team as the Senior Clinical Editor to help with the evolution of the most-comprehensive online resource for cardiology news and conference coverage," Mamas said. "TCTMD is second to none as an educational resource that covers broad areas of our field, with personal insights from diverse key opinion leaders across the globe. As someone who has used this resource extensively, I look forward to working more closely with the TCTMD team."
Wood, who oversees editorial content on the website, said she is eager to have an independent MD on hand as a sounding board when it comes to difficult clinical topics and decision-making. "Amid the continual shuffling and triage of what becomes news, I'm thrilled to have Mamas to help ensure TCTMD news is meaningful to readers, has the necessary breadth and depth, avoids hidden bias, and continues to be timely and relevant to practicing physicians and clinical researchers," she said.
Mamas is the Clinical Director for the Centre for Prognosis Research and a professor of interventional cardiology at Keele University, as well as an honorary consultant cardiologist at Royal Stoke Hospital in Stoke-on-Trent, England. He was previously a senior lecturer at the University of Manchester and did his medical training at Oxford. His research interests lie in big data, linking electronic health and national audit databases to evaluate population level outcomes in real-world patients with cardiovascular disease. He has published over 450 peer-reviewed papers and was recently voted as one of the top 100 health pioneers in the UK by the #MadeAtUni campaign.
In his new role, Mamas will also support the ongoing development of TCTMD's digital and multimedia content, with an eye toward tailoring this to the changing needs of practicing physicians. 
"I'm excited to partner with Mamas and incorporate his expertise and enthusiasm for digital content into new educational features for the TCTMD audience," said Stephanie Gutch, Senior Director of CRF Digital.
Cardiovascular Research Foundation CEO Juan Granada, MD, also welcomed Mamas. "TCTMD has continued to grow year by year, reaching a wider and wider audience of cardiologists, interventionalists, and allied clinicians, and it has shined in a year when access to timely, high-quality medical information has been paramount." Granada said. "I believe Mamas will bring some new perspectives and insights to what's already an invaluable resource for anyone interested in cardiovascular research, education, and care."
Mamas also will be blogging on hot topics in cardiology and medicine more broadly. Stay tuned for the first installment of Over the Wire on TCTMD.