TEER or VAD/Transplant in the Advanced HF Patient With MR?
In a THT 2023 debate, a 57-year-old with severe HF was the jumping off point for discussing what's gained or lost with TEER.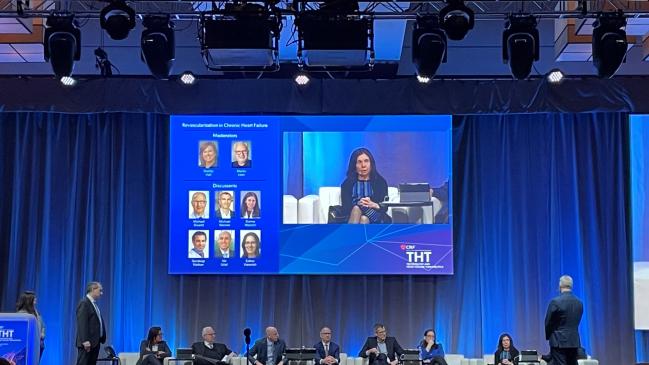 BOSTON, MA—When faced with a patient with advanced heart failure (HF) and severe mitral regurgitation (MR), how do you decide whether to first try transcatheter repair or to proceed directly for advanced HF therapies: a ventricular assist device (VAD) or transplant?
What's clear from a debate here at the Technology and Heart Failure Therapeutics (THT) 2023 meeting is that the choice to move forward with advanced HF care versus transcatheter edge-to-edge repair (TEER) involves knowing the relevant guidelines as well as the published data supporting the different options, all the while taking into account the preferences of individual patients.
Martin Leon, MD (NewYork-Presbyterian/Columbia University Irving Medical Center, New York, NY), one of the moderators of today's debate, concluded that the complex decision-making required for managing HF patients with severe MR could take a page from the aortic valve playbook.
"We do this all the time in our heart team discussions with surgeons and the structuralist in valvular heart disease [and] both perspectives need to be presented, and I think the patient needs to be involved [as well] in trying to make that decision," he told TCTMD after the session. "And the decision is not one point in time. . . . You're dealing with a journey, a therapy journey. There is a starting point and then there are opportunities to make adjustments during the course of that journey."
'And' Not 'Or'?
As the jumping off point for the debate, Hannah Rosenblum, MD (NewYork-Presbyterian/Columbia University Irving Medical Center), presented the case of an obese 57-year-old patient with hypertension, hyperlipidemia, obstructive sleep apnea, and nonischemic cardiomyopathy who's already treated with an ICD but unable to walk more than two blocks due to shortness of breath. Uptitration of GDMT in this patient had been limited by hypotension. His LVEF was in the range of 30% to 35%, and he had severe left ventricular enlargement and moderate right atrial enlargement.
Mark Reisman, MD (Weill Cornell Medical Center, New York, NY), arguing in favor of TEER, acknowledged that comparing TEER to VAD/transplantation "is like comparing a clothespin to a rocket ship. . . . They're just two different things and I think it's more of an 'and' than an 'or.'"
But to view this question from a different angle, he said, if TEER were a medication, not a device, considering a clip before moving to advanced HF therapies wouldn't be debated. "Imagine if you had a pill therapy for heart failure that had a hundred percent compliance, increased blood pressure, increased cardiac output, facilitated medications for higher doses of GDMT, reduced mortality, reduced hospitalizations, [did] not interfere with advanced therapy, and was safe," Reisman said. "That would be a pretty good [pill], right?"
While the patient in the case presented by Rosenblum was younger than the median age in COAPT and had comorbidities that made it impossible to get him optimized on medical therapies, he met COAPT inclusion criteria across a range of other criteria, Reisman argued.
There are some potential losses when proceeding with TEER rather than to advanced HF therapies, he conceded, including the possibility of progressing to end-organ failure, no major improvement in quality of life, and the loss of access to VAD or transplant. But on the other hand, a clip might buy the patient some time, might increase their quality of life and—as was shown in the MitraBridge registry, which looked at TEER as a bridge to transplant—there's the possibility that TEER might obviate the need for advanced therapies. In that registry, he noted, 23% of 119 patients were no longer being considered for heart transplantation after getting a MitraClip (Abbott), despite the fact that 80% of this study population would have been ineligible for COAPT.
Most importantly, he argued, patients remain eligible for VADs or transplant following TEER. "We don't take anything off the table," he concluded.
Don't Delay Care in Non-COAPT Patients
Taking the contrary view, Gabriel Sayer, MD (NewYork-Presbyterian/Columbia University Irving Medical Center), argued that, based on cardiac imaging alone, the 57-year-old patient presented by Rosenblum would have been excluded from COAPT because he clearly meets the criteria for stage D heart failure. For TEER to be able to improve hemodynamics, there needs to be enough contractile reserve, which means not just "fixing MR" but having a ventricle that can handle the altered flow, he argued.
Even looking at patients enrolled in COAPT, Sayer continued, only 43% were still alive at 5 years. While survival was better among TEER-treated patients than those who were medically managed, that 43% falls well short of the 58% survival seen with an axial-flow VAD in MOMENTUM 3 and the approximately 75% survival following transplant, according to some of the most-recent registry figures.
"I see this patient as a patient who has exhausted their efforts of medical therapy interventions," Sayer concluded, pointing out that the patient could only tolerate low doses of several recommended agents. "When you see these patients whose hearts cannot tolerate any more therapy, that's a sign of a heart that is giving in," he said. In this particular case, "I don't think this patient will have the reserve to tolerate a [clip] and I think that patient should go for advanced therapy."
Buying Time
During the discussion following the debate, panelists agreed that the answer for some patients won't be either/or but both. "I would do a TEER to try to buy some time," said Donna Mancini, MD (Icahn School of Medicine at Mount Sinai, New York, NY). "But to think that a 57-year-old man with this degree of heart failure ultimately is not going to end up with a VAD or a transplant, I think is naive."
Many patients, too, added Esther Vorovich, MD (Northwestern University, Chicago, IL), would rather try a clip before proceeding to a full sternotomy.
The unanswered question, then, is whether something is lost by delaying, said Michael Kiernan, MD (Tufts Medical Center, Boston, MA). In the ROADMAP trial, he noted, there was an increased risk of mortality among severe HF patients randomized to medical management versus LVAD therapy, although whether TEER would make inroads into that survival curve is unknown. "It really needs to be a discussion with the patient [about] where their current goals right now are in terms of functionality and do they want to take the risk of getting a [TEER]? And then if they have not improved that, have a short leash to then transition into an LVAD."
The only problem with that strategy, said Michael M. Givertz, MD (Brigham and Women's Hospital, Boston, MA), is the risk of deterioration. "We've all seen these patients come to us after they've had the clip placed and they have even worsening heart failure. And at that point we're trying to more rapidly evaluate them for advanced therapies." With a patient like Rosenblum's who had such advanced disease, he said, it would make sense to go ahead at the outset with the full evaluation for VAD and transplant before bringing all of the information to the patient to discuss next steps.
Food for Thought
COAPT principal investigator JoAnn Lindenfeld, MD (Vanderbilt University Medical Center, Nashville, TN), also speaking with TCTMD, pointed out that some patients on the list for a heart transplantation actually aren't candidates for an LVAD, and some may not be candidates for either. "I think if you could buy the patient some time with a better quality of life to wait for their heart transplant or to just have some better quality of life for a year or two and then go on to a heart transplant, that would be valuable," she said.
Another thing to keep in mind, she added, is that an analysis of COAPT looking at outcomes by age suggested that younger patients actually had much better survival than did patients at the median age and older, so there's at least some reason to think that a patient like the one featured in today's case might fare even better with TEER.
Following the debate, Rosenblum presented the follow-up for the 57-year-old patient, who, as it turned out, ended up going for TEER and had some quality-of-life improvements. Still, he subsequently underwent evaluation for transplant/VAD 2 years later.
"Would it have been a mistake to take that younger patient and refer him immediately for advanced heart failure therapy? No, it wouldn't have been a mistake," Leon told TCTMD. But a question raised during the session hinted at the real-world practice of using TEER as an alternative when VAD or transplant access is limited, "with the argument that it's relatively safe, it can do no harm," he said. "That's not a legitimate argument. I think you need to weigh both of those therapies at an equal level with the assumption that they're both equally available."

Shelley Wood is Managing Editor of TCTMD and the Editorial Director at CRF. She did her undergraduate degree at McGill…
Read Full Bio
Sources
Multiple presentations. THT 2023. March 20, 2023. Boston, MA.
Disclosures
Lindenfeld reports receiving consulting/honoraria/speakers bureau payments from Abbott Vascular, AstraZeneca, Edwards Lifesciences, Boston Scientific, Biotronik, Medtronic, Merck/Schering Plough, and St. Jude Medical, as well as grant support/research contracts from AstraZeneca.
Kiernan reports receiving consulting fees/honoraria from Medtronic.
Sayer reports receiving consulting fees/honoraria from Abbott.
Vorovich reports receiving consulting/honoraria/speakers bureau fees from Abiomed and Cytokinetics, and travel/food compensation from Zoll and Abbott Vascular.