Thorsten Stender, Cardiovascular Technologist
Stender, a former chef, made an abrupt career change and found a purpose in helping patients at the Morristown Medical Center cath lab.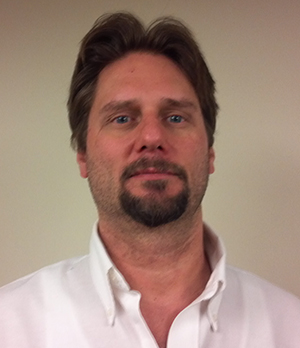 Thorsten Stender is head cardiovascular technologist at Morristown Medical Center in New Jersey.
Did you always want to be a CV tech?
Actually, I was a chef for years and owned a restaurant in New Jersey. Although I really enjoyed it for a while, I eventually decided that having a wife and family meant that I needed more of a 'normal' job that didn't involve late nights and weekends. Patient care always interested me and was a direction I thought about going in from a young age. My mother was a registered nurse, and she always thought that a healthcare career would probably be a good fit for me. But it really was my wife who talked me into enrolling in the CV technologist program. I completed it in 2013 and went to work in the cath lab at Morristown. I've been there for 9 years now as an invasive specialist.
What was it about working in a cath lab that interested you, as opposed to working elsewhere in healthcare?
I figure I spent the first half of my life clogging people's arteries in the restaurant business, so to pay it forward, I decided to spend the second half of my life helping out with the unclogging! Seriously though, as a workplace, the cath lab offers challenges in patient care as well as opportunities to be involved in a rapidly progressing field in medicine. In my 9 years as a tech, I have seen so many changes and innovations in cardiac and structural heart procedures. The devices we use are constantly evolving, and patient care is getting better and safer. We just completed a trial of radial bands that get patients out of the hospital about an hour faster after their procedure, and those have become standard practice for us. TAVR care has probably been the thing that has grown the most in my years working in the lab. Our hospital was in the top 5 for TAVR volume in the US last year. We also are going to be working with a new radiation-shielding device that protects the whole team from scatter. I think that a big part of what I enjoy about the cath lab environment is that it tends to be fast-paced and innovative. I love this job. I'm never bored, and I'm always learning something.
What is a typical day for you?
We have six labs, one of which is mainly for structural heart, while the other five are used for interventions and diagnostic procedures. When I arrive for a workday I check to see what room I'm assigned and then I usually check out the other rooms to see what we have going on in terms of the mix of cases we'll be doing that day. Generally, I'll take a look at patient charts and familiarize myself with why they are coming into the lab. Some of them are just straightforward diagnostic cases, others are a little more involved. If we have a particularly challenging case that I would like to be working on, such as a CTO, I have been known to talk my way into it. I'm always willing to help out and take on procedures that are more involved than usual, and I know I'm not alone in that. Doing this job and doing it well means not necessarily knowing what is going to happen next, but being prepared for anything.
Is there anything specific about the patient care in the cath lab that you especially like?
In some ways, coming from a restaurant industry background prepared me for some the "tough customers" we sometimes get in the lab. Yes, they can be a challenge, but they should always be treated in a respectful manner. Most patients who are about to have a procedure are a little bit anxious, but some of them turn their own anxiety into rude, unhelpful behavior toward the staff. I had a patient just yesterday who was a big guy, ex-Marine, and he was very nervous. Unfortunately, he was taking it out in an angry, aggressive way and being nasty to the nurses. I feel challenged by patients like him to find a way to switch off their negativity. By letting this guy know that we were just there to help him, we eventually got him to relax, and by the time he left us 20 minutes later he was laughing and jovial. That's what it's all about as far as I'm concerned.
How has the recent surge of the Omicron variant affected your cath lab?
It was a bit discouraging, and in some ways felt like we had to start over with our pandemic response, because the variant was widespread here in the NY/NJ area at the end of 2021 and into the early part of 2022. We knew a bit more than we did when COVID-19 first came into all of our lives, so it felt like people were less scared and more prepared. Still, even being double vaccinated and having had my booster, I got COVID twice, in November 2021 and again in January 2022. Fortunately, both cases were mild. Even now, we're only a few weeks out from the most recent surge and the resuming of elective cases. Each time this has happened our case volume has exploded. We are busy from the time we walk in until the time we leave for the day, averaging 30 to 35 cases a day, with more emphasis on radial procedures to speed up the flow of patients in and out of the lab. We are still dealing with backlogs from cases that were put on hold, as well as the staff shortages that seem to be affecting many other hospitals due to burned out healthcare workers leaving the field.
What you do when you're not working?
I spend most of my free time with my wife and daughter. I also like to get out and do some mountain biking. It's a great hobby and good way to relieve stress. Even though I don't cook professionally anymore, I do still enjoy preparing meals at home for my family. My wife likes to remind me that I don't have a kitchen staff to clean up after me anymore, though.