Ticagrelor Fails to Best Clopidogrel in Preventing CV Events in PAD Patients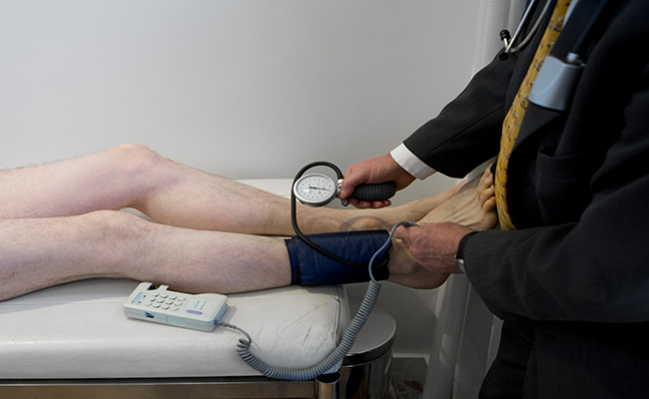 NEW ORLEANS, LA—Despite its proven superiority to clopidogrel in preventing cardiovascular events in patients with acute coronary syndromes, ticagrelor (Brilinta, AstraZeneca) is no more beneficial than the more established antiplatelet agent in preventing these events in patients with symptomatic PAD, according to findings from the EUCLID trial. However, there was a signal for fewer ischemic strokes.
Manesh Patel, MD (Duke Clinical Research Institute, Durham, NC), who presented the full data set today at the American Heart Association (AHA) Scientific Sessions 2016 and co-authored the simultaneous publication of them in the New England Journal of Medicine, told TCTMD that this largest study of PAD patients to date showed that "it's very feasible to do large randomized trials" in this population and more work should be done to help determine the ultimate antiplatelet regimen for them.
"There's unmet need with a risk that's still high, and we should be focusing on ways to efficiently [test] these agents and other agents," he said, adding that he's "not sure" whether ticagrelor should be examined again in this patient group. "This was a pretty big test for it," Patel noted.
Topline results of the EUCLID trial were released by the trial's sponsor in October.
EUCLID randomized 13,885 symptomatic PAD patients from 28 countries to receive either ticagrelor at a twice-daily dose of 90 mg or clopidogrel at a once-daily dose of 75 mg. There was no difference between the two drugs in the primary efficacy endpoint of cardiovascular death, MI, or ischemic stroke at 3 years (12.5% vs 12.5%; HR 1.02; 95% CI 0.92-1.13), though patients in the ticagrelor arm had fewer ischemic strokes (1.9% vs 2.4%; HR 0.78; 95% CI 0.62-0.98). Also, no differences were observed in any secondary outcomes like hospitalization for acute limb ischemia and lower extremity revascularization.
As for safety, there were no differences in TIMI major bleeding or TIMI minor bleeding. Incidences of dyspnea and bleeding that led to antiplatelet discontinuation were higher with ticagrelor than with clopidogrel (P < 0.001 for both).
A substudy of the 7,875 EUCLID patients with lower extremity revascularization, published today in Circulation, similarly found no differences between ticagrelor and clopidogrel in their ability to reduce cardiovascular and acute limb events.
Moving Forward With PAD
"The results of EUCLID are perhaps not too surprising since clopidogrel has previously been shown to be an effective agent for patients with PAD," John Laird, MD (University of California, Davis, Sacramento), who served as a site principal investigator for the study, told TCTMD in an email. "While EUCLID was a well-conducted trial," he said, "it leaves many questions unanswered, including the role of [dual antiplatelet therapy] in patients with PAD and the optimal antiplatelet regimen after complex endovascular interventions."
He pointed out that while only 4.6% of EUCLID's study population had critical limb ischemia, these might be the patients who would "benefit the most from more potent antiplatelet therapies" since they "have a very high rate of adverse cardiovascular events and early mortality."
The ischemic stroke benefit is an "interesting signal," said Carl Pepine, MD (University of Florida, Gainesville), discussing the study in a press briefing earlier today. Since PAD "amplifies central blood pressure," he explained, it's "reasonable" to suspect that part of ticagrelor's apparent effect on stroke could be attributed to blood pressure reductions.
Even after a study like EUCLID, "many knowledge gaps remain relative to PAD," Pepin continued. Future studies, he suggested, should focus on not only on finding an optimal antiplatelet regimen to prevent cardiovascular and limb-related events, but also on developing additional medical therapies "like biologics" for claudication and testing the role of dietary interventions in conjunction with medical therapy.

Yael L. Maxwell is Senior Medical Journalist for TCTMD and Section Editor of TCTMD's Fellows Forum. She served as the inaugural…
Read Full Bio
Sources
Hiatt WR, Fowkes FGR, Heizer G, et al. Ticagrelor versus clopidogrel in symptomatic peripheral artery disease. N Engl J Med. 2016;Epub ahead of print.

Jones WS, Baumgartner I, Hiatt WR, et al. Ticagrelor compared with clopidogrel in patients with prior lower extremity revascularization for peripheral artery disease. Circulation. 2016;Epub ahead of print.
Disclosures
EUCLID was funded by AstraZeneca.
Patel reports receiving research support from AstraZeneca, CSI, HeartFlow, Janssen Research & Development, Johnson & Johnson, Maquet, Medtronic, and the National Heart, Lung, and Blood Institute and serving as a consultant to AstraZeneca, CSI, Genzyme, Bayer Corporation, Janssen Research & Development, Medtronic, and Merck & Co.
Laird reports no relevant conflicts of interest.