Ticagrelor More Effective Than Clopidogrel in ACS-With No Extra Bleeding
BARCELONA, Spain—In patients with acute coronary syndromes (ACS), the oral, reversible antiplatelet agent ticagrelor is superior to clopidogrel in reducing ischemic events, without any increase in major bleeding, according to late breaking trial results presented here August 30 at the European Society of Cardiology (ESC) Congress 2009.
Moreover, the increased efficacy emerges early and continues for at least a year, according to Lars Wallentin, MD, of the Uppsala Clinical Research Center (Uppsala, Sweden), who presented results of the PLATO (PLATelet inhibition and patient Outcomes) trial.
For the study, investigators randomized 18,624 ACS patients seen at 862 hospitals from October 2006 through July 2008 to ticagrelor (180-mg loading dose, 90 mg twice daily thereafter) or clopidogrel (300- to 600-mg loading dose, 75 mg daily thereafter). All patients also received aspirin.
Ticagrelor (Brilinta, AstraZeneca, Wilmington, DE) is the first direct, reversible inhibitor of the P2Y12 ADP receptor that does not require metabolic activation and has been shown to have a more rapid onset and provide greater platelet inhibition than clopidogrel.
Ticagrelor's Strong Suit: Reducing CV Death, MI
Patients received the assigned therapy for 6 to 12 months, with a median duration of exposure of 277 days. At 12 months, the primary efficacy endpoint, (composite of CV death, MI, or stroke) occurred significantly less often in the ticagrelor group compared with the clopidogrel group. The reduction was driven by decreased rates of CV death and MI; stroke rates for the 2 treatments were similar. In addition, ticagrelor reduced the incidence of definite or probable stent thrombosis in patients who received stents (table 1).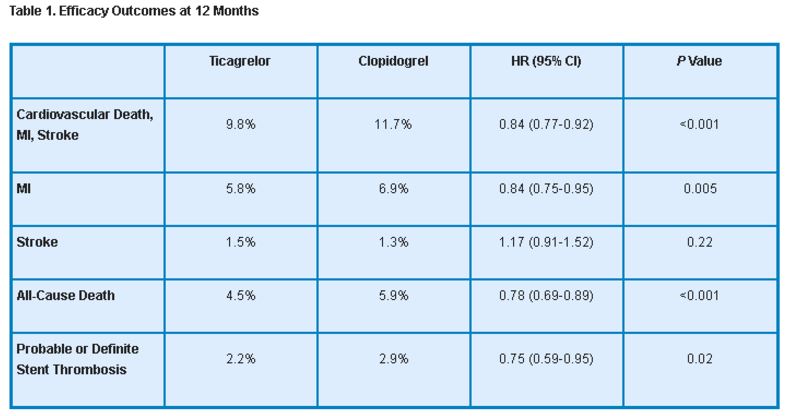 Safety Profile 
Rates of major bleeding as well as life-threatening and fatal bleeding were similar between the ticagrelor and clopidogrel groups. However, ticagrelor was associated with an increased rate of non-CABG-related major bleeding and a trend toward higher intracranial bleeding (table 2).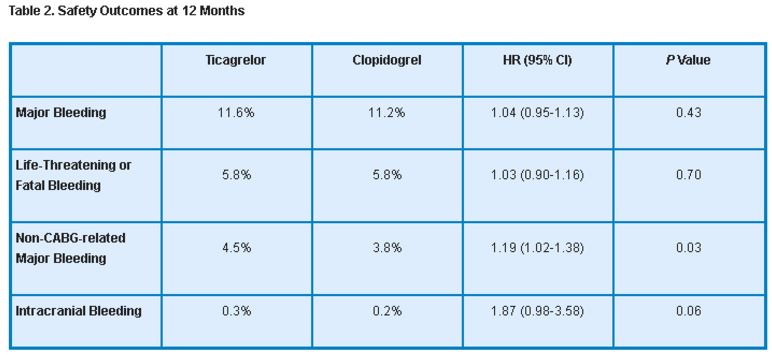 Adverse Effects Influence Compliance
In addition, dyspnea was more common in the ticagrelor group compared with the clopidogrel group (13.8% vs. 7.8%; P < 0.001), although most cases lasted less than 1 week. Also, Holter monitoring performed in a subset of patients revealed a higher incidence of ventricular pauses in ticagrelor patients compared with clopidogrel patients, especially during the first week. And at 1 month and 12 months, creatinine and uric acid levels were significantly higher in the ticagrelor group. Likely as a result of such complications, ticagrelor patients discontinued their medication more often than patients receiving clopidogrel (7.4% vs. 6.0%; P < 0.001).   
Potential Clinical Impact
The investigators calculated that for every 1,000 ACS patients treated, switching 54 from clopidogrel to ticagrelor for 1 year would prevent 1 CV death, MI, or stroke. 
"Ticagrelor is the first antiplatelet therapy to achieve a significant reduction in cardiovascular mortality in ACS patients versus clopidogrel, and perhaps most importantly without an increase in major bleeding," Dr. Wallentin said in a press statement. He added that although a similar magnitude of reduction in ischemic events has been seen with prasugrel compared with clopidogrel, the difference with ticagrelor is that the benefit continues over the course of the therapy. Moreover, the finding of a reduction in all-cause mortality (22% relative reduction, 1.4% absolute reduction) is unique to this study, he said.
He noted that the advantage of ticagrelor was seen across a wide range of subgroups and regardless of whether patients received invasive or medical management or whether PCI patients were given the currently recommended higher loading dose of clopidogrel.
 Some 'Real World' Issues
Discussing the findings, Steen D. Kristensen, MD, of Aarhus University Hospital (Skejby, Denmark), said the minor increase in non-CABG-related bleeding with ticagrelor was unexpected and needs further investigation. Also, he wondered whether, given the trial's exclusion criteria, more bleeding may be seen in a real-world situation. Another potential issue, he noted, is compliance with a medication that must be taken twice daily.
In an editorial accompanying online publication of the study in The New England Journal of Medicine, Albert Schömig, MD, of the Deutches Herzzentrum (Munich, Germany), writes, "We should carefully monitor patients receiving this drug to establish the overall impact of its side effects."
In conclusion, however, Dr. Kristensen called ticagrelor a promising drug that offers clear superiority over clopidogrel in terms of efficacy. Moreover, its reversibility may make any bleeding that does occur easier to treat as well as facilitate management of patients on antiplatelet therapy who will be undergoing subsequent procedures, he said.
Study Details
In PLATO, the treatment groups were well balanced with regard to baseline characteristics as well as nonstudy medications and procedures. ACS diagnoses included 37.5% of patients with STEMI, 42.9% with NSTEMI, and 16.6% with unstable angina.
Sources
Wallentin L. Comparison of Ticagrelor, the First Reversible Oral P2Y12 Receptor Antagonist, with Clopidogrel in Patients with Acute Coronary Syndromes: Results of the PLATelet Inhibition and Patient Outcomes (PLATO) Trial. Presented at: ESC; August 30, 2009; Barcelona, Spain.

Wallentin L, Becker RC, Budaj A, et al. Ticagrelor versus clopidogrel in patients with acute coronary syndrome. N Engl J Med 2009;Epub ahead of print.

Schömig A. Ticagrelor—Is there a need for a new player in the antiplatelet-therapy field? N Engl J Med 2009;Epub ahead of print.
Disclosures
The PLATO study was sponsored by AstraZeneca.
Dr. Wallentin reports receiving consulting fees from Regado Biosciences and Athera Biotechnologies; lecture fees from Boehringer Ingelhiem, AstraZeneca, and Eli Lilly; and grant support from AstraZeneca, Boehringer Ingelheim, Bristol-Myers Squibb, GlaxoSmithKline, and Schering-Plough.
Dr. Kristensen reports receiving lecture fees from AstraZeneca, Bristol-Myers Squibb, Eli Lilly, Sanofi-Aventis, and The Medicines Company.
Dr. Schömig reports no relevant conflicts of interest.