Time to Shine: 'Historic' All-Female Team Takes Over Live Case at CRT 2018
Audience members as well as cardiologists in the all-female panel discussion for yesterday's event agreed it felt special, even if it shouldn't.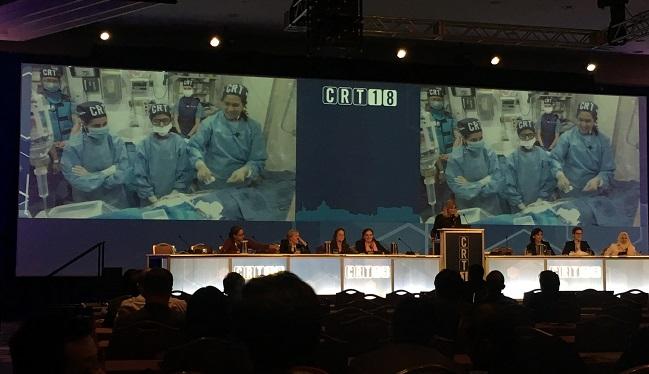 WASHINGTON, DC—No interventional cardiology meeting would be complete today without flashy live cases, but new ground was officially broken at the CRT 2018 meeting yesterday when an all-female cath lab team, led by Annapoorna Kini, MD (Icahn School of Medicine at Mount Sinai, New York, NY), performed a complex PCI on a high-risk, elderly patient.
Not only was the live case performed by female operators, nurses, and technicians, but the moderator and panel discussing it live onstage consisted solely of female physicians.
"There are some incredible women out there doing incredible things, but it's usually behind the scenes. It's time for them to shine and be given the credit, the respect, and the notoriety they deserve for their role in the evolution of PCI," Roxana Mehran, MD (Icahn School of Medicine at Mount Sinai), who participated in the panel discussion, told TCTMD. "It's not just about the men doing these procedures—we're doing it. We have to take night call, and believe me, the road we have travelled is a lot tougher, a lot tougher."
Mehran, along with moderator Cindy Grines, MD (Northwell Health, Manhasset, NY), and panelists Molly Szerlip, MD (The Heart Hospital Baylor, Plano, TX), Mirvat Alasnag, MD (King Fahd Armed Forces Hospital, Jeddah, Saudi Arabia), Megan Coylewright, MD (Dartmouth-Hitchcock Medical Center, Lebanon, NH), Alaide Chieffo, MD (San Raffaele Scientific Institute, Milan, Italy), Mayra Guerrero, MD (Evanston Hospital, IL), and cardiothoracic surgeon Jennifer Ellis, MD (MedStar Heart & Vascular Institute, Washington, DC), appraised, dissected, and offered advice as operators performed a bifurcation stenting on an 82-year-old patient with multivessel coronary artery disease that included left main coronary artery stenosis
.
History is made! First All #Female panel and live cases from #WomenInCardiology #WIC #Inspiring #CRT2018 #ILookLikeACardiologist ❤️?‍⚕️? pic.twitter.com/1leEDboqOd

— Dr Sam Raza (@SamRRazaMD) March 5, 2018
.
For Mehran, the all-female cath lab team, as well as the all-female panel, is nothing more than a reflection of what's happening in the real world, but she said it was important to showcase this at a major meeting. "We're hoping that when you stage something like this, you show that it is possible—the younger women in the audience will see that they will be able to work and have that work showcased," Mehran said.
Less Than 5% of Interventionalists Are Women
In 2016, an American College of Cardiology survey found that fewer than 20% of cardiologists who see adult patients are women. In interventional cardiology, female representation is even worse. The Society for Cardiovascular Angiography and Interventions (SCAI) Women in Innovations (WIN) group recently reported that only 4.5% of interventional cardiologists are women and just 2.8% of angioplasty procedures are performed by women.
Sheila Sahni, MD (Garden State Heart Center, Clark, NJ), has attended "Women in Cardiology" sessions at the ACC since she was third-year medical resident and, once she became a general cardiology fellow, has gone to the SCAI Women in Innovation (WIN) sessions, but said she's never seen a live case like this one.
"This is historic," Sahni told TCTMD. "First of all, just to have a female live case, and to show an all-female team working so well together, you're fighting the criticism that women can't work well with nurses, or nurses treat men better than women. You're showing an all-female team, and you're buttressing that with all-female leadership on the panel. You're watching a different flavor of discussion. If you can inspire women to show that this is an intelligent form of teamwork, you really make a statement. That's what today's live case did." 
Sahni said the ultimate goal is for gender not to be an issue. "You're an interventional cardiologist," she said. "Not a female interventionalist, and not a male interventionalist. For women, that's the goal—your identity is an interventional cardiologist outside of gender."
While the all-female live case and panel discussion aren't the norm, Sahni said they are a positive and powerful example for up-and-coming female physicians and cardiologists in training, particularly since there are so few women in interventional cardiology. 
Coylewright, who was one of the panel discussants, said that while live case demonstrations have featured women before, particularly ones as skilled and as busy as Kini, the panel discussions are typically comprised of men.
"For many trainees, regardless of gender, I think it's very important they identify mentors they can look up to and who can help them with career planning, with figuring out what's a good fit for them," Coylewright told TCTMD. "It matters to have people that look like you. Whether we're speaking about gender, race, or ethnicity, I think it's also really important to have examples, and not just in your local institution, but also in leadership. Ultimately, I think we all want to have physicians that represent the diversity of our patients."
What an outstanding panel of highly accomplished women! @mirvatalasnag @Drroxmehran @DrCindyGrines @DrSheilaSahni #CRT2018 pic.twitter.com/CAFSISqwCs

— Deepika Narasimha (@cardiodee) March 5, 2018
.
At her institution, Coylewright said, there are seven interventional cardiologists, among them herself and another female physician, both of whom perform structural and coronary interventions. In 2017, they had two female interventional fellows, as well as a significant number of women who made up the cath lab team. While her situation is not the norm, Coylewright said achieving a critical mass, where there is a supportive environment in which people from diverse backgrounds can envision themselves, including at meetings such as CRT, is important for getting more women involved in the field. 
'Why Hasn't This Been Done Before?'
Ron Waksman (MedStar Heart & Vascular Institute), the course director of CRT, said the annual meeting has in recent years added content specifically relevant to female cardiologists, but that nearly all panel discussants are typically male. "We knew something was wrong with that," said Waksman. "I said, 'Why don't we flip it? Let's have a case with all female operators and moderators.' When you see the case, you ask yourself: why hasn't this been done before?"
Waksman stressed that women need to be included more frequently in live-case demonstrations and this event at CRT will hopefully lead more women to come forward when they have interesting cases to present, as well as meeting planners to seek out more women for live cases and panel discussions. 
To TCTMD, Sahni said women need to be advocates for their work and their careers, something they are not always the best at doing compared with men.
"For some reason, men are very good at doing it, while women are somehow looking for that external validation," she said. "I can speak from personal experience that my program director's support in both my involvement in social media and my growth in interventional cardiology was paramount to my own personal understanding of my own success. The whole concept of: if someone believes in you, you can do it. Women hold on to that, and I think they're looking to be asked, rather than [speaking up] and saying, 'Hey, I'm good enough.'" 
All female team performing LMCA PCI @CRT_meeting. Although they are abolutly rocking it, I'm a bit sad that the fact that it's a FEMALE team is 'special' anno 2018... #CRT2018 #WomenInCardiology

— Tamara (@tiaipassa) March 5, 2018

Michael O'Riordan is the Associate Managing Editor for TCTMD and a Senior Journalist. He completed his undergraduate degrees at Queen's…
Read Full Bio
Sources
Women in cardiology performing complex PCI: live cases from Mount Sinai Medical Center, New York, NY. Presented at: CRT 2018. Monday, March 5, 2018. Washington, DC.