Two Sham-Controlled Renal Denervation Studies Offer Hope in Hypertension
Larger clinical trials are in the works, but investigators and others gathered here say the data breathe new life into this once promising field.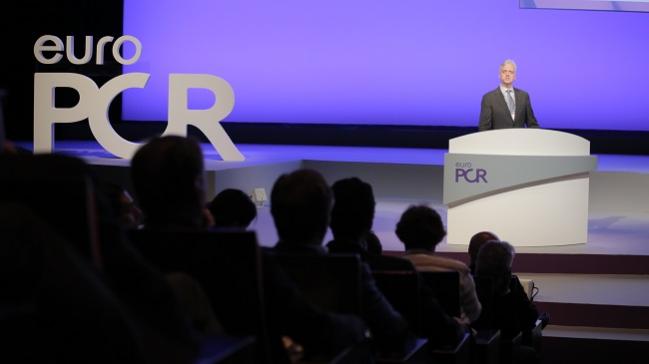 PARIS, France—Two new studies testing renal denervation are offering a ray of hope to a once promising technology that in recent years has suffered its share of high-profile setbacks.  
In these highly anticipated trials, which tested different devices and used different ablation technologies, renal denervation targeting the sympathetic nervous system significantly reduced systolic blood pressure among patients taking antihypertensive medication, as well as among those not taking blood pressure-lowering therapy. Compared with the sham-controlled arms, investigators characterized the reduction in systolic blood pressure as "modest," but emphasized that both trials suggest the field has learned critical lessons after the failure of SYMPLICITY HTN-3.
"One thing I think this shows us, longitudinally, is that interventional cardiology is very data-driven," Ajay Kirtane, MD (NewYork-Presbyterian/Columbia University Irving Medical Center, New York, NY), a study investigator for the RADIANCE-HTN SOLO trial, told TCTMD. "The lesson here is that we can actually identify issues with certain trials and fix those issues and persevere to do other trials. Now we have two studies with two different devices and two different patient populations showing efficacy."
Felix Mahfoud, MD (Saarland University Hospital, Homburg, Germany), who was involved in both studies, said the field of renal denervation is once again headed in the right direction. "We're back on track with the evaluation of these devices," he told TCTMD. "They lower blood pressure. That is something we can state now." 
Sripal Bangalore, MD (NYU Langone Medical Center, New York, NY), who wasn't involved in the studies, but who has been critical of the field's exuberance in the past, said that the two trials are "great news" for the field of renal denervation. "The refinement in technique, the refinement of the device, is finally paying off," he told TCTMD. "The field is now being supported by evidence-based trials, specifically sham-controlled trials now showing a consistent reduction in blood pressure."   
Both RADIANCE-HTN SOLO and SPYRAL HTN-ON MED were presented today at EuroPCR during the late-breaking clinical trials session and published simultaneously in the Lancet.
SPYRAL and RADIANCE: Different Study Populations    
The clinical history of renal denervation has been nothing short of dramatic. In early, nonblinded studies, the treatment appeared to reduce systolic blood pressure by as much as 30 mm Hg. When renal denervation was finally put to the test in the 535-patient, sham-controlled SYMPLICITY HTN-3 study, sponsored by Medtronic, there was no significant benefit with the invasive therapy.  
The refinement in technique, the refinement of the device, is finally paying off. Sripal Bangalore
David Kandzari, MD (Piedmont Heart Institute, Atlanta, GA), who presented the results of the SPYRAL HTN-ON MED trial, agreed that renal denervation's journey has been rocky. Over time, researchers have grappled with patient selection, appropriate trial and device design, and understanding the pathophysiology of renal denervation. The SPYRAL research program, he said, incorporates many of the lessons learned from previous trials.
"It also highlights a greater focus on the patient population that in many ways is more homogeneous and more predictable," he said.
SPYRAL HTN-ON MED is a randomized, sham-controlled trial of the Symplicity Spyral multielectrode catheter (Medtronic) conducted at 25 international centers. Investigators presented data from the first 80 (of 106) patients with 6-month follow-up data. Patients with uncontrolled hypertension (≥ 150 to < 180 mm Hg) taking one, two, or three antihypertensive medications, including a thiazide diuretic, were included in the trial. For the procedure, circumferential radiofrequency ablation treatments were applied in a spiral pattern in the four quadrants of the renal artery and distal branch vessels. In the sham-control arm, patients underwent a renal angiogram and remained on the table for at least 20 minutes to prevent possible unblinding.
At 6 months, 24-hour ambulatory systolic and diastolic blood pressure (the primary endpoint), as well as office blood pressure (secondary endpoint), declined to a significantly greater extent among patients treated with renal denervation than in those in the sham arm.
Blood Pressure Change from Baseline to 6 Months
| | | | | |
| --- | --- | --- | --- | --- |
| Measurement | Spyral Symplicity | Sham Procedure | Between-Group Difference | P-Value |
| 24-hour Systolic BP (mm Hg) | -9.0 | 1.6 | -7.4 | 0.005 |
| 24-hour Diastolic BP (mm Hg) | -6.0 | -1.9 | -4.1 | 0.030 |
| Office Systolic BP (mm Hg) | -9.4 | -2.6 | -7.7 | 0.020 |
| Office Diastolic BP (mm Hg) | -5.2 | -1.7 | -3.5 | 0.048 |

 
Interestingly, the difference in blood pressure between the two treatment arms, which was not statistically significant at 3 months, appeared to widen over time. In an analysis of the hourly changes in blood pressure in the renal denervation group, the data showed consistent systolic and diastolic blood pressure levels throughout the day.   
"It raises the concept of an 'always on' effect of renal denervation therapy that may be distinct from pharmacotherapy and independent of adherence issues," said Kandzari.
RADIANCE-HTN SOLO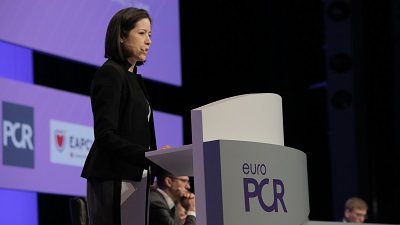 RADIANCE-HTN SOLO, the second trial presented here, examined the treatment effect of the Paradise renal denervation system (ReCor Medical) in hypertensive patients not taking antihypertensive medication after a washout period (off-medication daytime ambulatory blood pressure > 135/85 to < 170/105). In this trial, investigators led by Laura Mauri, MD (Brigham and Women's Hospital, Boston, MA), performed a circumferential ablation of the renal artery using ultrasound energy. Approximately two to three ablations lasting 7 seconds were delivered to each main renal artery. Here, too, the sham procedure in the control arm involved renal angiography only.
"Because it's ultrasound-based, it's able to be targeted to a specific depth," Mauri told TCTMD.
At 2 months, treatment with renal denervation reduced daytime ambulatory systolic blood pressure to a greater extent than was observed in the sham arm. Overall, 20% of those who underwent renal denervation had a daytime ambulatory blood pressure of less than 135/85 mm Hg in the absence of antihypertensive medication. Additionally, 24% had a 24-hour ambulatory blood pressure less than 130/80 mm Hg without medication. Comparatively, just 3% of patients in the sham arm achieved either of these treatment targets.   
Change in Daytime Ambulatory Systolic Blood Pressure at 2 Months
Measurement

Paradise

(n = 74)

Sham Procedure

(n = 72)

Between-Group Difference

P-Value

Daytime Ambulatory Systolic BP (mm Hg)

-8.5

-2.2

-6.3

< 0.001
"To give you some context, the magnitude of the effects observed, both on ambulatory blood pressure, as well as office, are comparable with the types of differences we see in larger studies of blood pressure-lowering associated with reduction in cardiovascular events," said Mauri.
Where Will Renal Denervation Best Fit?
As to where exactly renal denervation is headed, Kandzari believes it might be used in patients taking antihypertensive medication as well as in those who do not. He noted that proof-of-concept with the Symplicity Spyral renal denervation system was established in SPYRAL HTN-OFF MED, but the present study likely represents a more real-world application because physicians frequently grapple with uncontrolled hypertension despite the presence of commonly prescribed antihypertensive medications.
"We have a broad population of patients with hypertension," Kandzari told TCTMD. "For those who desire an alternative to medication, there might be a role for the off-medication concept. But for the patients who have uncontrolled hypertension despite persisting with medication, for them renal denervation would be complementary to medical therapy."
He pointed to the high rate nonadherence to medication in SPYRAL HTN-ON MED. Despite participating in a clinical trial, which suggests a highly motivated patient population, adherence to medical therapy was approximately 60% and varied considerably for patients throughout the study. "Whether or not they wish to take medication for hypertension has come increasingly to the forefront in decision-making for patients," said Kandzari.
For Mahfoud, patient preference is going to play a role in clinical practice, particularly given that some are unwilling to take medication, while others can't tolerate it. Although more data are needed, if the ablation technology is shown to lower blood pressure, it need not be restricted only to patients on medication, he said. 
Bangalore, however, was more circumspect, suggesting that the best application of renal denervation will be in patients with uncontrolled hypertension despite taking multiple medications. "While you may make the argument, 'Why don't we have the patient decide?', it's invasive, and it's not like it's producing a huge blood pressure reduction," said Bangalore.
He noted that in RADIANCE-HTN SOLO, even though renal denervation lowered blood pressure in a group of patients not taking antihypertensive medication, the vast majority did not achieve the treatment target of less than 135/85 mm Hg. Additionally, the long-term durability of renal denervation is still unproven.
"It's nice to see a proof-of-concept in the off-medication [group] to see the device works, but I think in terms of broad application to clinical practice we're better suited to patients on medication still not at their goal," he said.
Is There a Need for a Large CVD Outcomes Study?
Given the up-and-down history of renal denervation, Kirtane stressed that it's still early and further study is needed. "There's still a lot of work to do," he said. "We don't celebrate these things when we just have one or two trials."
We don't celebrate these things when we just have one or two trials. Ajay Kirtane
Follow-up of RADIANCE-HTN SOLO is planned for 3 years, which is important given that the durability of antihypertensive effect is not known, he said. ReCor Medical is also testing renal denervation using the Paradise system in patients currently treated with antihypertensive medication and is currently negotiating with the US Food and Drug Administration for an upcoming trial designed to gain approval in the United States. Medtronic, meanwhile, is proceeding with larger studies using the Symplicity Spyral renal denervation system, in patients both on and off antihypertensive medication.
As to whether larger cardiovascular outcome studies should be required before approval, no one who spoke with TCTMD seemed to think they are needed, particularly given the strength of blood pressure as a surrogate endpoint.  
"Blood pressure is remarkable—it's one of the strongest surrogate endpoints we have in the medical literature," Mauri told TCTMD. "It's supported by multiple randomized trials of antihypertensive therapy, where you can show that given reductions in blood pressure with treatment are also associated with mortality and cardiovascular events. That's really the gold standard for a surrogate endpoint. It's convincing, but that being said, I would be very interested in seeing [the effect] on hard endpoints long term."
Mahfoud doesn't think a large-scale morbidity and mortality trial is warranted either, particularly given that such a study would be massive and expensive. If patients were taking antihypertensive therapy, Mahfoud said such a trial would need to include at least 10,000 patients, he said.   
Note: Kirtane is a faculty member of the Cardiovascular Research Foundation, the publisher of TCTMD.

Michael O'Riordan is the Associate Managing Editor for TCTMD and a Senior Journalist. He completed his undergraduate degrees at Queen's…
Read Full Bio
Sources
Kandzari DE, Böhm M, Mahfoud F, et al. Effect of renal denervation on blood pressure in the presence of antihypertensive drugs: 6-month efficacy and safety results from the SPYRAL HTN-ON MED proof-of-concept randomised trial. Lancet 2018;Epub ahead of print.

Azizi M, Schmieder RE, Mahfoud F, et al. Endovascular ultrasound renal denervation to treat hypertension (RADIANCE-HTN SOLO): a multicentre, international, single-blind, randomised, sham-controlled trial. Lancet 2018;Epub ahead of print.
Disclosures
Kandzari reports receiving institutional support for conduct of clinical trials from Medtronic and research/grant support and consulting honoraria for work unrelated to the present study.
Mahfoud reports receiving research support from Deutsche Hochdruckliga and Deutsche Gesellschaft fur Kardiologie and receiving speaker honoraria and consultancy fees from Medtronic and ReCor Medical.
Mauri reports receiving a research grant to the institution and personal fees as principal investigator from ReCor related to the current work. She reports having received grants to the institution unrelated to the current work from Abbott, Boston Scientific, and St. Jude Medical, and personal fees from Medtronic. Mauri will start employment with Medtronic in June 2018.
Kirtane reports receiving grant support to Columbia University and the Cardiovascular Research Foundation from ReCor Medical, Medtronic, Abbott Vascular, Boston Scientific, Abiomed, CathWorks, Siemens, and Philips.