UK Mini Mitral: No Clear Win for Minimally Invasive MV Repair
But patients who avoided having the conventional sternotomy did seem to have some other benefits, supporting this approach.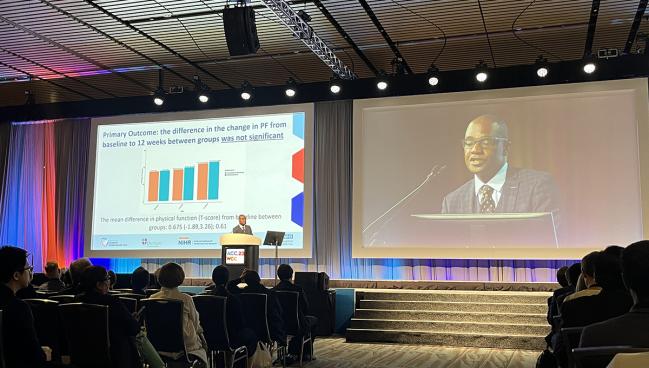 NEW ORLEANS, LA—A minimally invasive approach to mitral valve repair is no better than a conventional sternotomy for improving physical function at 12 weeks, the UK Mini Mitral trial has found. In expert hands, however, the technique—which remains something of a niche approach by surgeons around the world—is clearly a safe and effective option for fixing degenerative mitral regurgitation and may lead to earlier recovery.
While the trial missed its primary endpoint—the minimalist approach was no better than the standard sternotomy for improving physical function and return to usual activity levels at 12 weeks following mitral valve repair—patients treated via a right minithoracotomy tended to recover faster and spend less time in hospital. Quality-of-life scores slightly favored this approach at all time points as well.
Those findings come in the context of high repair rates, excellent echocardiographic outcomes, and low rates of clinical endpoints with either surgical approach, Enoch Akowuah, MD (Newcastle University, England), reported here at the American College of Cardiology/World Congress of Cardiology (ACC/WCC) 2023 meeting.
The study confirms that minimally invasive mitral repair is a safe and effective treatment for degenerative mitral regurgitation, he said, adding that "these findings should give confidence to patients and clinicians and aid further adoption" of the approach.
The best approach for surgical mitral valve repair is debated, Akowuah said. Though patients often prefer the minimally invasive approach due to perceptions of a smaller surgical insult and the potential for faster recovery, there are lingering questions about whether it's safe and provides results of the same quality as conventional techniques. In the UK and elsewhere, roughly 80% of surgical repairs are done with a sternotomy and 10% to 15% are performed via a right minithoracotomy.
"In the clinical community, there is an urgent need to decide what best surgery is, particularly as new percutaneous strategies emerge for the treatment of degenerative mitral regurgitation," Akowuah said.
UK Mini Mitral Trial
The UK Mini Mitral trial, conducted at 10 sites in England and Scotland, compared minimally invasive, thoracoscopically-guided mitral valve repair via a right minithoracotomy with repair via a conventional sternotomy. After a multidisciplinary heart team evaluation, investigators randomized 330 patients (mean age 67 years; 30% women) who were eligible for either surgical approach.
Procedures were performed by 28 surgeons who were certified as experts based on a history of at least 50 completed operations. All operations involved intraoperative transesophageal echocardiography, though specific repair techniques were left to the discretion of the surgeon.
Baseline transthoracic echocardiography showed that 92% of patients had severe mitral regurgitation, 96% type II mitral valve pathology, 65% isolated P2 prolapse, and 23% bileaflet prolapse.
On average, the minimally invasive approach required 11 more minutes of aortic cross clamp time and 30 more minutes of cardiopulmonary bypass time. Overall, procedures lasted an average of 44 minutes longer compared with conventional surgery (mean 228.73 vs 184.34 minutes).
Physical function according to the SF-36 scale improved significantly by 6 weeks in the mini arm, but not in the conventional arm, although by 12 weeks (the primary endpoint), function had improved to a similar extent in the two groups. Scores continued to improve through 1 year of follow-up.
The investigators also assessed physical activity levels and sleep efficiency using accelerometers, finding that at 6 weeks, patients treated with minimally invasive repair spent more time participating in moderate-to-vigorous activity; however, by 12 weeks, the two groups converged on this measure. By 12 weeks, there were no differences between groups in light physical activity, sedentary time, or sleep duration, but sleep efficiency was significantly better in the mini arm.
Surgery reduced MR grade to none or mild for 95% of patients in both groups at 12 weeks, declining to 92% at 52 weeks. LV dimensions and volumes were reduced through 1 year, with no differences between trial arms.
The minimally invasive approach was associated with a shorter hospital stay (median 5 vs 6 days; P = 0.003) and a greater likelihood of being discharged within 4 days of the operation (33.1% vs 15.3%; P < 0.001). The mean number of days alive and out of the hospital was higher in the mini arm at both 30 days (23.57 vs 22.38) and 90 days (82.70 vs 80.52; P = 0.03).
There were low rates of safety outcomes, with no differences between trial arms, in the early period after surgery and through 1 year of follow-up.
How Much Will Techniques Change?
Cardiac surgeon Aubrey Galloway, MD, director the mitral valve repair program at NYU Langone Health in New York, told TCTMD these results are consistent with prior single-center studies showing similar surgical results between the two approaches with some potential short-term benefits in terms of recovery.
He noted that his group previously published results of their 10-year experience with minimally invasive mitral repair, showing long-term outcomes equivalent to those achieved with sternotomy.
But he acknowledged that surgeon experience is key when adopting the minimally invasive approach. "If you have a surgeon who has the adequate experience, and probably it is 50 or more cases and probably a certain number a year, so the whole team is there, then I think it's very transferable across various countries and across the US," Galloway said. "What this trial has shown is that it's achievable with equal safety and equal efficacy in the short term."
Whether that's enough to increase the proportion of mitral repairs that are done via right minithoracotomy, it's hard to predict, he said. Surgeons are often hesitant to change their ways, although it might gain more traction among surgeons going through training, assuming there are mentors available to teach them the technique, he added.
"I don't think there's any drive to change if you're getting good results and you're comfortable with your way, because if you're talking about long-term outcomes, the best this can probably be is equivalent," Galloway said. "And then beyond that, it's surgeon experience, and what we don't want is surgeons who aren't experienced to have bad outcomes. But what this does show is that surgeons who have an adequate experience can achieve equally good outcomes with perhaps some short-term benefits."

Todd Neale is the Associate News Editor for TCTMD and a Senior Medical Journalist. He got his start in journalism at …
Read Full Bio
Sources
Akowuah E. The UK Mini Mitral trial: minimally invasive thoracoscopically-guided right minithoracotomy versus conventional sternotomy for mitral valve repair: a multicentre randomised controlled trial. Presented at: ACC/WCC 2023. March 5, 2023. New Orleans, LA.
Disclosures
Akowuah reports no relevant conflicts of interest.