Updated ESC Guidelines Introduce Concept of a Pregnancy Heart Team for Women With CVD
Multidisciplinary teams for women at risk for complications should include—at a minimum—a cardiologist, anesthetist, and obstetrician.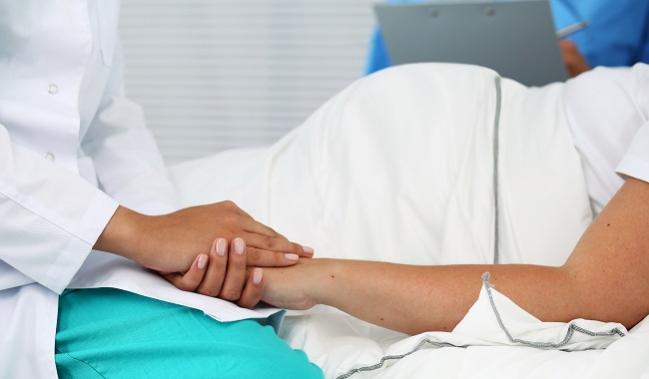 MUNICH, Germany—The European Society of Cardiology (ESC) has updated its guidelines for the management of CVD in pregnant women, calling for the use of multidisciplinary pregnancy heart teams at specialized centers to care for women with a moderate or high risk for complications.
At a minimum, the team should include a cardiologist, obstetrician, and anesthetist, all of whom should be experienced in managing high-risk pregnancies in women with heart disease, according to the guidelines, which were released and discussed here during the ESC Congress 2018 and published online ahead of print in the European Heart Journal. Additional experts can be called in to join the team when necessary.
Jolien Roos-Hesselink, MD, PhD (Erasmus Medical Center, Rotterdam, the Netherlands), co-chair of the task force that wrote the guidelines, explained that not all centers would need to have a pregnancy heart team, as smaller centers can simply consult with teams at larger, more specialized hospitals.
Task force chair Vera Regitz-Zagrosek, MD (Charité – Universitätsmedizin Berlin, Germany), explained during a presentation at the meeting that this document—which updates guidance first published in 2011—is critical because "knowledge of the risks associated with cardiovascular diseases during pregnancy and their management is of pivotal importance for advising patients before and during pregnancy."
In addition to making general recommendations regarding issues that include genetic counseling, invasive therapy, fetal assessment, interventions for the mother, delivery, infective endocarditis, contraception, termination of pregnancy, and in vitro fertilization, the updated guidance continues to underline the importance of prepregnancy risk assessment and counseling in women with CVD. That consultation should include discussions about the maternal risk of complications during pregnancy, the possible irreversible effects of pregnancy on the maternal cardiac condition, fetal risk, medication use, genetic aspects, and the long-term prognosis of the mother.
The recommendation to use the modified World Health Organization classification of maternal risk over other tools for prepregnancy risk assessment and stratification has been strengthened. That scale classifies women into five risk categories, with those in the highest-risk category advised to avoid pregnancy.
Also important, according to Roos-Hesselink, are recommendations around care during pregnancy, with a schedule established for how often echocardiography should be performed, how often patients should see their doctors, and the best mode of delivery. To that last point, Roos-Hesselink told TCTMD, there is a strengthened recommendation saying that vaginal delivery is preferred for most women with CVD.
The need for a caesarean delivery is rare, according to authors, and should be reserved for cases of preterm labor in patients on oral anticoagulation and for patients with aggressive aortic pathology, acute intractable heart failure, and severe forms of pulmonary hypertension, including Eisenmenger's syndrome.
The document covers management of eight specific clinical conditions: congenital heart disease and pulmonary hypertension; valvular heart disease; aortic diseases; CAD; cardiomyopathies and heart failure; arrhythmias; hypertensive disorders; and venous thromboembolism.
Flow charts have been introduced to help guide clinicians through decision-making regarding use of low- or high-dose vitamin K antagonist therapy in patients with mechanical heart valves and treatment of acute heart failure during or after pregnancy.
In addition, the guidelines aim to clarify which drugs can and cannot be used during pregnancy and breastfeeding by including a comprehensive table addressing the use of more than 150 medications. Information on a former classification system established by the US Food and Drug Administration (FDA) is included, but, Regitz-Zagrosek noted, "This classification was stopped by the FDA and should no longer be the basis of our therapeutic decisions now. Nevertheless, it is helpful."
The updated guideline is "now the most reliable and the most comprehensive source on what is known of the potential of different drugs to generate harm to the mother or to the fetus," she said, adding that the table and included clinical and preclinical data should be consulted before decisions are made regarding drug therapy in pregnant women.
To TCTMD, Roos-Hesselink said: "Some medications should be stopped before pregnancy. In other cases, medication can be changed to a safer alternative. And in other cases, it is sometimes necessary to use medication throughout pregnancy for the best results both for the mother and the baby."
For managing heart failure, for example, ACE inhibitors, angiotensin receptor blockers (ARBs), angiotensin receptor neprilysin inhibitors, and mineralocorticoid receptor antagonists should be avoided because they may harm the fetus. As for treating women with hypertension during pregnancy, the authors recommend using labetalol, methyldopa, or calcium antagonists, while avoiding ACE inhibitors, ARBs, and direct renin inhibitors.

Todd Neale is the Associate News Editor for TCTMD and a Senior Medical Journalist. He got his start in journalism at …
Read Full Bio
Sources
Regitz-Zagrosek V, Roos-Hesselink JW, Bauersachs J, et al. 2018 ESC guidelines for the management of cardiovascular diseases during pregnancy. Eur Heart J. 2018;Epub ahead of print.
Disclosures
Regitz-Zagrosek reports receiving payments from Vinzenz von Paul Kliniken, Novartis, Berlin Chemie AG, Pfizer Pharma GmbH, Verband deutscher Unternehmerinnen, Zahnmedizinisches Fortbildungszentrum, Saarländischer Hausärzteverband, and Cognomed.
Roos-Hesselink reports no relevant conflicts of interest.