Viet Le
With a career in clinical medicine and research, this PA loves to collaborate with peers and forge relationships with patients.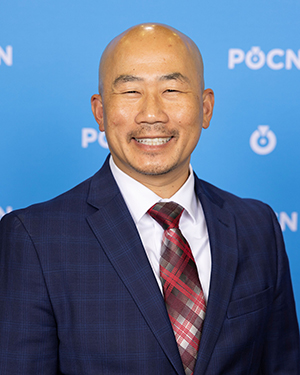 Viet Le, PA-C, is a physician associate (PA) specializing in preventive cardiology at Intermountain Health in Salt Lake City, Utah. He is also an associate professor of research, adjunct faculty of the PA program and doctoral student of medical science (DMSc) at Rocky Mountain University of Health Professions.
What inspired you to be a physician associate and why did you choose cardiology?
My undergraduate degree is in exercise science with an emphasis in athletic training, which meant that I spent an two additional years as an undergraduate to sit for the National Athletic Trainees' Association (NATA) board to certify as an athletic trainer after my bachelor's degree. During my first year as an athletic trainer in a school setting, I was working around 60 to 80 hours a week covering practices and games and wasn't feeling entirely fulfilled. Around that time, I happened to reconnect with a friend who was the former head athletic trainer for the University of Utah basketball team and was now a PA. We started talking about the PA profession and I became really intrigued by the possibilities. That started me down the PA journey, and while in school I took a job as a cardiac therapist at Intermountain Health and was invited to join the cardiology team when I graduated. As much as I enjoyed the work, I had a growing family and wanted a calmer situation, so I moved on to occupational medicine and stayed there for 7 years. In 2012, I returned to cardiology as a researcher with my old team at Intermountain.
I've honestly enjoyed everywhere I've worked, but the last 10 years have been amazing in the sense that I've really arrived at something that I am very passionate about on a daily basis. The team that I'm a part of has afforded me many opportunities in research, in clinical medicine, and importantly, in advocating for the advanced practice professions.
What is a typical day for you?
I don't know that any day is truly typical, but that is the fun part of it for me. I'm a full-time researcher, but I also see patients in a half-day general cardiology clinic and a half-day preventive cardiology clinic. One thing that is important to me is making sure that we have continuum of care even though I'm only in clinic those 2 half days. To do that, I make sure that every patient has my cell phone number. Some of my colleagues' cringe when I tell them that, but life and disease happens at the speed of the patient, not at my convenience. Medication complications or questions can happen at any time, and it's important for patients to know that they are in the driver's seat and I'm right there to help them navigate anything that arises. What I love about the clinical side of my work is the interactions with patients. Their family becomes my family. I have attended joyful and sorrowful events: marriages, funerals, etc. With the research side of my work, it's a long-term investment to see gains and harvest the fruits of those labors. We have nearly 85 enrolling clinical studies and over 10 smaller registries and data studies that are ongoing. I am involved with protocol design and development and the writing of abstracts and publications. Being dedicated to supporting each of these studies and making sure they get to the finish line means I field a lot of questions both from my study coordinator colleagues and from study participants. I have a hand in every part of the research we are doing.
What keeps you passionate about your profession?
It's unique to have a research department nested inside a nonprofit healthcare system, and this affords me clinical and research opportunities that may not exist at an academic center. One of the fun things for me about being involved in preventive medicine as a PA researcher is that controversies and gray areas for treatment pop up all the time. These raise questions about levels of evidence for contemporary care. I get to "play" in the data as a researcher because of the resources and access that we have at Intermountain. We have an IRB, the Cardiovascular Research Database. We can ask practical clinical questions, for example, how do SGLT2i's affect patients who have cardiovascular disease without diabetes? While this has been answered now, we presented an abstract 2 years ago on this and we're working on the manuscript with updated data. The passion for me is seeing patients and then being able to ask and answer, are we doing enough? Are the guidelines enough? When we put any guideline into practice, we are already 5 years or so behind and it may take up to 17 years for implementation. To have the tools and the access to the data to get at a question that has practical significance to us and to our patients is very exciting.
We are hearing an awful lot lately about the role of AI in research. Do you have any thoughts on that?
We all have this idea of what artificial intelligence is, what it does or can do, but the implementation and the utilization of it is quite varied. I was on a panel 2 years ago at the Heart Failure Society of America that was specific to this. My co-panelist actually put the session together because she, as an editor, needed to better understand machine learning because papers were starting to be submitted focusing on AI in cardiology research. Even a traditional query uses some AI in the sense that Bayesian statistics look at decision trees and estimate where the outcomes are, etc. We have an idea currently to use AI to go through thousands of older chest CT images that patients have had over the years to look for pulmonary nodules, incidental vascular abnormalities (eg, aortic dilation, aortic calcium) and coronary calcium. This is something that might yield interesting information, but would be time-consuming for any single person or even a group of people to do by hand. So, if we can think about using AI for situations like these, leveraging it as a complement to research, I think that's where it can vastly improve work for the harried researcher.
You've been working with the Point of Care Network (POCN) as an ambassador. What is it and what does it offer?
I mentioned leaving cardiology for 7 years to go to occupational medicine and then coming back again. Switching specialties is not uncommon for advanced practice providers (APPs). POCNs existence as a community is an acknowledgment that APPs do not come through the same path as our physician partners. They match to a specialty early in training and this drives their residency experience and path, and they are kind of locked into their career specialty. So, it's different for us because we may not always stay in cardiology, or pulmonology, or whatever specialty we started in. Regardless of what we are clinically practicing at a given time, we have ongoing training, we may need onboarding. We need a space where there are a variety of APP groups that may serve as sounding boards, provide mentorship, answer professional questions, etc, whether general or specific to certain areas of medicine. Many APPs may not have an easy path for training or support or are welcomed into a practice or a ready-made community. I believe POCN will be a community to serve APPs, providing support, education opportunities, and a sense of community.
What do you do in your free time?
I love to hike and I love to be with my family. We have stayed committed to making sure our family goes to Moab, Utah, a few times a year for hikes and family time. We also do a little bit of wakeboarding and waterskiing at the lake where my in-laws' cabin is. I love working in the yard and the opportunity to buy all sorts of tools, using them as we beautify our backyard. I think my overall philosophy is that I like building things, whether that is patient relationships, collaborations with peers and organizations, or working around the yard. I like to see things grow and improve and know that I was a part of that.