Virtual Reality Begins to Make Its Mark on Cardiovascular Medicine
Though still in its infancy, the technology stands to enhance physician education, improve procedures, and benefit patients, experts say.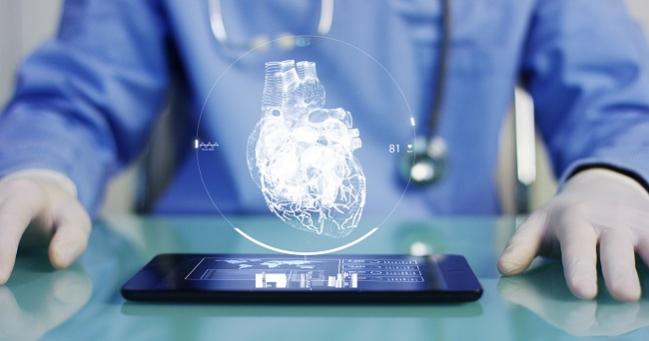 Virtual-reality (VR) tools are on the verge of becoming more commonplace in cardiovascular medicine, according to a state-of-the-art review. Once hindered by bulky technology, recent advances in computing mean that physicians are having a chance to explore new approaches to education, procedural planning and visualization, and patient care.
"Importantly, head-mounted displays have become untethered and are light enough to be worn for extended periods of time, see-through displays allow the user to remain in his or her environment while interacting with digital content, and processing power has allowed displays to keep up with human perception to prevent motion sickness," lead author Jennifer N.A. Silva, MD (Washington University School of Medicine, St. Louis, MO), and colleagues write in their paper published in the June 2018 issue of JACC: Basic to Translational Science.
Silva told TCTMD that while "the equipment itself has evolved so quickly," even now "some of these headsets are clunky, and they're big. They're even heavy." But much like car phones evolved into the array of mobile devices we carry with us today, she added, "what we're already starting to see is that the hardware pieces are undergoing rapid improvement" that makes for a more user-friendly experience.
"It's really exciting to push the boundaries [with the new devices], again keeping the patient in mind as the focus of everything we do," Silva said. The goal, she stressed, is to create something that will "impact the patient while enabling the clinician."
'Technology Matching the Need'
VR, which is fully immersive, exists on the continuum of "extended reality" that's currently being developed and applied. On the other end of the spectrum is so-called augmented reality, where virtual objects appear against a true background on a see-through display but can't be altered. In between are merged and mixed reality, where it's possible to interact with virtual objects on the backdrop of the real world, either through an immersive display or a see-through display, respectively.
All of these have their pros and cons, Silva said. "What's exciting for me is to find the technology matching the need. And when you see those two things match and match well, there is a way to see patients' anatomies and interact with those anatomies that we've just never been able to do before. The clinician in me has to believe that that improvement is going to end up in some way leading to some improvement for my patient. The scientist in me believes that that's going to lead to [better understanding of heart] abnormalities in a deeper, fuller way."
Among the various applications for extended reality, the furthest along are educational projects, she said.
The Stanford Virtual Heart Project, among other things, is using an immersive VR headset to help pediatric patients and their families better understand cardiac anatomy as well as to teach medical students. HoloAnatomy, meanwhile, is a medical curriculum under development at Case Western Reserve University in conjunction with the Cleveland Clinic that uses the HoloLens (Microsoft) computer headset. The educational software "will allow medical students to perform holographic dissections to better visualize and understand the body's organs and systems," the paper notes.
For preprocedural planning, the EchoPixel system (EchoPixel) enables a user wearing specialized glasses to visualize and manipulate cardiovascular anatomy. It employs True 3-D, a US Food and Drug Administration (FDA)-approved display, that works much like 3-D movie theaters and televisions.
Getting VR into procedures, though, is what excites Silva more. "That's probably where it's going to be most impactful to patients, and at the end of the day, that's the Holy Grail," she said. "That's what we're all chasing: how do we improve the way we take care of people?"
Silva herself has been working on Project ĒLVIS, a VR approach to imaging in electrophysiology. The system "not only empowers the interventional electrophysiologist to visualize patient-specific 3-D cardiac geometry with real-time catheter locations, but also allows direct control of the display without breaking sterility, which is a key advance," according to the review.
Another system, known as Realview (Realview Medical Imaging), has been used in the cardiac cath lab to generate real-time 3-D holograms using rotational angiography and transesophageal echocardiography.
Patients may also wind up using VR themselves during the course of their care. MindMotion PRO (MindMaze) has FDA clearance "for use in poststroke patients, combining virtual reality, brain imaging, and gaming technologies to retrain the brain to improve upper limb mobility," Silva and colleagues write.
My patients are always asking me, 'How [can we] advance the field so that other people don't have to go through what I'm going through?' I think most people at their core are very altruistic. Jennifer N.A. Silva
To TCTMD, Silva said that over the next year she expects more and more of these technologies to become commercially available, gradually trickling into the "communal wisdom" of cardiovascular medicine. She predicted that the strongest adopters will likely be early-career physicians who've had hands-on experiences with VR.
"Any time you train somebody with a tool, they turn into a doctor that wants that tool," Silva observed. "And I say this having been that one in training—the tools that I trained with were the tools that I wanted when I left my fellowship. [They] certainly evolve and grow, so it's important that technology changes, but I think this is going to be so impactful that it's going to find its way into clinical practice sooner rather than later, since people are growing up in their educational and training programs with this."
As for patients, Silva said that in her experience, they've been very open to VR. "My patients are always asking me, 'How [can we] advance the field so that other people don't have to go through what I'm going through?' I think most people at their core are very altruistic," she said. Everyone she and her colleagues approached to participate in a 10-patient study on ĒLVIS, recently presented at the Heart Rhythm Society 2018 Scientific Sessions, "said 'Absolutely.' . . . Not only were they enthusiastic about it, they wanted to know more for themselves," Silva added.
Regulatory issues are also key in this space. The FDA has been open to exploring VR, she said. "What's great about that is that they anticipate this emerging field. They're actually working in a very collegial and collaborative manner with us to help try to define metrics and standards in the space," though in these early days things can sometimes move slowly, Silva said. The US National Institutes of Health has also provided grant support.

Sources
Silva JNA, Southworth M, Raptis C, Silva J. Emerging applications of virtual reality in cardiovascular medicine. J Am Coll Cardiol Basic Trans Science. 2018;3:420-430.
Disclosures
Silva reports receiving research support from Medtronic, St. Jude Medical, Abbott, and AliveCor. She and co-author Jonathan Silva, PhD, serve on the Board of Directors of and as consultants to SentiAR.