We Asked, You Answered: The Heart Team by the Numbers

This is Part 2 of a 3-part series looking at the Heart Team in practice: what works, what doesn't, and what the future may hold. Read Part 1 here and Part 3 here.
As has been previously reported, the concept of the Heart Team varies widely within the cardiology community. But as all researchers know, the truth is in the data.
In January, TCTMD polled its readers through targeted emails and social media to find out what they think of the Heart Team and how it works in their hospitals. On top of demographic information, the survey asked questions about the usefulness and value of the Heart Team, who benefits from it most, and what barriers prevent its optimal function. Of note, respondents were also queried about how they include patients in the Heart Team process and about their satisfaction with how their administration supports teamwork.
Overall, 254 cardiologists, cardiac surgeons, nurses, coordinators, and other players responded. The anonymity of the survey gave those who responded the chance to be candid and honest. Their thoughts may surprise you.
We have compiled the results into an infographic—the first of its kind on TCTMD.  To view it, please click the image below. You can also download a PDF.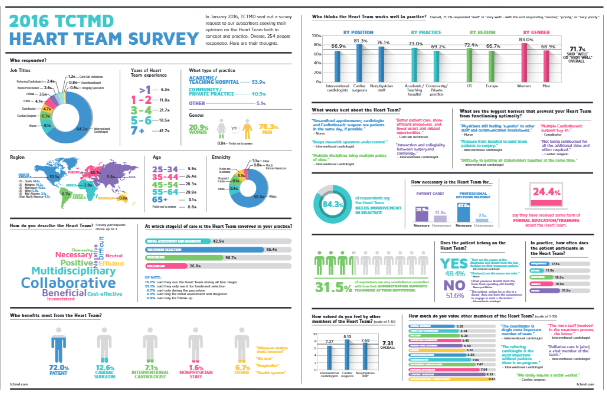 We encourage you to share your comments on the infographic and our survey findings below. 
This article was produced as part of the Health Care Workforce Media Fellowship run by the Center for Health, Media & Policy at Hunter College (New York, NY). The Fellowship is supported by a grant from the Johnson & Johnson Foundation.
Yael L. Maxwell is Senior Medical Journalist for TCTMD and Section Editor of TCTMD's Fellows Forum. She served as the inaugural…
Read Full Bio