For Young Patients, Sex Gaps in MI Care Start in the Emergency Room
US women who present with chest pain see longer delays and less-intensive care, a study of nearly 30 million ED visits shows.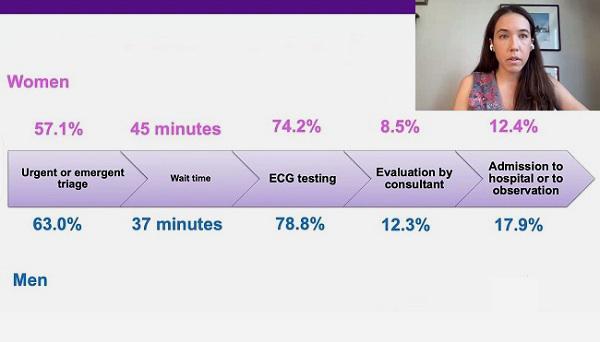 For young adults, sex differences in care start as early as when they present to the emergency department (ED) seeking help for chest pain, where men are evaluated more quickly than women and are more likely to be under close scrutiny for myocardial infarction, according to an analysis of data collected by the US Centers for Disease Control and Prevention (CDC).
The findings are set to be presented May 15 in the upcoming American College of Cardiology (ACC) Scientific Session.
Against an overall backdrop of rising MI rates in young adults, women are seeing the sharpest increase, investigator Darcy Banco, MD (NYU Langone Health, New York, NY), said in a press briefing ahead of ACC 2021. It's also well known that young female patients receive suboptimal MI care compared with their male counterparts, and also that women in general are less likely than men to have their chest pain recognized as possibly being caused by cardiovascular disease.
One question is where these sex-related disparities in MI care begin to emerge. To clarify the picture, Banco and colleagues decided to take a deeper look. What they found, she said, are practice patterns that may mean some MIs are being missed in younger women, as well as delays in diagnosis and treatment that could translate into worse outcomes.
"When encountering patients with chest pain, providers should keep in mind the changing demographics of heart attack toward more young patients," advised Banco. "And although the onus should never be on the patient, women should consider asking their provider: am I having a heart attack, and how can you be sure?"
Inequal Hospital, Observation Unit Admissions
Using the National Hospital Ambulatory Medical Care Survey, done annually by the CDC, Banco et al identified nearly 30 million ED visits by adults (ages 18 to 55) with chest pain between 2014 and 2018. More than half (56.8%) were women.
Although male and female patients were similarly apt to arrive by ambulance, there were numerous differences in the level of care they received upon arrival. Women waited an average of 8 minutes longer for evaluation and were 6% less likely to be triaged as urgent or emergent. They were also roughly 4% to 5% less likely to receive an ECG, undergo cardiac monitoring, or be seen by a consultant.
In the end, women were admitted to the hospital or to an observation unit 40% less often than men (12.4% vs 17.9%; P < 0.001), a difference that was significant after multivariable adjustment for comorbidities, ambulance arrival, and other factors, said Banco. "Similarly, young women still waited longer, on average 10 minutes, to be seen by a provider compared to young men."
Eugene Yang, MD (UW Medicine, Bellevue, WA), who moderated the press conference, agreed that the study "highlights the importance of the differences in how men and women are evaluated for chest pain." One question worthy of ongoing study in this data set, he said, is whether these early differences in the ED do indeed carry consequences by way of hard endpoints, "to give some affirmation that these things have a meaningful clinical impact on outcomes."
As to how physicians and other ED staff can become more open to the possibility that a young woman is experiencing an MI, Banco emphasized that chest pain is by far the most commonly reported symptom. That said, "it's not always described as pain but pressure, discomfort—so using a range of [terms] when asking patients whether or not they're having 'chest pain' can be helpful in the emergency room.
"And the other thing to note, too, is that studies have shown that women . . . are more likely to have a greater number of secondary symptoms that can sometimes cloud the picture or make diagnosis maybe a little bit more difficult," Banco advised. These include "shortness of breath, nausea, vomiting, back pain, all sorts of things," she said, "so it's important to keep your eye out not just for chest pain but for a range of different adjectives that people could use to describe pain for the associated symptoms."

Sources
Banco D. Sex differences in evaluation and management of young adults presenting to the emergency department with chest pain. Presented at: ACC 2021. May 15, 2021.
Disclosures
Banco reports no relevant conflicts of interest.