COVID-19: TCTMD's Daily Dispatch for January 14
We're curating a list of COVID-19 research and other useful content, and updating it daily.


TCTMD reporter Todd Neale is keeping up on breaking news and peer-reviewed research related to COVID-19 and will update daily. If you have something to share, tell us. All of our COVID-19 coverage can be found on our COVID-19 Hub.
January 14, 2021
A study of UK healthcare workers indicates that a bout of COVID-19 likely confers immunity for at least 5 months, although even those who are immune may still be able to carry and spread the virus, Reuters reports. The analysis showed that there were only 44 new infections among 6,614 people who had recovered from COVID-19.
There are more results emerging from the Brazilian trial of the Chinese COVID-19 vaccine developed by Sinovac, and they're at odds with the "fantastic" 78% efficacy reported last week. At a news conference in São Paulo on Tuesday, researchers put the vaccine's overall efficacy at just 50.38%, CNN reported, scarcely meeting the bar of 50% set by the World Health Organization. China, Indonesia, and now Turkey have already approved the use of the Sinovac vaccine, with Turkish President Tayyip Erdogan receiving his shot on live TV yesterday, the Guardian reported. No public statement has been issued by the company.
Researchers in Ohio report that they've detected two new variants of SARS-CoV-2 that may have originated in the United States, CNBC reports. One of them "carries a mutation identical to the UK strain, but it likely arose in a virus strain already present in the United States," according to a press release. The other, which has become the dominant strain in the city of Columbus, "acquired three other gene mutations not previously seen together in SARS-CoV-2." The findings have not yet been peer reviewed.
Two STAT stories explore the impact of the emergence of new, more-transmissible SARS-CoV-2 variants. Lev Facher details how President-elect Joe Biden's COVID-19 team is reconsidering its pandemic plan in the context of the new strains, while Andrew Joseph delves into how the variants may exacerbate an already worsening US situation regarding COVID-19 deaths. "If they take off here—which, with their transmission advantages, they will, unless Americans rapidly put a brake on their spread—it will detonate something of a bomb in the already deep, deep hole the country must dig out of to end the crisis," Joseph writes.
Receipt of convalescent plasma with high versus low levels of antibodies against SARS-CoV-2 is associated with a lower risk of 30-day mortality in hospitalized adults with COVID-19, but only in those who had not received mechanical ventilation, researchers report in the New England Journal of Medicine.
More than 10 million COVID-19 vaccine shots have been administered to Americans, as some states begin to expand eligibility for immunization, Reuters reports. The rollout was slowed as vaccinations were focused on healthcare workers, but now the opportunity to get a shot has been expanded to anyone over age 65.
A one-dose COVID-19 vaccine from Johnson & Johnson appears to safely generate an immune response in healthy volunteers of all ages, according to interim phase I/IIa results in NEJM. The most-frequent adverse events were fatigue, headache, myalgia, and injection-site pain, with fever being the most-common systemic event.
Another randomized trial—this one published in Lancet Respiratory Medicine—is bolstering the view that patients hospitalized for COVID-19 who are already taking ACE inhibitors and ARBs should continue to do so, supporting recommendations from international CV societies. REPLACE CORONA, while small, joins the earlier BRACE CORONA results in assuaging concerns that RAAS inhibitors might be harmful. "In people who fall ill with COVID-19 requiring hospital admission, continuing these medications for established indications should be considered safe," one of the PIs of the trial told TCTMD.
COVID-19 cases among children, teens, and young adults in the United States have increased since last summer, "with weekly incidence higher in each successively increasing age group," according to a study in Morbidity and Mortality Weekly Report. There were indications that young adults might contribute more to community transmission than do younger children. "To enable safer in-person learning, schools and communities should fully implement and strictly adhere to multiple mitigation strategies, especially universal and proper mask wearing, to reduce both school and community COVID-19 incidence to help protect students, teachers, and staff members from COVID-19."
The COVID-19 pandemic has been associated with an excess of cerebrovascular deaths in the United States, according to a study in Stroke. That excess mortality was associated with decreases in stroke-related EMS calls nationally, as well as mobility at the state level. "Our results suggest that during the pandemic, social distancing behavioral changes may have been a factor in the decrease in seeking medical care for acute, life-threatening conditions like stroke, resulting in excess cerebrovascular-related deaths," the researchers say.
Two members of the World Health Organization (WHO) delegation sent to China to investigate the origins of the pandemic had to remain in Singapore after testing positive for SARS-CoV-2 antibodies, Reuters reports. All 15 members of the team had tested negative when leaving their home countries, and the two positive test results came while they were passing through Singapore. "It is the latest setback for a mission beset by delay as well as concern over how much access the team will get," according to the story.
---


January 13, 2021
There are more signs that the pandemic is continuing unabated around the world: Japan expanded a state of emergency to seven more prefectures, affecting more than half of its population; the German health minister said the country will not be able to lift all pandemic-related restrictions by the beginning of February; restrictions have been tightened in several more regions of Spain; and China saw its biggest daily rise in COVID-19 cases in more than 5 months, prompting additional lockdowns affecting millions of people.
Indonesia has started a large-scale COVID-19 vaccination effort spanning the sprawling archipelago, with President Joko Widodo receiving the first shot of the Chinese-made Sinovac Biotech vaccine, the Associated Press reports. The program "poses massive challenges in a country whose thousands of islands stretch across an area about as wide as the continental United States and where transportation and infrastructure are limited in many places."
Most people traveling to the United States by air will be required to present a negative COVID-19 test result to enter the country according to a new order signed by the director of the US Centers for Disease Control and Prevention (CDC), Reuters reports. The rule, which goes into effect on January 26, states that "nearly all travelers including US citizens must show a negative test within 3 days of departure or documentation of recovery from COVID-19." It applies to all travelers ages 2 and older, except for those only passing through the US.
A more-infectious strain of SARS-CoV-2 first detected in South Africa might hamper the effectiveness of antibody treatments used to prevent severe illness in patients with COVID-19, Anthony Fauci, MD, director of the US National Institute of Allergy and Infectious Diseases, said Tuesday, CNBC reports. "It could be having some impact on protection for the monoclonal antibodies and perhaps even for the vaccine. We don't know that," Fauci said at a preparedness forum.
A new plan to expand access to COVID-19 vaccination to tens of millions more people in the United States immediately, introduced abruptly on Tuesday, is likely to cause problems, STAT's Helen Branswell reports. "The move all but ensures the current narrative around the vaccine rollout—it's too slow—will shift, but not in a positive direction: the incoming Biden administration will likely face a groundswell of complaints about long lines, failed efforts to find vaccine supplies, and an inequitable distribution system as it tries to live up to its promise of seeing 100 million vaccine doses administered in the new president's first 100 days in office."
Two new studies published in the Journal of the American College of Cardiology—one focused on the United States, the second global in scope—are highlighting the impact the COVID-19 pandemic has had on patients with known or suspected cardiovascular disease. In one, US investigators confirmed that death from ischemic and hypertensive heart disease increased in 2020. And the other showed that fewer invasive and noninvasive diagnostic procedures for heart disease were performed around the world, particularly in some of the poorer regions. TCTMD's Michael O'Riordan has the story.
US greenhouse gas emissions dropped by more than 10% during 2020, "reaching their lowest levels in at least three decades as the coronavirus pandemic slammed the brakes on the nation's economy," the New York Times reports. The Rhodium Group, which released the estimates, said it was the single largest decline in annual emissions since World War II, with levels falling below those seen in 1990 for the first time.
 New survey data released by the Society for Cardiovascular Angiography and Interventions (SCAI), in conjunction with DEFINITION6, confirm that Americans are avoiding doctors' offices and delaying routine care during COVID-19-related fears. Responses show that nearly 40% of people still do not feel safe going to see their doctors. More than half indicated they would not be comfortable scheduling a medical procedure at this time. Fears were especially prevalent among African-American and Latinx respondents.
Data from 37 European countries, published in Morbidity and Mortality Weekly Report, indicate that earlier implementation of mitigation strategies appears to be an important way to prevent COVID-19 transmission and reduce related deaths. Those countries that put such policies in place earlier tended to have fewer COVID-19 deaths through the end of June 2020 compared with nations that employed the same strategies, but later.
Composition of the gut microbiome is altered in patients with COVID-19, regardless of medication use, researchers report in Gut, saying, "Associations between gut microbiota composition, levels of cytokines, and inflammatory markers in patients with COVID-19 suggest that the gut microbiome is involved in the magnitude of COVID-19 severity possibly via modulating host immune responses."
A commentary in Annals of Internal Medicine draws attention to the role forced labor plays in maintaining the supply of personal protective equipment for healthcare workers during the pandemic: "If medicine truly wants to bring its actions in line with its oath to do no harm, it can no longer turn a blind eye to where the tools of its trade come from," the authors write. "To contain the human cost of the pandemic, there is no doubt that we should maximize effective use of PPE, but we must also ensure better work practices for those who enable us to wear it in the first place."
---


January 12, 2021
UK hospitals are running out of space, leading to the return of temporary morgues seen during the first surge of the pandemic last spring, Reuters reports. Britain is seeing record levels of cases and deaths as a more-transmissible variant of the virus circulates, particularly around London and southeast England.
Moderna said Monday at a healthcare conference that immunity from its COVID-19 vaccine should last at least a year, Reuters reports. The company also said "it was confident that the messenger RNA (mRNA) technology it used was well suited to deploy a vaccine based on the new variant of the coronavirus which has emerged in a handful of countries."
In Russia, authorities said a 150-person clinical trial will test whether a one-dose "Sputnik-Light" version of its COVID-19 vaccine can be effective against the virus. If successful, it could introduce a way to stretch vaccine supplies further. More than 1 million Russians have been vaccinated with the original two-dose version of the Sputnik V vaccine so far.
The European Medicines Agency (EMA) has received an application for conditional marketing authorization of the COVID-19 vaccine developed by AstraZeneca and the University of Oxford. The agency said the vaccine will be assessed on an accelerated time line, with a decision possibly coming on January 29 after a meeting of its safety committee.
As the pandemic drags on, lessons learned in how to address COVID-19 and its fallout mean that not only acute but also elective procedures, including cardiac interventions, are now possible—when carefully planned. The European Association of Percutaneous Cardiovascular Interventions (EAPCI) last week released advice on how to balance clinical need against safety, with an eye toward regional differences in resources. TCTMD's Caitlin Cox has the story.
Data in JAMA Pediatrics indicate that the rate of hospitalization for COVID-19 in the pediatric population in the United States has veered upward as the pandemic has progressed. Between the middle of May and the middle of November 2020, the average cumulative hospitalization rate across 22 states increased from 2.0 to 17.2 per 100,000 children. "As conversations around in-person education continue, hospitalization growth may offer reasons for concern," the researchers say.
A PNAS review looks into the evidence around the use of face masks to combat spread of SARS-CoV-2, with the authors concluding, "The preponderance of evidence indicates that mask wearing reduces transmissibility per contact by reducing transmission of infected respiratory particles in both laboratory and clinical contexts. Public mask wearing is most effective at reducing spread of the virus when compliance is high." They recommend wearing cloth masks in public along with adhering to hygiene, distancing, and contact-tracing strategies.
The most rigorous effort to date to gauge the quality of research related to COVID-19 published in the pandemic's first wave—published in BMC Medical Research Methodology—has confirmed the grim findings of earlier reports: the vast majority of papers lacked original data, adequate numbers, or weren't reliable due to other, significant study flaws. "The study is not to blame anyone," the senior investigator told TCTMD's Michael O'Riordan. "Within the scientific and medical community, as the virus started to spread, everyone wanted to do something. There was a race to publish, and the journals were faced with a flood of papers. It was an epidemic of scientific papers within a global pandemic. It was unprecedented."
COVID-19 patients with higher serum vitamin D levels have lower risks of in-hospital mortality and need for invasive mechanical ventilation, according to a retrospective study in Mayo Clinic Proceedings. Without randomized trials, it remains unclear whether vitamin D supplementation can improve outcomes of COVID-19. Such trials are warranted, the researchers say.
Two gorillas at the San Diego Zoo Safari Park in Escondido, CA, tested positive for SARS-CoV-2 last week, NPR reports. They were tested after developing coughs and other mild symptoms. The infections are not expected represent a threat to the public, as "the park is currently closed to visitors, and even under normal operating circumstances, there is no logical reason guests would come into contact with a 300-pound gorilla." There have been previous reports of SARS-CoV-2 infections in other species, including tigers, minks, and domesticated cats and dogs.
---


January 11, 2021
A postholiday surge has shifted the distribution of COVID-19 cases around the United States, the New York Times reports. Whereas earlier outbreaks tended to be regional, affecting states with shared borders, the five worst-hit states are now "scattered around the country: Arizona, California, Oklahoma, Rhode Island, and South Carolina." The United States has reached nearly 22.5 million positive cases (six thousand per million) and more than 374,000 deaths.
Elsewhere, the Republic of Ireland has rocketed into first place by case count, with the most confirmed cases per million (10.1 thousand) of any country in the world; Chinese officials say they've administered 9 million vaccine doses but have placed a new lockdown on Beijing as cases spike anew. In Africa, the number of cases now surpasses 3 million, nearly one-third of which are in South Africa; the Canadian province of Quebec imposed the country's first overnight curfew to curb infections, an option neighboring Ontario is now considering; and a new variant has been identified in Japan among four travelers from Brazil.
A modelling study by Edge Health, reported in the Guardian, estimates that one and five people in England have already been infected with the virus—a rate five times higher than the official numbers. In some London-area boroughs, the rate may be as high as one in two, the model indicates.
Another study—this one from China—confirms that symptoms can continue at least half a year after diagnosis. "At 6 months after acute infection, COVID-19 survivors were mainly troubled with fatigue or muscle weakness, sleep difficulties, and anxiety or depression," Chaolin Huang, MD, and colleagues report in the Lancet. "Patients who were more severely ill during their hospital stay had more severe impaired pulmonary diffusion capacities and abnormal chest imaging manifestations, and are the main target population for intervention of long-term recovery." 
From the outset of the pandemic, scientists have debated whether the micro- and macrothrombotic disease seen in the lung and other organs represents direct endothelial cell damage by the virus or a secondary immune system effect. Now, in a research letter in Circulation, Ian R. McCracken, BSc, et al examine transcriptomic and epigenomic data on human endothelial cells in the setting of SARS-Cov-2 and its viral proteins, finding no evidence of a direct viral impact. "The endothelial damage reported in severely ill COVID-19 patients is more likely secondary to infection of neighboring cells and/or other mechanisms, including immune cells, platelets and complement activation, and circulating proinflammatory cytokines," they say.
Wuhan, China, was the first place to report the COVID-19 outbreak, peaking in February 2020, but it was also one of the first to announce it had got the virus under control. Using antibody tests that have grown increasingly more sophisticated over the last 12 months, however, researchers say that thousands of people continued to be infected asymptomatically between March and May 2020. "Virulent SARS-CoV-2 strains may still cause symptoms in extremely susceptible individuals and it may also revert to a highly virulent strain to reignite the epidemic of COVID-19 in China," they warn in PLOS Neglected Tropical Diseases.
An overlooked area of research in the battle against COVID-19 has been vaccines or medications that shorten the infectious period, Bruce Lee, MD, MBA, and colleagues argue in PLOS Computational Biology. In their computational simulations, investigators estimate that if just one-quarter of infected individuals were treated with such an agent, cutting the period of contagiousness by half a day could avoid 1.4 million new infections and 99,000 hospitalizations, as well as save $209.5 billion in direct and indirect costs. "There may be a tendency to overlook vaccines and other treatments that don't prevent a COVID-19 infection or cure disease," Lee said in a press statement.
A new tool developed by the UK Coronavirus Clinical Characterisation Consortium (ISARIC4C), launched last Friday, can help predict the likelihood of deterioration in hospitalized COVID-19 patients. The online calculator assesses 11 measurements to deliver a risk score: age, gender, acquisition of infection in hospital or community, existence of infiltrates on lung X-ray, impairment of consciousness level as defined by the Glasgow Coma Scale, respiratory rate, oxygen saturation on finger probe, blood C-reactive protein levels, blood level of urea, blood lymphocyte count, and supplemental oxygen needs. Validation of the tool is based on a study being published "soon" in Lancet Respiratory Medicine, a press release notes.
People who complete a 7-day quarantine following exposure to COVID-19, remain asymptomatic, and subsequently test negative on PCR at day 7 are unlikely to test positive over the next week, according to an analysis following a policy change in Vermont geared towards shortening quarantine periods. A paper in Morbidity and Mortality Weekly Report describes the shorter quarantine policy undertaken in the state and its validation, concluding: "This assessment supports Vermont's policy as being effective and offers data to support recommendations to shorten quarantine with testing such as those provided in CDC's updated quarantine guidance."
Shelley Wood contributed today's Dispatch.
---


January 8, 2021
"One in 30 Londoners now has COVID-19," says the mayor of London, England, who declared today to be "a 'major incident' due to the rapid spread of the coronavirus across the capital and the increase of COVID-19 cases in hospitals, which has left the NHS at risk of being overwhelmed."
In Lebanon, where the health system is still reeling from the port explosion that shook Beirut in August 2020, hospitals are now turning away COVID-19-positive patients. "Jean Nakhoul, an executive producer for Lebanon's MTV channel, says his family has been calling around the country and finding no medical treatment for his 83-year-old grandmother who is sick with COVID-19," NPR reports. Nakhoul eventually found a hospital with one spot still open but was told it would be held for a younger patient.
The US Food and Drug Administration (FDA) issued an alert today warning that the B.1.1.7 COVID-19 variant may produce a false-negative result on testing. "The FDA is taking additional actions to ensure authorized tests remain accurate by working with test developers and conducting ongoing data analysis to evaluate all currently authorized molecular tests. The FDA believes the risk that these mutations will impact overall testing accuracy is low," the statement reads.
The European Association of Percutaneous Cardiovascular Interventions has issued a position statement detailing considerations for juggling elective invasive cardiac procedures alongside rising COVID-19 hospitalizations. "During the different waves of the COVID-19 pandemic we have to face the problems of how to perform elective cardiac invasive procedures in non-COVID patients and which patients/procedures should be prioritized," write Alaide Chieffo, MD, and colleagues. "In this context, the interplay between the pandemic stage, the availability of healthcare resources, and the priority of specific cardiac disorders is crucial."


"Wednesday's storming of the US Capitol did not just overshadow one of the deadliest days of the coronavirus pandemic—it could have contributed to the crisis as a textbook potential superspreader," health experts told the Washington Post. There were few face coverings but plenty of shouting, jostling, and crowded conditions; with many of the rioters now returning home to cities around the country, it will be difficult to track infections. "It is a very real possibility that this will lead to a major outbreak but one that we may or may not be able to recognize," said Eric Toner, MD, of the Johns Hopkins Center for Health Security.
In the BMJ, Gareth Iacobucci and Elisabeth Mahase explore the potential downsides of delaying the second dose of approved COVID-19 vaccines, an option that's being weighed as some governments opt to use available doses to vaccinate as many people as possible, rather than holding back booster shots. In the UK, four chief medical officers suggested that the second dose could be delayed as much as 12 weeks—something that was tested in small numbers in trials of the Oxford/AstraZeneca vaccine but not the Pfizer/BioNTech product.
US President-elect Joe Biden said today that he would release all available doses of the vaccine to offer some protection to as many people as possible, "a sharp break from the Trump administration's practice of holding back some of the vaccine," the New York Times reports.
At a press conference yesterday, investigators in Brazil who've been testing the Chinese Sinovac vaccine announced they have had "fantastic" results. The investigational vaccine "was safe and had 78% efficacy in preventing mild cases of COVID-19 in a study of more than 12,000 healthcare workers," spokespeople said, while "completely" preventing serious illness. An article in Science explores why skepticism continues to hound this vaccine candidate.
The European Medicines Agency (EMA) has issued updated product information for the Pfizer/BioNTech vaccine (Comirnaty) with recommendations on how to extract the additional sixth dose from a single vaccine vial. As previously reported by TCTMD, as originally authorized, the vials were first described as containing five doses. In their updated guidance, the EMA recommends that low dead-volume syringes and/or needles be used, since standard syringes and needles will not leave enough of the vaccine in the vial to eke out that sixth dose. Residual doses of vaccine from different vials should not be combined, they add.
Parts of the US with large colleges or universities that opted for remote instruction at the start of last fall experienced a 17.9% decrease in incidence of COVID-19 during the first 3 weeks, whereas those with postsecondary schools that offered in-person instruction experienced a 56% increase in incidence when compared with the 21-day period before class. By contrast, "counties without large colleges or universities experienced a 6% decrease in incidence during similar time frames," researchers write in Morbidity and Mortality Weekly Report.
A separate MMWR analysis links infections on campus with on- and off-campus fraternity and sorority gatherings within the first 2 weeks of the academic year at an Arkansas University, where there was a rapid rise in COVID-19 infections. Most students had classes with virtual instruction; fully "91% of gatherings were associated with fraternity or sorority activities," researchers report.
A French study addressing olfactory and gustatory symptoms among more than 800 healthcare workers and outpatients with a known COVID-19 exposure found that patient-reported smell- and taste-related symptoms were common in those who subsequently tested positive for SARS-CoV-2, but at lower rates than had been seen in other studies of patients who've already received a diagnosis. Combining patient-reported symptoms with clinical testing for olfactory dysfunction—here, using the CODA test involving detecting and rating the intensity of lemongrass, mint, and lavender—increased sensitivity. Of note, 4% of patients in this JAMA Otolaryngology-Head & Neck Surgery study who tested negative also reported problems with smell or taste.
Shelley Wood contributed today's Dispatch.
---

January 7, 2021
The number of confirmed COVID-19 cases in the United States crossed 21 million less than a week after cresting 20 million on New Year's Day, with the number of patients currently hospitalized reaching a record of 130,834 late Tuesday, Reuters reports. That day saw the second highest single-day death toll (3,684), meaning an American died from COVID-19 every 24 seconds.
Should people be paid in order to increase uptake of COVID-19 vaccination? Authors of a JAMA viewpoint "maintain that payment for vaccination is morally suspect, likely unnecessary, and may be counterproductive." They argue that "a policy of paying people for COVID-19 vaccination should be adopted only as a last resort if voluntary vaccine uptake proves insufficient to promote herd immunity within a reasonable period of time. Public funds would be better spent advancing other evidence-based proposals to increase voluntary vaccine uptake."
Results of a small randomized trial published in the New England Journal of Medicine indicate that use of convalescent plasma earlier in the course of COVID-19 can be beneficial. Among older patients within 72 hours after the onset of mild symptoms, severe respiratory disease developed in 16% of those who received high-titer plasma and 31% of those who received placebo, a relative risk reduction of 48%.                                  
Researchers from the US Centers for Disease Control and Prevention (CDC) released information on allergic reactions among people who received the first dose of the Pfizer/BioNTech COVID-19 vaccine. From December 14 to 23, 21 cases of anaphylaxis were reported after nearly 1.9 million first doses, most (71%) occurring within 15 minutes of administration—that's 11.1 cases per million doses. Based on this information, the authors conclude that anaphylaxis "appears to be a rare event" with this vaccine.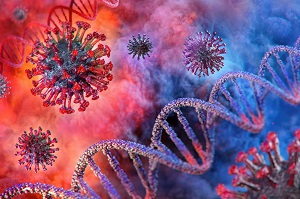 As scientists monitor the more-transmissible SARS-CoV-2 variant first identified in the United Kingdom and now found in dozens of other countries, they are also investigating a new mutation, first identified in samples from South Africa and now in Brazil, that could make it easier for the virus to sidestep protection conferred by vaccines, STAT reports. "It's not that the mutation will render existing vaccines useless, scientists stress. The vaccines authorized so far and those in development produce what's called a polyclonal response, generating numerous antibodies that home in on different parts of the virus. Changes to any of those target sites raise the possibility that the vaccines would be less effective, not that they won't work at all."
A preprint posted Wednesday provides a systematic summary of ongoing or completed RCTs exploring antithrombotic strategies in patients with COVID-19. The bottom line is that the optimal approach remains to be seen, with several trials still ongoing, investigators say.
A meta-analysis in the American Journal of Cardiology suggests that aspirin use is not related to mortality in patients with COVID-19. Mortality rate was 22.6% in aspirin users and 18.3% in nonusers, a nonsignificant difference (RR 1.12; 95% CI 0.84-1.50). "While patients on aspirin tend to have more risk factors for severe COVID-19 infection (eg, older age, coronary artery disease, diabetes mellites), the low heterogeneity in this analysis despite differences in characteristics of the population of the included studies likely suggests no protective effect of aspirin among different groups of patients," the authors conclude.
A study in ESC Heart Failure shows that at a single UK center, the 30-day case-fatality rate among patients presenting with acute heart failure was nearly doubled (21% vs 11%) in the 8 weeks after the first UK death due to COVID-19, as compared with before. "The study highlights the need for widespread preventative and shielding measures particularly in this group of patients especially in the light of the second wave," the authors say.
Among patients with acute stroke, there was no difference in use of reperfusion therapies based on COVID-19 status in a multicenter study published in Stroke. However, median door-to-puncture time was longer in the COVID-19 group, and patients with confirmed or suspected COVID-19 were significantly more likely to die in the hospital or be dependent at discharge.
Showing people geographic COVID-19 prevalence maps doesn't necessarily improve public knowledge, risk perception, or the intent to adhere to health guidelines, researchers report in JAMA Network Open. Presenting cases per capita using state-level heat maps may be better than using county-level bubble maps, they suggest.
 
---


January 6, 2021
Moderna's COVID-19 vaccine is heading to Europe, following the European Medicines Agency (EMA) recommendation today granting a conditional marketing authorization in people 18 and older. That follows the authorization of the vaccine from Pfizer and BioNTech for people 16 and older last month. A phase III trial showed that Moderna's vaccine is 94.1% effective at reducing symptomatic COVID-19.
Hospitals in Peru and Bolivia are being stretched to capacity amid a surge of COVID-19 cases, with critical-care wards "at or near collapse after end-of-year holidays, reflecting wider regional public health capacity concerns as much of Latin America struggles to secure adequate COVID-19 vaccine supplies," Reuters reports.
On Tuesday, World Health Organization (WHO) Director-General Tedros Adhanom Ghebreyesus expressed disappointment about China not yet allowing investigators into the country to look into the origins of the COVID-19 pandemic. However, a Chinese government spokesperson said details are just being worked out, Reuters reports. "There's no need to overinterpret this," she said.
Nancy Messonnier, MD, the director of the National Center for Immunization and Respiratory Diseases (NCIRD) who is leading the CDC's COVID-19 vaccination efforts, told STAT that the slow US rollout should speed up soon. "I really expect the pace of administration to go up pretty massively in the next couple weeks," she said, noting that the vaccines are based on a new mRNA platform that comes with unique distribution, storage, and administration protocols that hospitals have to get used to. The vaccines also started arriving over the holidays during a time of surging COVID-19 numbers, contributing to delays. Anthony Fauci, MD, director of the National Institute of Allergy and Infectious Diseases (NIAID), told the Associated Press that the US could soon be vaccinating 1 million people per day.
An analysis in JAMA Network Open estimates that there were 46.9 million SARS-CoV-2 infections, 28.1 million symptomatic infections, 956,000 hospitalizations, and 305,000 deaths related to COVID-19 in the United States through the middle of November. An estimated 14.3% of the US population had been infected with the virus by that time. "The SARS-CoV-2 disease burden may be much larger than reported COVID-19 cases owing to underreporting," the researchers say. "Even after adjusting for underreporting, a substantial gap remains between the estimated proportion of the population infected and the proportion infected required to reach herd immunity."
A phase II/III trial evaluating a combination investigational monoclonal antibody therapy for mild-to-moderate COVID-19 has begun as part of the ACTIV-2 study, the US National Institutes of Health (NIH) announced. The trial will initially enroll 220 participants who are at risk for disease progression.
Olfactory dysfunction is more common in patients with mild versus moderate-to-critical COVID-19 (85.9% vs 71.1%), according to data from 18 European hospitals published in the Journal of Internal Medicine. The problem lingered for some—at 6 months, about 5% of patients had not yet recovered their sense of smell.
Despite some claims to the contrary, there is no evidence that COVID-19 vaccines cause infertility, according to a Yahoo Life story: "As state and federal officials work to expedite the distribution of the Moderna and Pfizer vaccines to healthcare workers and long-term care facility residents, experts worry that a dangerous myth linking the COVID-19 vaccines to infertility may further hinder efforts to deliver them safely and quickly."
---


January 5, 2021
In Los Angeles County, the COVID-19 situation has deteriorated to the point that ambulance crews have been told to cut back on their use of oxygen and to not bring patients with little chance of survival to hospitals, the Los Angeles Times reports. "The measures were taken as circumstances are expected to become even worse in coming weeks, when patients sickened over the Christmas holiday will need treatment, leaving officials desperate for ways to increase capacity and triage care to focus on the sickest patients."
New lockdowns have been put into place in England and Scotland, and UK Prime Minister Boris Johnson has warned that the coming weeks may be the "hardest yet" as COVID-19 cases surge, helped along by a more-infectious variant of the virus, BBC News reports. Wales said its schools would remain shut until January 18. Scotland's schools will be closed into February.
On Monday, New York Governor Andrew Cuomo said his state was the fourth to detect the new strain of SARS-CoV-2 that has led to tighter control measures in the United Kingdom, NPR reports. It was found in a man with no known travel history, which suggests that community spread is occurring. The variant has also been found in three other US states—Colorado, California, and Florida.
USA Today has updated its explainer on what's known about the new strain, which has now been detected in 33 countries. Several mutations to the spike protein on the surface of the virus has enabled it to more easily attach to cells, facilitating transmission. There is no evidence that the variant produces more severe disease, and researchers believe that the currently available COVID-19 vaccines will protect against it, although a definitive answer to that question awaits further studies.
In response to discussions in recent days about the possibility of reducing the number of vaccine doses, extending the interval between doses, or mixing different products to speed the rollout of immunizations, the US Food and Drug Administration (FDA) has said it wants "to remind the public about the importance of receiving COVID-19 vaccines according to how they've been authorized by the FDA in order to safely receive the level of protection observed in the large randomized trials supporting their effectiveness." The alternate strategies "are all reasonable questions to consider and evaluate in clinical trials," but are not based on solid data, the agency said.
The FDA also issued a safety communication warning about the risk of false—particularly false-negative—results with the Curative SARS-CoV-2 test and stressing the importance of performing the test as described in the authorized labeling.
Older age, male sex, and impaired cognitive and physical function are independently associated with mortality in US nursing home residents with COVID-19, researchers report in JAMA Internal Medicine. "It is time that we recognize that age alone does not sufficiently explain how older persons respond to COVID-19," write the authors of an invited commentary. "Moreover, we should acknowledge the importance of going beyond traditionally assessed mortality risk factors and promote the evaluation of cognitive and physical functioning. Above all, in a time of so much divisiveness and insecurity, we must not make a bad situation worse by succumbing to ageism when measuring prognosis in nursing home residents with COVID-19."
India, which has the second highest number of COVID-19 cases (behind the US) and the third highest number of related deaths (behind the US and Brazil), has given emergency approval to two vaccines—one from AstraZeneca/University of Oxford and one from local company Bharat Biotech, CNBC reports. An immunization program will start up within weeks.
Though it has been argued that countries led by women have fared better during the COVID-19 pandemic than those led by men, that doesn't appear to be the case when looking at fatality rates, according to a study in PLOS ONE. "Country cultural values offer more substantive explanation for COVID-19 outcomes," the researchers say.
The median density of web-like neutrophil extracellular traps (NETs) in STEMI patients with COVID-19 was tripled compared with noninfected controls, according to a study in JAMA Cardiology. These NETs could potentially become a new target for disrupting coronary clot formation caused by the virus, the researchers suggest. "This study reinforces the relevant role of NETs in the pathogenesis of SARS-CoV-2 infection. Based on our results, NETs seem to play a major role in coronary thrombosis in COVID-19 disease," the lead author told TCTMD's L.A. McKeown.
---

January 4, 2021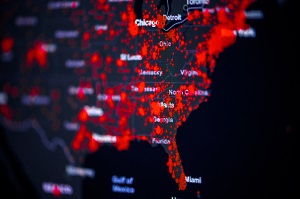 On New Year's Day, the United States passed 20 million confirmed COVID-19 cases, NPR reports. That means it took less than 2 months to double the number of cases from 10 million on November 9. According to the Johns Hopkins COVID-19 Dashboard, the US has twice as many cases as the country next in the list (about 10 million cases in India). Roughly 1.85 million people have died globally.
On Monday, the Japanese government said it's mulling a state of emergency declaration in and around Tokyo in response to surging COVID-19 numbers, "casting fresh doubt over whether it can push ahead with the summer Olympics and keep economic damage to a minimum," according to Reuters. Preparations are being made for a state of emergency that would take effect on Friday and last about a month.
Phase III data on the efficacy and safety of Moderna's vaccine were published last week in the New England Journal of Medicine, confirming 94.1% efficacy against symptomatic illness. All 30 cases of severe COVID-19, including one death, were observed in the placebo group. Serious adverse events were rare and occurred at similar frequency in the two trial arms.
As of Sunday night, there have been more than 12.3 million COVID-19 vaccine doses—from a range of manufacturers—administered around the world, including 4.33 million in the United States, according to a tracker from Bloomberg. Reuters reports US officials are considering giving some people a half dose of Moderna's vaccine to speed the rollout, which has dragged.
Still, Anthony Fauci, MD, director of the US National Institute of Allergy and Infectious Diseases (NIAID), said President-elect Joe Biden's pledge to administer 100 million shots within his first 100 days in office (starting January 20) is achievable, the Associated Press reports.
The limited surveillance of the newly identified, more-transmissible SARS-CoV-2 variant is "déjà vu all over again," writes STAT's Helen Branswell: "A little less than a year ago, the early response to the coronavirus crisis was stifled by an inability to scale up testing to detect the virus and curb its spread. Now, once again, it's unclear how prevalent the new strain, which first surfaced in the UK, might be in the US."
And just how infectious is that new strain? Researchers from Imperial College London released some information on New Year's Eve, with analyses showing that the variant "has a substantial transmission advantage, with the estimated difference in reproduction numbers between [it and other strains] ranging between 0.4 and 0.7, and the ratio of reproduction numbers varying between 1.4 and 1.8." This presents challenges for ongoing control efforts and raises concerns about reopening schools this month, they say.
Indonesia is taking a different approach to COVID-19 vaccination compared with other countries, focusing first on adults of working age rather than senior citizens as a strategy to quickly build up herd immunity and revive the economy, Reuters reports. The story includes expert takes on the potential pros and cons of the approach.
After the United Kingdom decided to delay the second dose of the COVID-19 vaccine from Pfizer/BioNTech to stretch supplies, Germany and Denmark are considering a similar move, Reuters reports. The UK has also said it will allow people to get COVID-19 shots from different manufacturers under certain "rare" circumstances. "In a departure from other strategies globally, the government said people could be given a mix-and-match of two COVID-19 shots, for example if the same vaccine dose was out of stock, according to guidelines published on New Year's Eve." There's no evidence supporting this approach, but studies are ongoing. A STAT story explores potential risks associated with the strategy.
A shorter quarantine among household contacts of patients with confirmed SARS-CoV-2 infection "might be easier to adhere to but poses some risk for onward transmission," researchers conclude in Morbidity and Mortality Weekly Report based on data from Tennessee and Wisconsin. "Persons released from quarantine before 14 days should continue to avoid close contact and wear masks when around others until 14 days after their last exposure."
Researchers from Jack D. Weiler Hospital in Bronx, NY, describe how they converted a cath lab into a COVID-19 ICU, providing a blueprint for other centers to follow, in the Journal of Invasive Cardiology. The biggest challenge, the senior author told TCTMD's Yael Maxwell, "was not building or taking down walls. It was facing the unknown and getting comfortable with uncertainty."
---
COVID-19: TCTMD's Daily Dispatch for December

COVID- 19: TCTMD'S Daily Dispatch for November

COVID-19: TCTMD'S Daily Dispatch for October
COVID-19: TCTMD'S Daily Dispatch for September

COVID-19: TCTMD's Daily Dispatch for August

COVID-19: TCTMD's Daily Dispatch for July
COVID-19: TCTMD's Daily Dispatch for June

COVID-19: TCTMD's Daily Dispatch for May

COVID-19: TCTMD's Daily Dispatch for April

COVID-19: TCTMD's Daily Dispatch for March
Todd Neale is the Associate News Editor for TCTMD and a Senior Medical Journalist. He got his start in journalism at …