Absorb BVS Use Restricted in Europe
The CE Mark approval remains in place, but only centers participating in formal registries should be using the bioresorbable device for now.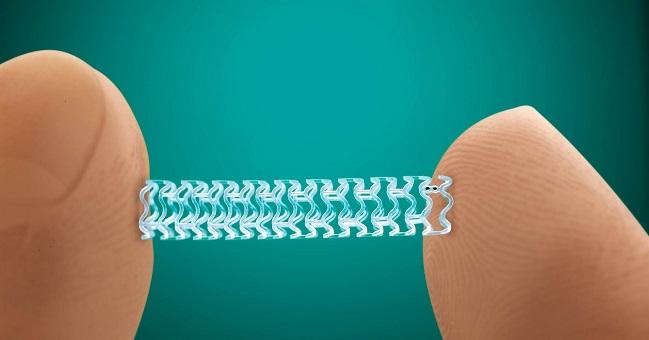 The Absorb GT1 bioresorbable vascular scaffold (BVS, Abbott Vascular) will no longer be widely available in Europe as of May 31, 2017, with the company restricting use of the device to centers participating in clinical registries.
Working with European regulatory agencies and physicians, Abbott said the decision to restrict use is based on questions that arose following recent results from the ABSORB II study.
As reported by TCTMD, the 3-year data showed that treatment with Absorb was associated with a twofold increased risk of device-oriented clinical events, specifically an increased risk of target-vessel MI as well as an increased risk of late scaffold thrombosis, compared with the metallic everolimus-eluting stent (Xience, Abbott Vascular).
Just last week, European researchers published 2-year data from the AIDA study, reporting that while the rate of target-vessel failure was similar between Absorb- and Xience-treated patients, the rate of definite/probable scaffold thrombosis was nearly fourfold higher with the Absorb device compared with the Xience stent.
An urgent field safety notice sent to physicians, limiting use of the Absorb BVS to clinical registries only, will allow researchers and the company to collect additional real-world data. Of particular interest is whether improved implantation techniques—the so-called PSP strategy (preparation/predilatation, appropriate sizing, and postdilatation)—will mitigate the higher event rates with Absorb.
Abbott said they plan to reassess the situation in the summer of 2018.
Davide Capodanno, MD (University of Catania, Italy), told TCTMD they stopped using the Absorb BVS as of March 31, 2017, when the letter went out, since they are not currently participating in the Absorb registries.
Although European physicians received the letter last week, news was slow to reach North America, with the letter generating a flurry of interest when a copy of it was posted on social media by Prashant Kaul, MD (Piedmont Heart Institute, Atlanta, GA).
To TCTMD, Kaul said that pausing Absorb BVS use is appropriate until forthcoming registry and clinical trial data can be evaluated, including data from centers where meticulous attention is paid to the implantation technique.
"I think it is sensible to proceed with caution as is being done in Europe," said Kaul, referring to Absorb BVS use in the United States. "US operators have already become more circumspect in light of the emerging data and recent FDA letter. I would expect that we will follow suit and restrict use to registry sites and the most experienced operators." 
On March 18, 2017, the US Food and Drug Administration sent a letter to physicians warning them of the increased risk of major adverse cardiac events with Absorb and reminding them to adhere to the approved indication and not implant the device in small vessels.
"I think bioabsorbable technology remains the Holy Grail in our field and an important pursuit," said Kaul. "We also have a responsibility to our patients to ensure that we introduce new technologies in the safest manner, and we should continue to collaborate to that end."
Abbott said the CE Mark approval remains in place—Absorb BVS was approved in Europe in 2011—but postmarketing registries are being started in Europe to monitor implantation technique for Absorb. "The [European Union] registries will parallel postapproval observational studies and training being conducted in other parts of the world, including the ABSORB IV study of 3,000 patients in the United States to confirm the effect of current implantation technique on clinical outcomes," according to an Abbott spokesperson.
Photo Credit: Copyright 2016. Abbott. AP2942644 Rev. A

Michael O'Riordan is the Associate Managing Editor for TCTMD and a Senior Journalist. He completed his undergraduate degrees at Queen's…
Read Full Bio