ADALA: Low-Dose Apixaban Tops DAPT After LAA Closure
The findings, from a small, prematurely stopped trial, need to be confirmed in larger studies, one expert says.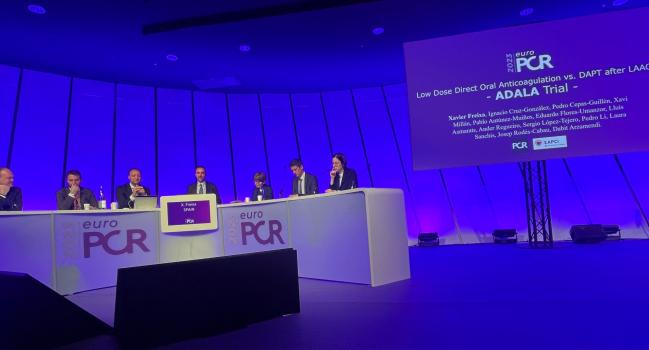 PARIS, France—A low dose of a direct oral anticoagulant (DOAC) may be a better option than dual antiplatelet therapy (DAPT) after left atrial appendage occlusion (LAAO), the randomized ADALA trial suggests.
A composite of thromboembolic events, device-related thrombus (DRT), and major bleeding through 3 months was reduced with low-dose apixaban (Eliquis; Bristol Myers Squibb) versus DAPT with aspirin and clopidogrel, Xavier Freixa, MD, PhD (Hospital Clinic of Barcelona, Spain), reported Wednesday at EuroPCR 2023.
The difference was driven by greater numbers of major bleeds and device-related thrombi in the DAPT arm.
But acknowledging the limitations of the study, which was stopped early due to an advantage for low-dose DOAC after 90 of a planned 160 patients were randomized, Freixa said "further trials will confirm our results," pointing specifically to the ongoing ANDES trial. That study, with an estimated enrollment of 350 patients, is randomizing patients to one of four DOACs or DAPT with aspirin and clopidogrel for 8 weeks.
An ideal antithrombotic regimen after LAAO has not been established. The earliest trials of the Watchman device (Boston Scientific) included a postprocedural regimen consisting of 45 days of warfarin plus aspirin, followed by aspirin and clopidogrel for up to 6 months and then aspirin alone thereafter; DOACs have largely taken the place of warfarin in that strategy in recent years. But other LAAO devices, like the Amplatzer Amulet (Abbott), have been studied in patients mostly treated only with antiplatelet therapy after the procedure, and for the second-generation Watchman FLX device, DAPT became a labeled option last year.
Out in practice now, there are many combinations of anticoagulant and antiplatelet therapies used, although the most accepted, Freixa said, is DAPT with aspirin and clopidogrel for 3 months. There's no strong evidence backing its use, however, and it seems that a low-dose DOAC would provide a good balance between thrombotic and bleeding events, he added.
Hunting for the Ideal Agent
Enter the ADALA trial, in which patients with atrial fibrillation underwent successful LAAO and then were randomized to a low dose of apixaban (2.5 mg twice daily) or DAPT for 3 months. Mean patient age was 76.6, and two-thirds of participants were men. Almost all (95.6%) had a prior bleeding event, mostly gastrointestinal. Mean CHA2DS2-VASc score was 4.0, and mean HAS-BLED score was 3.5.
For the procedure, most patients (67.5%) were treated with an Amplatzer Amulet device, with another 23.3% treated with the Watchman and 8.9% the LAmbre (Lifetech). LAAO was successful in all cases. Around the time of the procedure, one patient had a procedure- or device-related serious adverse event within the first 7 days and one had a major bleed; both were in the DAPT arm.
Through 3 months, there were 12 total primary endpoint events—two in the DOAC arm and 10 in the DAPT arm (4.6% vs 21.7%; HR 0.18; 95% CI 0.04-0.84). Both of the events in the DOAC arm were major bleeds. In the DAPT group, there were four device-related thrombi and six major bleeds.
When both major and minor bleeds were combined, there was a significantly lower risk in the DOAC-treated patients than in those who received DAPT (4.6% vs 28.3%; HR 0.14; 95% CI 0.03-0.63).
Follow-up will continue in the trial, with repeat imaging performed at 1 year. That will enable researchers to evaluate whether switching to aspirin monotherapy at 3 months has a differential impact on risk of DRT between the apixaban and DAPT arms of the trial, Freixa said.
The findings appear to be consistent with a previous nonrandomized analysis, which showed that the risk of DRT was lower in patients undergoing LAAO who were treated with a half-dose of a DOAC rather than a standard regimen (45 days of a DOAC plus aspirin, followed by aspirin plus clopidogrel up to 6 months and then aspirin monotherapy indefinitely).
But it's too early to start thinking about changing practice based on these findings, according to Christian Ukena, MD (Saarland University Medical Center, Homburg/Saar, Germany), a panelist at the late-breaking session at which Freixa presented the results. The absolute number of primary endpoint events was low, Ukena commented to TCTMD, and "their findings could be by chance."
He agreed that additional randomized trials are needed to help resolve the question. ADALA is "an interesting, hypothesis-generating trial," he said, "but it needs to be confirmed in larger numbers."

Todd Neale is the Associate News Editor for TCTMD and a Senior Medical Journalist. He got his start in journalism at …
Read Full Bio
Sources
Freixa X. Low-dose direct oral anticoagulation vs. DAPT after LAAO. Presented at: EuroPCR 2023. May 17, 2023. Paris, France.
Disclosures
Freixa reports consulting/proctoring fees from Abbott, Boston Scientific, and Lifetech Scientific.