AHA Calls Out Structural Racism as Driver of CVD Inequalities
Pledging deeds not words, a presidential advisory outlines antiracist steps the group is taking to end entrenched inequality.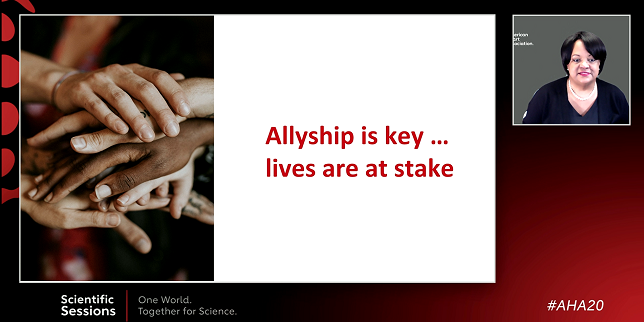 Days away from kicking off its virtual scientific sessions, the American Heart Association (AHA) has issued an advisory not only calling out structural racism as a fundamental driver of health disparities but also listing concrete steps the organization is taking to dismantle it. This includes dedicated programming as part of this year's conference, AHA leaders said today.
"Today we go beyond words to take immediate and ongoing action to accelerate social equity," AHA President Mitchell Elkind, MD (NewYork-Presbyterian/Columbia University Irving Medical Center, New York, NY), told reporters during a webcast announcing the news today.
While deaths attributable to heart disease and stroke have declined over the last two decades, these gains have not been shared across racial and ethnic groups, he noted. "Every person must have the same opportunity to have a full healthy life. With this advisory, the American Heart Association reiterates our fundamental support for antiracist principles that negatively impact the lives of so many, and we proclaim structural racism as a major cause of poor health and premature death."
These are some pretty harsh realities that demand bold action. Keith Churchwell
The document, led by writing group chair Keith Churchwell, MD (Yale New Haven Hospital, CT), has been published online in Circulation.
An Urgent Need
Churchwell, also speaking during today's webcast, noted that the advisory has been in the works since 2017: before masks became a "lifesaving accessory," before the police killings of George Floyd, Breonna Taylor, and others, before the #BlackLivesMatter protests, and before it was clear that COVID-19 would disproportionally affect ethnic and racial minorities. All of these, he said, created "an even greater sense of urgency."
Key areas identified in the AHA document to address structural racism include:
Transforming historically marginalized communities by restructuring systems to improve conditions that affect health in workplaces, neighborhoods, and schools

Improving the quality of education, housing, and neighborhoods, especially in segregated areas

Fostering "allyship" between racial and ethnic groups, and among health organizations, to garner political support and public empathy needed for change to occur

Supporting research that investigates the effects of racism and its impact on health outcomes and health disparities.
The document also reviews the historical context necessitating this statement, current barriers, and possible solutions to structural racism and its impact, concluding that dismantling structural racism is in everyone's interest.
"The burden of mitigating the impact of structural racism on economic, social, and health inequities is a shared responsibility; it should not fall only on those individual's impacted," Churchill stressed. "These are some pretty harsh realities that demand bold action. We believe the plan we have set in motion with this advisory will make an impact and will move us forward to a more equitable society for all and ultimately a healthier one."
Co-author Eduardo Sanchez, MD, MPH, chief medical officer for prevention at the AHA, also speaking to reporters, called the latest advisory part of the "natural progression" and evolution of the association's work over the better part of a century. While a 2015 advisory tackling social determinants of health included race and ethnicity, today's goes one step further in calling out structural racism and specifically detailing what has been overlooked in previous publications.
"Although racism has been identified as a fundamental cause of health disparities in the United States, explicit investigation of structural racism in health research has been limited," said Sanchez. "Most research studies have investigated race and ethnicity because these are measures that can be assessed through self-report and are consistently essential for descriptive epidemiology and surveillance of health conditions. However, race and ethnicity are sometimes improperly presumed to reflect biological or genetic differences and explain disparities in health status and health outcomes. This contributes to the loaded examination of how structural racism impacts health and mental and physical wellbeing,"
Allyship is when those in a position of power or privilege work hand in hand with the groups that are being held back. Regina Benjamin
The document concludes with a strongly worded commitment to antiracist principles, to calling out racist policies and practices internally and externally, to maintaining and updating the AHA's diversity policies and accountability, and to reviewing contracts with whom the organizations works while also hiring underrepresented businesses. Just as the AHA has sworn off working with industries like tobacco and sugary drink manufacturers, so too will the organization eschew partners or businesses that are not also committed to the same antiracist values, Churchill et al state. The organization also issued a call to action to other organizations to join them in defeating structural racism and its devastating impact on health.
"No one organization can do it alone," said former US Surgeon General and AHA board member Regina Benjamin, MD, MBA (Gulf States Health Policy Center, Bayou La Batre, AL), also a member of the writing committee. "This advisory specifically points out how important it is to have allies. If we're going to end structural racism and the health inequalities that it causes, allyship is more than just collaboration. Allyship is when those in a position of power or privilege work hand in hand with the groups that are being held back."
When the AHA's virtual scientific sessions get underway on Friday, programming will reflect the new antiracist goals, Elkind told TCTMD. A special session jointly hosted by the Association of Black Cardiologists (ABC) on the Main Event channel on Saturday and moderated by Elkind, President-elect Donald Lloyd Jones, MD (Northwestern University, Chicago, IL), and ABC President Michelle Albert, MD, MPH (University of California, San Francisco), will directly address the topic of structural racism as a determinant of cardiovascular disease. Other topics, including health disparities in COVID-19, are also in the line-up, with details from the AHA's own registry data. "So, absolutely, this topic is permeating many different aspects of the work that we do, including the scientific sessions that are coming up," Elkind said.

Shelley Wood is Managing Editor of TCTMD and the Editorial Director at CRF. She did her undergraduate degree at McGill…
Read Full Bio
Disclosures
Churchwell, Elkind, and Sanchez report having no relevant conflicts.
Benjamin reports modest speakers bureau/honoraria from Otsuka America Pharmaceutical and Pacira Pharmaceuticals.