Automatic Scripts, Pharmacist Phone Calls Boost Statin Prescribing
Two types of "nudges" were tested in SUPER LIPID. Where electronic alerts fell short, a boosted pharmacy role won handily.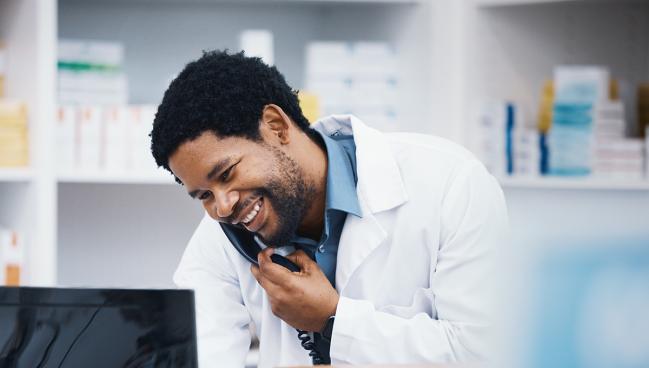 PHILADELPHIA, PA—Looping in a centralized pharmacy at the time of statin prescription—then having pharmacists call patients to discuss starting treatment—more than doubles the number of people who got a statin prescription over usual care, the SUPER LIPID program shows. Involving the pharmacist, without requiring a primary care visit by the patient, also vastly increases the likelihood of patients receiving an appropriate statin dose.
This centralized "asynchronous" strategy, said Alexander C. Fanaroff, MD (University of Pennsylvania, Philadelphia), who presented the results here at the American Heart Association 2023 Scientific Sessions, "could be an effective adjunct to visit-based clinical interactions in increasing statin prescribing for high-risk patients."
A second approach, also tested in SUPER LIPID, tried to boost statin prescription using repeated electronic health reminders at 3- and 6-month intervals. This strategy improved rates of statin prescribing, but to a much lesser degree, and did not significantly improve rates of appropriate statin dosing.
As Fanaroff reminded the audience, statins can reduce CV events by as much as half in patients with or at high risk of developing atherosclerotic cardiovascular disease (ASCVD), yet more than 50% of US adults with indications for these powerful drugs aren't taking them, or not doing so at effective doses. Roping in pharmacists, who can verify patient indications and optimal dosing, might be a useful avenue for increasing statin uptake.
Both the electronic health record (EHR) alerts—which were based on patient visits—and the non-visit-based automatic orders to pharmacies, with pharmacist phone calls to patients, were tested in parallel. Eligible patients were identified by EHR algorithms. Over 1,600 patients were enrolled in the EHR alert analysis and nearly 2,000 in the pharmacy analysis.
As noted, the EHR approach did not have a major impact on statin prescribing—echoing findings in other areas of medicine, suggesting that pop-ups and alerts during patient visits are at best a distraction and at worst an irritation that fail to elicit the desired prescribing.
By contrast, among the 975 patients randomized to have their prescriptions automatically sent to pharmacies, who then received a phone call from the pharmacist to discuss, 31% had a new statin prescription initiated, as opposed to just 15.2% of patients assigned to usual care (OR 2.22; 95% CI 1.47-3.37). Moreover, 24.8% in the intervention group received an appropriate statin dose, as compared with just 7.7% in the usual care arm (OR 6.79; 95% CI 4.00-11.53).
Overcoming Inertia
Benjamin Scirica, MD (Brigham and Women's Hospital, Boston, MA), the scheduled discussant following Fanaroff's presentation, congratulated the authors for an "outstanding" implementation study. He noted that 20 years after studies first established the role of higher intensity statins, along with guideline support, "we still have incredible clinical inertia."
There are multiple barriers to implementation, Scirica acknowledged, including healthcare system problems, institutional problems, clinical complexity, and patient misconceptions. "But much of it does center on the misalignment with policy incentives, financing, or system priorities [as well as] the high cost and complexity of disease, inadequate infrastructure or personnel to deliver interventions, regional disparities in resources, and heterogeneous response according to different populations," he commented.
Too often, he added, there's an engrained sense that "it has to be the doctor who is the only one who can change that."
Whereas the pharmacist-centered intervention was more complicated and likely more costly than the EHR nudges, "it's able to personalize treatment at scale," said Scirica.  
But more needs to be done, he concluded, a nod to the fact that the majority of patients in SUPER LIPID never ended up on a statin. "Implementation science is hard," he said. "True change requires creative and multifaceted strategies . . . and must include system-wide efforts of team-based care."
Speaking with TCTMD, Fanaroff characterized the 17% gains in appropriately dosed statin prescribing in this trial as "the easiest 17%" to get, because physicians were willing and able to sign the orders and patients were willing and able to get the prescriptions. The "next easiest," he predicted will be the 25% of physicians who, for whatever reason, didn't sign the orders for the prescriptions to get in the hands of the pharmacists. He hopes this study will do some good in showing skeptical physicians who may be reluctant to hand this aspect of their jobs off to pharmacies that this can indeed work well.
"There's this idea that physicians should take care of their patients," he said. "But it's not a failure on anybody's part to give this little bit out to other members of the care team, or to partner with other members of the care team."
The more challenging percentage to reach is the patients who never picked up the phone when the pharmacist called, who did but refused to get a prescription, or who had a contradiction to a statin from the get-go.
In these cases, conversations and therapies are really going to need to be personalized, Fanaroff said. "To move the needle beyond the 17-percentage point increase that we saw is going to take more work, and it's going to have to be a higher touch process."

Shelley Wood is Managing Editor of TCTMD and the Editorial Director at CRF. She did her undergraduate degree at McGill…
Read Full Bio
Sources
Fanaroff AC. Two Randomized Controlled Trials of Nudges to Encourage Referrals to Centralized Pharmacy Services for Evidence-Based Statin Initiation in High-Risk Patients: The SUPER LIPID Program. Presented at: AHA 2023. November 13, 2023. Philadelphia, PA.
Disclosures
SUPER LIPID was funded by a National Institutes of Health Clinical and Translational Science Award with additional funding from Penn Medicine.