Bioresorbable Scaffolds for PAD: Does the Strategy Have Legs?
Though lessons can be learned from the coronary territory, BRS in development for use in the peripherals face unique challenges.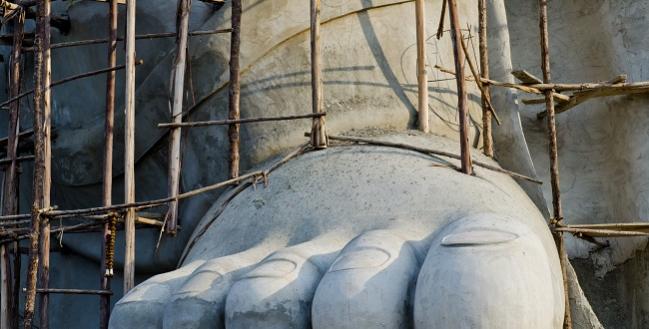 HOLLYWOOD, FL—Bioresorbable scaffolds (BRS), already making headway in Europe and the United States for coronary artery disease, may one day extend their reach beyond the heart into the treatment of peripheral artery disease. Two speakers at last week's International Symposium on Endovascular Therapy (ISET) 2017 waded through what it would take for the devices to succeed in this context and what they offer to PAD patients.
"There's a lot of appeal to the basic concept of bioresorbable scaffolds," Michael Dake, MD (Stanford University, CA), said in his presentation. He cited several advantages common to all such scaffolds—first and foremost that no permanent device is left behind—while acknowledging concerns over "inflammation, embolization of material, and the unknown time of support that may be needed by one of these structures."
The question is how such factors with play out in the periphery.
Particular to superficial femoral artery (SFA) and iliac artery disease, Dake shared 3-year data from the first-in-human ESPRIT I trial on the Esprit BVS (Abbott Vascular) that were released at VIVA 2016. Importantly, the fact that freedom from clinically driven TLR held steady between 2 and 3 years, he said, "is something I think is going to embolden the company to move forward with a larger trial."
Dake also cited the work of Ramon Varcoe, MD (Prince of Wales Hospital, Sydney, Australia), who has published early findings on use of the Absorb BVS (Abbott Vascular) in below-the-knee lesions.
"Going forward, I think there are hopes and promises," Dake commented. "Clearly, these are all works in progress. There's nothing ready for general clinical use. And so it does sort of remain an unrealized potential."
Compared with conventional stents, he said, nonmetallic temporary stents are "a better solution for a challenging vascular segment like the SFA."
'Speed Bumps' Ahead
Yet Dake cautioned against "potential deal breakers" and "speed bumps."
Currently available "materials aren't as flexible as you might like them to be," he said. "They don't have the radial force you might need in certain situations where [there's] heavy calcium. Obviously, they have to conform to underlying anatomy in ways that I think can often be challenging in the periphery." It may prove impossible to create the ideal bioresorbable device for PAD that takes into account all of these competing needs, Dake suggested.
A chief challenge for BRS in this setting, Juan Granada, MD (Cardiovascular Research Foundation, New York, NY), told TCTMD, is the need to "maintain mechanical strength in areas where biomechanical stress is very, very, very high."
Granada, who also presented on BRS in the same ISET session as Dake—but with a focus on the coronaries—said that in general the devices "have actually achieved a mechanical strength acutely that is comparable to metallic scaffolds. But the problem is when it comes down to tough vascular territories, like for example the distal SFA, the potential for fracture is very high."
With bioresorbable scaffolds, "the sizing of the vessel has to be very precise" in order to maintain mechanical strength, he explained. This means that devices used in larger peripheral vessels must be designed specifically for that indication. "For the SFA, it's going to have to be a dedicated device with different mechanics and different diameters," Granada noted. And he predicted that while coronary-sized technologies could be used below the knee, the very small vessels and long lesions involved in that particular location mean that BRS are unlikely to see widespread use there.
Nonetheless, many interventionalists are interested in applying this novel concept to PAD, he confirmed.
"In the peripheral territory there is a very strong feeling that the therapies should minimize the use of permanent implants," Granada said. "Number one is because disease progression is very aggressive, [and] putting super long stents in the SFA and below the knee in multiple vascular territories doesn't sound that appealing. And people do want to get away with leaving nothing behind."
Alternatives are, of course, drug-coated balloons and metallic stents. With balloons you can end up with recoil, can create dissections, and may need additional stents, he said, adding, "With stents, the problem is you're committing [to] a permanent implant in a vascular territory. So there is no really perfect world."
Bioabsorbable devices "really do bring the best of both worlds—the beautiful scaffold effect acutely, lumen preservation, maintaining lumen over time, but then disappearing as the vessel remodels," Granada said.
They offer "something different and appealing to the interventional community," he concluded, "but there are a lot of things that need to be [addressed]: the profile of the devices, the wall thickness of the devices and potential for thrombogenicity, biomechanical issues that actually can produce higher restenosis rates, and all these potential issues with biomechanical fractures [and] biomechanical failures."
Just how—or if—these myriad issues can be resolved remains to be seen. Products under development are very early, Granada observed, noting that Abbott Vascular seems furthest along in its research. Both the ABSORB BTK and the DISAPEAR trial are currently recruiting participants. Additionally, the Akesys Prava sirolimus-eluting bioresorbable scaffold (Elixir Medical) is being tested in the DESappear trial, while Remedy biodegradable peripheral stent (Kyoto Medical Planning) for SFA disease is being tracked in the REMEDY registry. Meanwhile, the STANCE and SPRINT trials are using the Stanza drug-eluting resorbable scaffold (480 Biomedical) in SFA lesions.

Sources
Dake M. Bioabsorbable scaffolds for peripheral applications: What do we know? Presented at: ISET 2017. February 6, 2017. Hollywood, FL.
Disclosures
Dake reports serving as a consultant to Cook Medical and Novate Medical, on the scientific advisory board of WL Gore & Associates; and being a member of W.L. Gore & Associates
Granada reports that the CRF Skirball Center for Innovation has received research grants from various companies involved in the bioresorbable scaffold field.