BLADE-PCI: Antirestenotic Drug Flops in Diabetics, but Inflammation Hypothesis Lives On
Despite the lackluster results, the PI and others say there may still be opportunity with different modes and timing of delivery.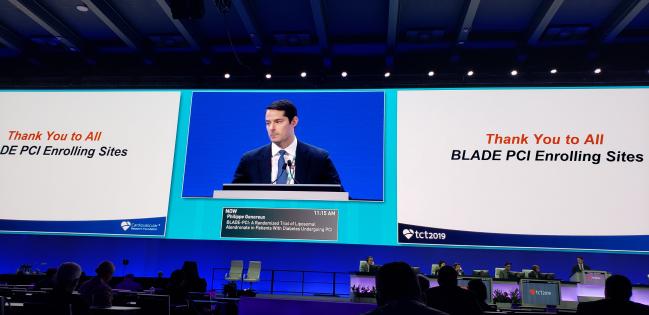 SAN FRANCISCO, CA—An experimental compound given intravenously at the time of stent implantation failed to reduce in-stent neointimal formation compared with placebo in diabetic patients, but experts here at TCT 2019 say more of this type of research is needed to understand how drugs might be used to interfere with inflammation in this population at high risk for restenosis.
The BLADE-PCI study, presented in the final late-breaking science session, tested an investigational compound known as LABR-312, which has been shown in animal studies to decrease neointimal hyperplasia by reducing circulating monocytes and the accumulation of monocytes at vascular-injury sites and around stent struts. The compound is a form of alendronate, a bisphosphonate used to treat or prevent osteoporosis.
At 9 months, optimal coherence tomography (OCT) showed no difference in the percent of stent volume occupied by neointimal hyperplasia, the primary endpoint (13.3% in the experimental treatment group vs 14.6% in the placebo group; P = 0.35). There also was no difference across dose-escalation groups of the experimental drug (0.01 mg, 0.03 mg, and 0.08 mg). Similarly, secondary endpoints including neointimal hyperplasia thickness and percentage of stent strut coverage were not significantly different between the two groups on OCT.
In his presentation, lead author Philippe Généreux, MD (Morristown Medical Center, NJ), said continuing to use the drug as it was in the study "is probably not a good idea." On the other hand, he said, longer follow-up and/or a different drug strategy, such as multiple administrations over time, may have shown more of a difference.
Several experts seemed to agree with this assessment.
Juan F. Granada, MD (Cardiovascular Research Foundation, New York, NY), who moderated a press conference prior to the presentation, said ongoing efforts to develop alternative treatments to address the high rate of stent failures in diabetic patients is "extremely important."
Both Granada and discussant Gary S. Mintz, MD (Cardiovascular Research Foundation), questioned whether the 9-month time frame was long enough to see an impact and whether the single bolus of the drug was adequate, with Généreux noting that about 15% of patients underwent unplanned revascularization between 6 and 9 months, therefore having OCT imaging before the planned 9 month-evaluation. Mintz noted that since neoatherosclerosis typically peaks around 18 months, longer follow-up is likely warranted.
It's not the end of the inflammation theory to prevent restenosis in high-risk patients. Philippe Généreux
The 271 diabetic patients from 18 sites in Canada, the United Kingdom, Poland, and Israel were randomized to placebo or LABR-312 with planned dose escalation. All patients received a zotarolimus-eluting Resolute stent (Medtronic) for treatment of stable or unstable angina, silent ischemia, or NSTEMI. Treatment of up to five de novo target lesions, with a maximum of three per vessel, was allowed. There were no significant differences in baseline, angiographic, or procedural characteristics, or in medications given during the index procedure. The experimental drug was given no later than 30 minutes after randomization.
In-stent late loss at 9 months was 0.29 ± 40 mm in the LABR-312 group and 0.34 ± 0.40 mm in the placebo group (P = 0.41). In-stent diameter stenosis was 24.0 ± 14.6 mm and 26.2 ± 13.8 mm, respectively (P = 0.27), while in-stent restenosis (> 50% diameter stenosis) was 6.8% and 9.35% (P = 0.50). There were no deaths or cases of stent thrombosis in either group, and there similar rates of stroke, MI, revascularization, target vessel failure, target lesion failure, cardiac death or MI, and MACCE.
Inflammation Hypothesis 'Still Alive'
"I would say it's not the end of the inflammation theory to prevent restenosis in high-risk patients," Généreux said in an interview with TCTMD. "Maybe there is more to this and maybe some flaw in study design may explain our results. This study [may help] better explain where we failed and maybe will help to design trials where we can succeed in this very-needed area."
He also noted that the study population of all-comers was selected for OCT suitability at follow-up, which might have excluded more complex lesions subsets, including small distal vessels and severe tortuous vessels where restenosis is more likely.
Discussant Hector M. Garcia-Garcia, MD, PhD (Washington University Hospital Center, Washington, DC), asked whether C-reactive protein values were collected. Généreux responded that they were similarly reduced in both groups at 9 months, "but we have to take a more careful look at that."
Speaking with TCTMD, Généreux said he remains hopeful about exploring differing modes and timing of administration, possibly with a different drug such as colchicine, which is used to treat gout and has a similar mechanism of action. "I think this study just lays the foundation that maybe there is a way to do this that we haven't yet figured out, but that is worth continuing to explore," he concluded.
Note: Généreux is a faculty member of the Cardiovascular Research Foundation, the publisher of TCTMD.

Sources
Généreux P. Biorest liposomal alendronate administration for diabetic patients undergoing drug eluting stent PCI: BLADE-PCI trial. Presented at: TCT 2019. September 29, 2019. San Francisco, CA.
Disclosures
Généreux reports consulting and speaker fees from multiple drug and device companies.