Breast Health, Weight Beat Out Cardiovascular Disease Concerns Among Doctors Treating Women
What little education is done to remind women and their physicians about their leading cause of death isn't working, experts say.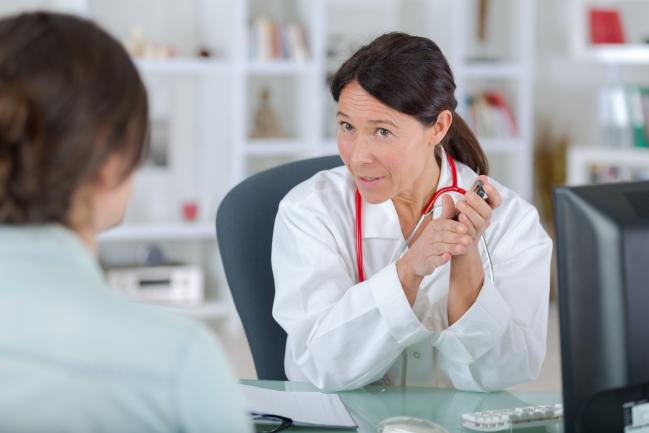 Cardiovascular disease is the leading cause of death among women in the United States, yet even after years of advocacy, women remain unaware of its importance. Physicians, meanwhile, continue to focus more on breast health and weight and less on CV health when treating female patients, according to the results of a recent nationwide survey.
"Without understanding what the knowledge gaps are, without understanding what attitudes and beliefs are, you will continue to do the same thing that hasn't worked," C. Noel Bairey Merz, MD (Cedars-Sinai Heart Institute, Los Angeles, CA), the study's lead author, told TCTMD.
The new results, published online recently in the Journal of the American College of Cardiology, point to the need for more physician training on women's heart health and more awareness among women. "Physicians said that they did not believe that men and women's heart were inherently different," Bairey Merz said. "Twenty-five years of research now clearly demonstrates that there are moderate and sometimes very significant differences in women and men's heart that does translate into them being underdiagnosed, misdiagnosed, and not being given the lifesaving treatments that make a big difference in heart disease."
Roxana Mehran, MD (Icahn School of Medicine at Mount Sinai, New York, NY), who was not involved in the survey, told TCTMD that she is surprised "that primary care physicians and other physicians still feel like they need more education about cardiology and heart disease in women. . . . We must not be doing something right, and we have to work on that."
CVD and stroke are responsible for one out of every three deaths among women each year, translating into one woman dying from these causes every 80 seconds in the United States, the American Heart Association (AHA) says. That's why, in 2004, the AHA started the Go Red for Women campaign to advocate for awareness and education. The initiative has helped 2 million women learn about their odds of getting heart disease, and it has reached out to 200,000 medical facilities to spread the word on these issues.
However, as Jennifer G. Robinson, MD, MPH (University of Iowa Health Care Carver College of Medicine, Iowa City), notes in an accompanying editorial, progress against cardiovascular disease-related death overall has "plateaued." In particular, she says, "Women have experienced slower declines in CVD than men, and recently, premature mortality from coronary heart disease began increase in U S women < 50 years of age."
Doctors Focus Too Much on Breast Health, Weight
For their study, researchers in the Women's Heart Alliance (WHA) assessed 1,011 American women (ages 25 to 60 years old) from September 18 to September 26, 2014. The 15-minute survey relied on the KAB technique—short for knowledge, attitudes, and beliefs—which Bairey Merz et al say is "an established survey approach used for nonmedical and medical areas, to identify barriers and opportunities to advise awareness, action, and advocacy efforts." Participants of the online survey were selected randomly based on their address. For those who didn't have internet or computer access, researchers provided it, in order to produce a more accurate depiction of American women. The response rate was 43%.
Nearly half of women (45%) did not know that CVD is the number one cause of death for women. Only 11% of women survey respondents knew someone who died of CVD, while 45% of women said that they had rescheduled or canceled a doctor's appointment in order to lose weight. Almost 71% of women had never expressed concern about heart health to their doctor.
"Very few women knew a woman with heart disease or even worse a women that had died with heart disease," Bairey Merz commented to TCTMD. "And that's just shocking because it kills more women than all cancers combined."
The investigators also gathered data from 200 primary care physicians: 31 internists, 112 family physicians, 10 general practitioners, 50 obstetrician/ gynecologists, and 100 cardiologists. All of the physicians had been practicing medicine for at least 3 years. At least 33% of primary care physicians' patients and at least 21% of cardiologists' patients were female. These surveys were completed online between May 6 and May 12, 2014.
Only 39% of primarily care physicians considered CVD a top concern, while others thought breast health and weight were the main concerns. Bairey Merz and colleagues report that only 22% of primary care physicians and 42% of cardiologists "felt well prepared to assess women's CVD risk," with 23% and 20% of these groups, respectively, saying that they implemented less than five of the AHA's eight guidelines for assessing CVD risk. One "missed opportunity" in the study design, Robinson told TCTMD, is that data for OB-GYNs, who are important players in CV health promotion and disease prevention, weren't reported. "Because really in this group of younger women [OB-GYNs] are doing a lot of their primary healthcare," she said.
In November 2014 after the surveys were completed, the WHA used their results to shape a new national campaign to raise awareness, increase action among women and healthcare professionals, and to enhance understanding of sex differences as they relate to cardiovascular disease.
To continue making strides, Robinson said it's important to raise "heart attack awareness for women and make it a visible disease, so that we can effectively prevent it." Going forward, Bairey Merz et al conclude, "Further investment in research and education on CVD in women coupled with implementation of guideline-recommended risk assessments could reduce morbidity and mortality."

Ashley Lyles is the 2017 recipient of the Jason Kahn Fellowship in Medical Journalism. She is currently a graduate student…
Read Full Bio
Sources
Bairey Merz CN, Anderson H, Sprague MA, et al. Knowledge, attitudes, and beliefs regarding cardiovascular disease in women: the Women's Heart Alliance. J Am Coll Cardiol. 2017;Epub ahead of print.

Robinson JG. What women (and clinicians) don't know hurts them. J Am Coll Cardiol. 2017;Epub ahead of print.
Disclosures
Bairey Merz and Mehran report no relevant conflicts of interest.
Robison reports has received grants from Amarin, Amgen, AstraZeneca, Eli Lilly, Esai, GlaxoSmithKline, Merck, Pfizer, Regeneron, Sanofi, and Takeda as well as consultant fees from Akcea/Ionis, Amgen, Dr. Reddy's Laboratories, Eli Lilly, Esperion, Merck, Pfizer, Regeneron, and Sanofi.