CAC Scoring Enthusiasts Frustrated Over 'Disappointing' USPSTF Recommendations
Experts gathered at SCCT 2018 say evidence supporting calcium tests is as strong as that for other CVD prediction tools, plus "seeing is believing."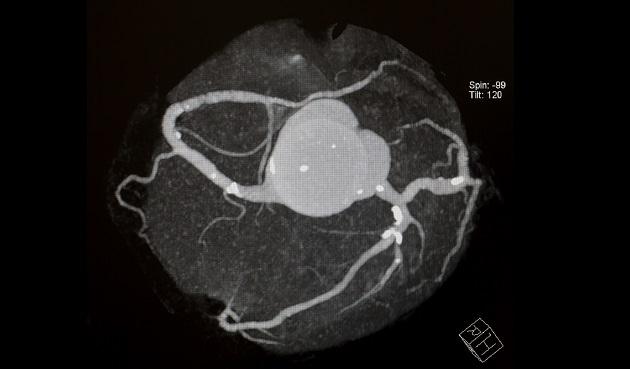 GRAPEVINE, TX—Gathering mere days after the United States Preventive Services Task Force (USPSTF) released its final recommendation rejecting the use of nontraditional cardiovascular risk factors—including coronary artery calcium (CAC) screening—to assess risk in asymptomatic adults, experts at the Society of Cardiovascular Computed Tomography (SCCT) annual scientific meeting vented their frustration.
"There's a tremendous amount of data showing that a calcium score adds on top of traditional risk factors [and] that it adds on top of the pooled-cohort equations," Ron Blankstein, MD (Brigham and Women's Hospital, Boston, MA), stressed to TCTMD. "As such, selective use of calcium scoring is in my mind completely supported by data that we have right now and should've gotten a class C recommendation by the USPSTF. So, by not doing that, we are really depriving patients of an important test."
As reported by TCTMD, the USPSTF, an independent, volunteer panel of disease prevention experts, released a recommendation statement last Tuesday stating that there is "inadequate evidence" to determine whether well-known tests like CAC screening, ankle brachial index (ABI), and high-sensitivity C-reactive protein (hsCRP) contribute enough new information beyond traditional risk assessment models to determine risk of cardiovascular events or mortality.
Matthew Budoff, MD (Harbor-UCLA Medical Center, Torrance, CA), speaking with TCTMD following a dedicated session on CAC screening that he co-moderated on Friday, said he served as a reviewer for the USPSTF recommendations and feels they neglected several key studies. "I was a little disappointed when I pointed that out early in the process, that they never included them in their analysis even though I pointed them out as an internal reviewer," he said. "I think they want hard outcome data—a 50,000-person study showing that calcium [scoring] makes you live longer—and we just haven't done that study yet because we can't find funding for it. So we're kind of in a catch-22."
It's unlikely that a study of that size will ever be done, Blankstein said, given that "generating such data would just be too costly, require too many individuals, and have various challenges [given] the current era where everybody is treated with statins."
However, Budoff noted that the ongoing three-arm ROBINSCA trial of almost 40,000 patients, which will randomize one group to cardiac CT plus CAC scoring, can potentially help provide clarity. "If that trial is positive, I think we go back to US Preventive Task Force and tell them to give us a positive recommendation," he said.
According to Budoff, the available positive evidence available for CAC scoring is on par with that of nuclear testing, treadmill testing, and cardiac catheterization. "There's no data that suggests that any of those things make you live longer," he said, adding that he would continue to encourage clinicians to "use coronary calcium in the appropriate clinical setting."
Both US and European societies have endorsed the CAC score as "the best stratification tool that we have available," Budoff added. "US Preventive Task Force is a known conservative group. They tend to say no more than yes for everything, and I don't think that that's the end-all as far as our use of clinical tests."
'Seeing Is Believing'
Perhaps the question for clinicians to be focusing on with regards to CAC scoring though is how it can be effectively used to improve adherence both to pharmacological preventive therapies and lifestyle modifications.
During Friday's session on CAC scoring, Blankstein gave a talk regarding how CAC scoring can potentially influence both patient and provider behavior. He showed data from a recent meta-analysis demonstrating that identification of calcified coronary plaque to patients through CAC testing leads to them being "far more likely" to be initiated on or have intensified statin or blood pressure-lowering therapies as well as favorable changes in diet and exercise.
In his practice, Blankstein told TCTMD that he always makes an effort to show his patients their images and explain what everything is, telling them something along the lines of: "Those white dots are actually coronary atherosclerosis—that's plaque in the arteries of the heart." This is vital, he said, "because sometimes they don't think it's plaque, they think it's just some other stuff. The word plaque to me is a really important thing, and then also to be able to convey to them the risk and the fact that they have plaque, which puts them at a higher risk of future cardiovascular events."
For many of his patients, "seeing is believing," Blankstein said in his talk. This added information "can be very motivating, and it reemphasizes why they need to take certain pills or why it's important for them to change their diet or lose weight. So I think it can be [a] very powerful . . . shared-decision-making tool."
Data around CAC scoring and compliance "should become more compelling" going forward, Budoff predicted. In practice, "we know when to prescribe therapies, but we can't get patients to actually stay on therapies," he said. "And I think that's an important adjunct that people underestimate with coronary calcium."
Blankstein acknowledged that some clinicians might not be comfortable enough to walk their patients through certain images, depending on their knowledge base of different imaging modalities. Also, some use the argument that it can "cause unnecessary anxiety for patients to know that they have plaque," he said. "But I always think it's better to know if you have a disease such as coronary atherosclerosis, especially since there's a lot you can do about it."

Yael L. Maxwell is Senior Medical Journalist for TCTMD and Section Editor of TCTMD's Fellows Forum. She served as the inaugural…
Read Full Bio
Sources
Blankstein R. Does CAC influence patient and provider behavior and risk factors? Presented at: SCCT 2018. July 13, 2018. Grapevine, TX.
Disclosures
Budoff reports receiving grant support from GE.
Blankstein reports potential conflicts of interest with Amgen, Gilead, Abbot, Qualimed, Cardialysis, XELTIS, Medtronic, Biosensors, Sino Medical, Micell, HeartFLow, Stentys, St. Jude Medical, Svelte, and Philips/Volcano.