CAPLA: Adding Posterior Wall Isolation No Help in Ablation for Persistent AF
The findings call into question this anatomic approach as a first-line therapy and highlight the need for new ones in persistent AF.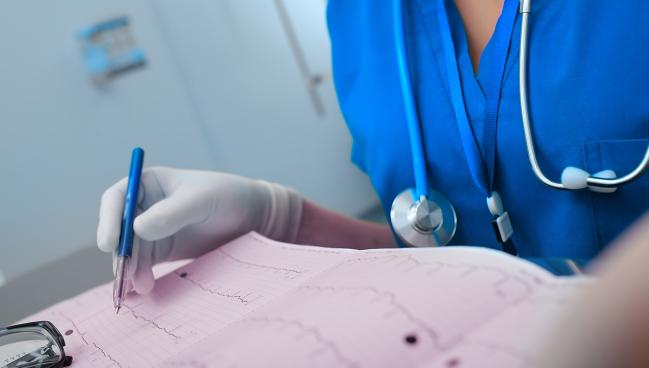 (UPDATED) A commonly used adjunct to pulmonary vein isolation (PVI) doesn't add any benefits for patients undergoing catheter ablation for persistent atrial fibrillation (AF), the randomized CAPLA trial shows.
Freedom from any documented atrial arrhythmia of more than 30 seconds without antiarrhythmic medication at 12 months after a single ablation procedure was no more likely in patients who underwent left atrial posterior wall isolation in addition to PVI than in those who were treated with PVI alone (52.4% vs 53.6%; HR 0.99; 95% CI 0.73-1.36), researchers led by Peter Kistler, MBBS, PhD (Baker Heart and Diabetes Research Institute, Melbourne, Australia), report in the January 10, 2022, issue of JAMA.
The lack of benefit was confirmed across several key secondary outcomes, as well.
"These findings do not support the empirical inclusion of posterior wall isolation for ablation of persistent atrial fibrillation," they conclude.
Agreeing was Rod Passman, MD (Northwestern University Center for Arrhythmia Research and Feinberg School of Medicine, Chicago, IL), who wrote an accompanying editorial.
The well-done study "should, for many of us, call into question whether this should be incorporated as first-line therapy in patients with persistent atrial fibrillation undergoing catheter ablation," he commented to TCTMD, noting that many electrophysiologists have been using posterior wall isolation in this setting.
Further studies, co-investigator David Chieng, MBBS (Baker Heart and Diabetes Research Institute), told TCTMD via email, "are needed to determine additional ablation strategies beyond PVI which will improve outcomes" and "to determine if there are certain patient factors/characteristics where posterior wall isolation can be of benefit."
The CAPLA Trial
PVI, the "cornerstone" of catheter ablation, has been shown to be less effective for patients with persistent versus paroxysmal AF, spurring the search for additional strategies in this hard-to-treat group. Though adjunctive posterior wall isolation has demonstrated promising results in nonrandomized studies and has been increasingly used, it had never been vetted in a randomized trial.
The CAPLA trial, conducted across 11 centers in Australia, Canada, and the United Kingdom, was designed to do just that. Investigators enrolled 338 patients (median age 65.6 years; 76.9% men) with symptomatic, persistent AF refractory to at least one antiarrhythmic drug who were undergoing first-time catheter ablation, and randomized them to PVI using radiofrequency energy with or without left atrial posterior wall isolation.
Moving the ball for persistent A-fib has been sort of a fool's errand to date. Rod Passman
Successful PVI was achieved in all patients in the trial, and the addition of posterior wall isolation did not provide any added benefits in terms of freedom for arrhythmias through a year of follow-up.
Posterior wall isolation, which was successfully completed in 86.5% of patients in that arm of the trial, led to higher mean procedural times (142 vs 121 minutes) and radiofrequency ablation times (34 vs 28 minutes; P < 0.001 for both) compared with PVI alone.
There were six complications among the patients treated with posterior wall isolation, including two cases of cardiac failure and one case each of femoral hematoma, arterial injury, pericardial tamponade, and pneumonia. The four complications observed in the PVI-alone arm included two cases of cardiac failure and one each of pericarditis requiring readmission and phrenic nerve injury. There were no instances of procedural mortality, cerebrovascular events, or esophageal fistula.
Remaining Questions
Passman called the CAPLA results "another disappointing data point" in the search for effective treatments for persistent AF, and said the trial raises questions about whether the posterior wall "plays a role in the average patient with persistent A-fib or whether we need to basically do a better job of selecting those individuals most likely to benefit."
Patients who may be helped by posterior wall isolation, he said, are those with a lot of scar tissue in that area or perhaps those with long-standing persistent AF, a subgroup in which there was a signal of benefit in the CAPLA trial.
Indeed, Chieng agreed, there may be groups who benefit from the technique. In addition to those with long-standing persistent AF, it "may also be useful in patients with low tissue voltage on the posterior wall," he said, pointing to the results of the recently published ERASE-AF trial.
"It is worth noting that isolation of the posterior wall can be technically challenging to achieve, and in our study the . . . success rate at the time of ablation was 86.5%," he added. "The posterior wall is close to the esophagus and ablation in this region can lead to esophageal heating, which may limit the ability to isolate the posterior wall."
For Passman, the trial "is sort of a caution sign to not deploy this technology and this anatomic approach universally, but to be more thoughtful and more selective."
He highlighted two major questions that remain: whether a physiology-based approach—finding the areas causing persistent AF and ablating those—will provide better results compared with focusing only on anatomic targets, and whether new energy sources like pulsed-field ablation can yield more-durable results while minimizing collateral damage.
Though catheter ablation for AF has become faster, safer, and more effective over time, "moving the ball for persistent A-fib has been sort of a fool's errand to date," Passman said. "We've really not made a lot of progress, so I think we need to go back to the drawing board and ask ourselves: are the fundamental principles still correct or are the tools that we're trying to achieve them with just insufficient at the present time?"

Todd Neale is the Associate News Editor for TCTMD and a Senior Medical Journalist. He got his start in journalism at …
Read Full Bio
Disclosures
The study was supported by seed grant funding from the Baker Department of Cardiometabolic Health, University of Melbourne.
Kistler reports receiving grants from the Baker Department of Metabolic Health, University of Melbourne; receiving speaker fees from Abbott Medical; and serving on an advisory board for Biosense Webster.
Chieng reports no relevant conflicts of interest.
Passman reports personal fees from Medtronic and Abbott Labs for serving on steering committees; grants from Abbott Labs, the National Institutes of Health, and the American Heart Association for research on AF; and royalties from UpToDate.