Cardiogenic Shock Remains a Deadly Complication of Acute MI No Matter When It Develops
Rising mortality with shock that develops in the prehospital setting suggests sicker patients are increasingly making it to the hospital.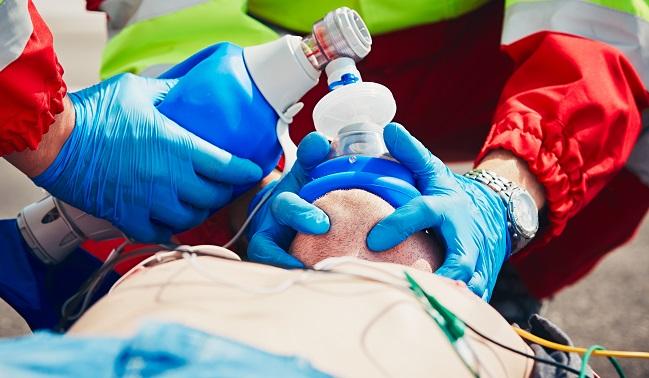 Despite advancements in acute MI care over time, death from cardiogenic shock in the hospital continues to take a heavy toll, a new study shows.
Of note, the mortality rate among patients with acute MI who developed cardiogenic shock in the prehospital setting increased over a 10-year period from 38.9% to 53.6%, while the rate dropped for those in whom shock developed during the first day of hospitalization (35.9% to 15.8%) or later (64.7% to 39.1%), researchers report in a study published online June 7, 2017, ahead of print in the Journal of the American Heart Association.
Study author Joel Gore, MD (University of Massachusetts Medical School, Worcester, MA), told TCTMD that there are several potential explanations for the increase in mortality from prehospital shock over time, but the most likely is that emergency medical technicians have continued to get better at resuscitation, resulting in sicker patients who would have died in the past making it to the hospital.
It's also possible, however, that it could be related to patients waiting longer to seek medical attention after MI onset, Gore said.
Regardless of the reason, he said the overall message regarding cardiogenic shock remains the same: early and aggressive treatment boosts patient outcomes.
"We know that all cardiogenic shock patients have a poor outcome unless they're aggressively treated, so what we're suggesting here for those that have out-of-hospital cardiogenic shock is that therapies such as emergent cardiac cath be instituted as soon as possible," Gore said.
"The same is probably true for those that [develop shock] within the first 24 hours," he added. "That's sort of a golden opportunity for us to be aggressive. We know that without cardiac cath, without angioplasty, and without bypass surgery, the mortality's going to be about 70% to 80%, so a very aggressive, early approach to these patients is needed."
Gore, along with lead author Hoa Nguyen, MD (University of Massachusetts Medical School), and others, examined data from the Worcester Heart Attack Study, a longitudinal investigation of patients admitted for acute MI at 11 central Massachusetts hospitals that has been ongoing since 1975. They were interested in exploring how the timing of cardiogenic shock onset influences prognosis.
The current analysis included 5,782 patients admitted for acute MI between 2001 and 2011. The proportion with cardiogenic shock increased from 5.1% at the beginning of the study period to 6.0% in 2005-2007 before falling to 4.4% at the end of the study period.
The percentage of patients with prehospital shock or shock developing after the first 24 hours of hospitalization (late shock) remained unchanged over time at 1.6% and 1.5%, respectively, whereas the proportion of patients who developed shock in the first day of admission (early shock) declined—after an initial bump up—from 2.2% to 1.2% over the study period.
Cardiogenic shock is still a devastating complication of acute MI and we have made tremendous improvements, but we still have a long way to go. Joel Gore
In addition to the differences observed in mortality trends, the researchers also identified disparities in how patients were treated depending on when cardiogenic shock developed. In general, patients with prehospital or early shock were less likely to receive various cardiac medications than those without shock, whereas those with late shock were more likely to be treated. Interventional procedures were typically used less in patients with prehospital shock and more in patients with early or late shock. Intra-aortic balloon pump support, on the other hand, was consistently higher in all patients who developed shock.
There were also differences in factors associated with the timing of cardiogenic shock. Compared with younger patients, for example, those ages 65 to 74 were more likely to develop early shock and those 75 and older were more likely to develop late shock. In addition, prehospital and early shock were more likely in patients brought by ambulance and less likely in those with a prior stroke.
Those differences "[reinforce] the need for a more-detailed assessment of possible predisposing factors that may lead to the development of this serious clinical syndrome at varying time intervals after hospitalization for [acute MI]," the authors write.
Gore summed up by saying that "cardiogenic shock is still a devastating complication of acute MI and we have made tremendous improvements, but we still have a long way to go and patients should understand that it carries with it a very high risk."

Todd Neale is the Associate News Editor for TCTMD and a Senior Medical Journalist. He got his start in journalism at …
Read Full Bio
Sources
Nguyen HL, Yarzebski J, Lessard D, et al. [Ten-year (2001-2011) trends in the incidence rates and short-term outcomes of early versus late onset cardiogenic shock after hospitalization for acute myocardial infarction.] J Am Heart Assoc. 2017;6:e005566.
Disclosures
The study was supported by a grant from the National Heart, Lung, and Blood Institute.
Nguyen and Gore report no relevant conflicts of interest.