Cardiology Orgs Unite to Create New, Independent Medical Board
(UPDATED) The ACC, HRS, HFSA, and SCAI plan to abandon the ABIM certification process to form a new CV board.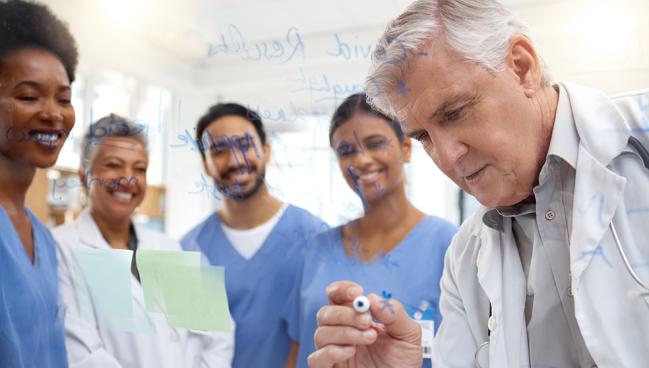 Multiple cardiovascular organizations, including the American College of Cardiology (ACC), are abandoning the American Board of Internal Medicine's certification process and pursuing the creation of a new, independent board, according to an announcement made today. 
The ACC, along with the Heart Failure Society of America (HFSA), Heart Rhythm Society (HRS), and Society for Cardiovascular Angiography & Interventions (SCAI), will submit a new application to the American Board of Medical Specialties (ABMS) for an independent cardiovascular board separate from the ABIM.
Right now, cardiovascular certification currently falls under the ABIM, the largest of the specialty boards.
"It's time to have a dedicated cardiovascular medicine board of our own; cardiology is a distinct medical specialty and physicians want—and deserve—a clinical competency and continuous certification program that is meaningful to their practice and patients," said ACC President B. Hadley Wilson, MD (Wake Forest University School of Medicine, Winston-Salem, NC), in a statement issued today.
The new cardiology board will replace ABIM's Maintenance of Certification (MOC), which has been extensively criticized in the past as a time-consuming and expensive process, so much so that an alternative certifying body—the National Board of Physicians and Surgeons (NBPAS)—was created back in 2015.
But the end of a COVID-19 pandemic-related pause on completing MOC requirements has led to growing cries that the current ABIM process is expensive, burdensome, and unnecessary for physicians on top of everything else needed to fulfill their continuing medical education (CME) requirements at the state and hospital levels. 
The move toward a new ABMS cardiovascular board was lauded by many, albeit with restraint given the lack of details released so far. Undoubtedly, there isn't much love lost for the current process.
"I think what we have right now with the ABIM should not continue," Edward J. Schloss, MD (The Christ Hospital, Cincinnati, OH), told TCTMD. "It doesn't represent the interests of physicians. It's not been shown to be beneficial to our patients. It's burdensome and it is roundly detested by ethical, high-quality physicians. ABIM has had a deaf ear to this despite significant amount of political and legal pressure and has steadfastly held on to their control for many years."
Schloss said that while ABIM has made some tweaks to their certification process, the fundamentals, including a lack of accountability, remain unchanged.
"They're a private organization that has somehow obtained a significant amount of power with no elected board that essentially applies a tax to physicians," he said. "Not just economic, but significant time constraints with zero representation from us. . . . What we have coming is at least a promise that we'll have better representation."
More Direct Cardiology Involvement
Just last month, SCAI waded into the fray by requesting the certification process be simplified and automatic for ABIM members who successfully pass their exams and report procedural volumes in a timely fashion, without participating in other MOC activities.
Dhruv Kazi, MD (Beth Israel Deaconess Medical Center/Harvard Medical School, Boston, MA), who has previously analyzed ABIM's financial toll on physicians, was encouraged by the move toward a more "physician-centered" board, but does want to see appropriate "guardrails" in place.
"I think people have been burned by the ABIM trying to pitch something 'new and innovative' every few years that is going to revolutionize education and patient care only to encounter something that is fairly onerous," Kazi told TCTMD. "Many of these [cardiology] societies have been partners over the years with the ABIM and have made a lot of money out of the ABIM program, if we're completely honest about it, so it doesn't surprise me that there are the more pragmatic people among us who say the devil is in the details."
This is a unique opportunity for cardiovascular clinicians to reshape a small but important part of our professional lives. Dhruv Kazi
Nonetheless, Kazi, calling himself a "glass half-full" person, said "this is a unique opportunity for cardiovascular clinicians to reshape a small but important part of our professional lives."
"Optimistic" is also how Purvi Parwani, MD (Loma Linda University Health, CA), described her reaction to the news. Any move to break the hold ABIM has had over cardiologists should be considered a "win," she said.
"I would much prefer societal leadership that I trust," she told TCTMD in an email. "I would much [prefer] direct cardiology involvement. I would much [prefer] the focus on competencies and patient care. I would much prefer a society for the cardiologists, made by the cardiologists, giving me directions on how to maintain my skills than a third party."  
How Is This Different?
One of the most vocal critics of the current ABIM MOC process has long been Westby Fisher, MD (NorthShore University HealthSystem, Evanston, IL). He told TCTMD he's not convinced the new cardiovascular board will resolve his concerns.
"How is this ANY different?" Fisher asked on X, formerly known as Twitter. "We can still lose privileges if we don't participate, right?" In short, he continued, "this move to a 'CV board' is little more than lipstick on a pig."
Paul Teirstein, MD (Scripps Clinic, La Jolla, CA), president of the NBPAS, applauded the ACC and others for taking a stand against ABIM's certification process, which was what sparked the formation of NBPAS in the first place, 8 years ago. While supportive, NBPAS representatives said they can't give an opinion on the move without knowing more.
"The cost and the requirements will determine our reaction," Teirstein told TCTMD. "ABIM now has a budget that exceeds $70 million and more than half comes from MOC. It will be important for this new cardiology board to convince physicians they can provide a more meaningful, less onerous, continuous certification that is not focused on enhancing the organization's finances." 
This move to a 'CV board' is little more than lipstick on a pig. Westby Fisher
More information is coming in the next few weeks and months. An information webinar is scheduled for November 14, 2023, but Wilson, along with the presidents of the HRS, HFSA, and SCAI, will be hosting a discussion on September 27, 2023, at 7 pm to discuss the collaboration and next steps.
In response to the proposed changes, ABIM issued a press release, stating they have no plans to change course.  
"ABIM plans to continue offering and administering its initial Certification and Maintenance of Certification programs, including the current assessment choices offered for MOC, across all of these specialties today and in the future. Any physician choosing to maintain their ABIM certification in these disciplines will continue to have a pathway with ABIM to do so."
No More Timed Tests
While there's little known about what the certification process will involve, the ACC said the new board will "de-emphasize" timed performance exams and instead focus on assessments to identify gaps in knowledge.
Parwani hopes the ACC and other societies pay attention to the aspects of ABIM's MOC that drove them to distraction, including the time and costs required, not to mention the tests.
Schloss agreed.
"To be tested, especially when you're well into your career, on your ability to recall arcane facts quickly when all of us walk around with a computer in our pockets and colleagues by our side that help us deliver team-based care?" said Schloss. "That's got to go."
What we have coming is at least a promise that we'll have better representation. Edward J. Schloss
In a separate statement, SCAI provided additional information, saying that if the ABMS accepts the proposal, certification "will not be tied directly to annual MOC participation and fees," which is one of current iteration's many criticisms, but instead based on a transparent 5-year cycle to ensure ongoing certification. They are working to make the process more streamlined so that CME documentation is more automatic. The initial board will be made up of two directors from each professional society.   
Formal support from the American Heart Association (AHA), who collaborated in drafting the application to the ABMS, is dependent on a review and consideration by the AHA's board of directors at the next scheduled meeting, according to the statement. The ACC/HRS/HFSA/SCAI consortium may also include other cardiovascular societies if they wish to join.   
Kazi, who has worked with the AHA in the past, said he will encourage them to get behind the new ABMS board.
"They are seen as such a credible broker in the system," he said. "I think a lot of people would see [the AHA] as greatly enhancing the credibility of any new organization that's formed."
Schloss applauded the physicians who've been leading the charge against the ABIM. "Quite a bit of work has been done over the years to create this consensus," he said. "It's unusual to see physicians rally together over a common cause and fight for it."  

Michael O'Riordan is the Associate Managing Editor for TCTMD and a Senior Journalist. He completed his undergraduate degrees at Queen's…
Read Full Bio