From Ceiling Suspension to Eye-Tracking: Innovation Continues for Cath Lab Radiation Protection
Four novel technologies dedicated to reducing operator radiation exposure were discussed on the first day of TCT 2019.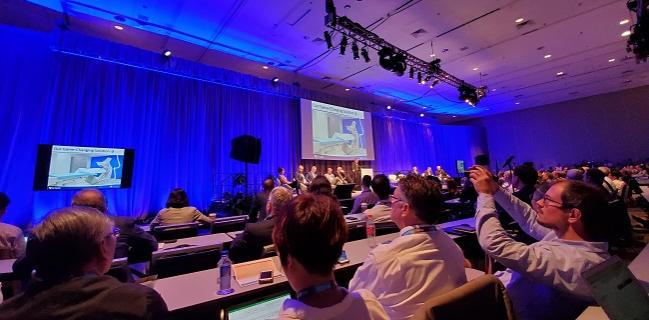 SAN FRANCISCO, CA—Radiation safety continues to be a hot topic for interventional cardiologists, as evidenced by four novel technologies showcased during an innovation session on the opening day of TCT 2019, all designed to reduce operator exposure in the cath lab.
"It's up to physicians and our societies to come together and say [radiation protection] is something we demand," said Lloyd Klein, MD (UCSF Medical Center, San Francisco, CA), who gave the keynote presentation. "This is no longer something that it's ok for us to pretend [is] alright: for us to become injured and develop brain tumors and so on and so forth. This is something that we insist on. If you think of all of the professions in our world that make those demands, it's a tough fight at first, but ultimately . . . I think it's time for us to say this is no longer acceptable. We don't want to have to live our lives this way."
In the Eyes of the Operator
Starting off, Jennifer Tremmel, MD (Stanford University, Palo Alto, CA), presented information on the ControlRad system (ControlRad; Peachtree Corners, GA), which uses eye-tracking technology during a procedure to concentrate radiation only to the area where the operator is looking, thus shielding the periphery. Contrast of the periphery is then adjusted so that the operator sees an image similar to what their used to.
ControlRad, which features titanium shields that filter everywhere but where the operator is focusing, can be integrated into any existing fixed or mobile C-arm system and research has shown at least a 75% reduction in radiation dose to the operator, she explained.
"You may have a system that has a lot of reduction in radiation and we're fortunate that these systems are getting better, but this will be 75% in addition to that," Tremmel said. "Certainly getting a new whole system isn't practical for a lot of people so they have older systems with still more radiation than they would like."
An advantage of this technology, she said, is it doesn't add anything new to an operator's process—it's not cumbersome, there's no learning curve, and it doesn't involve any change in practice. "Really, if it takes any effort, what we've seen in interventional cardiology is people don't want to do it. If you have to push a button, it's a little bit too hard," she commented. "So I think some system where we can reduce radiation for us and our patients, but [where] it kind of happens automatically for us and does not interrupt our workflow, is certainly ideal."
Apron Suspension
Next, Jean-Michel Paradis, MD (Quebec Heart and Lung Institute, Quebec City, Canada), described the Newton System (Newton Medical, Canada). The product is designed to minimize orthopedic injuries related to wearing lead, common after a career in interventional cardiology.
After putting on a traditional lead apron, an operator can attach to the ceiling-mounted system, which will hold up to 100% of the weight of the radiation protection as he or she moves about the cath lab. The system can be detached hands-free, and multiple operators can connect at once.
An infrared thermography study showed decreases of between 0.6 and 1.1 degrees Celsius in temperature—a metric for measuring muscle fatigue—among five muscle groups in operators who used the system for a day compared with those who didn't.
"Because you don't have to support the weight of your apron, you can choose a thicker, heavier garment to improve your radiation protection," Paradis explained.
Table-Based System
"The goal is zero radiation exposure," said James Goldstein, MD (Beaumont Health System, Royal Oak, MI), who presented information on the Protego radiation protection system (Image Diagnostics, Fitchburg, MA).
This system features a floor-based pedestal-suspension support arm holding an upper shield made of soft leaded apron with a beveled design that accommodates all C-arm angles without manipulation, a central aperture that allows for patient and vascular access (radial and femoral), and a lower table shield with an interconnected patient drape.
In testing over the summer, Goldstein said the system resulted in less than a 5% transmission of radiation from scatter. "This was equivalent to protection provided by 0.5 mm of lead apparel and the entire body is afforded this protection," he explained.
"This offers a new approach to protection for operators and staff," Goldstein concluded. "It was designed for elimination of radiation exposure, mitigating the operator radiation risks, and obviating the need for lead aprons. There's a small footprint. It's minimally intrusive and easy to operate. It's easy to use and turnover is simple. It benefits the entire team and is at a reasonable cost."
Robotic Shields
Lastly, Amir Belson, MD (Emboline/Qool, Cupertino, CA), discussed the Radiaction System (Radiaction Medical, Tel Aviv, Israel), which is mounted around the detector and X-ray source of the C-arm. The shields can be automatically deployed to provide 360-degree protection from scatter radiation in a wide variety of positions and angles around the patient without increasing the patient's radiation dose. It features a disposable sterile drape, anti-collision safety sensors, selective deployment, and emergency and hover modes.
In cath lab tests, there was more than a 92% reduction in radiation exposure for all personnel, with the primary operator benefitting the most: between 93% and 98%. Belson said the first clinical demonstration is planned for January 2020.
Convincing Institutions
Asked which of these technologies he would prefer to use, session co-moderator Eberhard Grube, MD, PhD (University Hospital Bonn, Germany), said it's not fair to pick and choose.  "What we should aim for is complete protection that should not interfere with the motion that we're used to," he said, adding that a system that involves physically moving the operator away from the patient "isn't really something we should be looking for." Maintaining close contact is important for communication and for patient comfort. Also, Grube said, he would "prefer something that goes into the direction of not having something on me much rather than having something on the image intensifier."
Session discussant Ryan Madder, MD (Spectrum Health, Wyoming, MI), noted that "there are a lot of exciting technologies, but how do we convince our hospital administrators to purchase these and buy into these technologies?"
Belson said that soon "it will be very hard for a hospital administrator to tell the physician, 'Yes there are ways we can protect you, but we're not going to spend the money.'"
For his part, Grube agreed this is a problem for now, though he predicted that would not always be the case, noting: "At some point . . . there will be no administration in this world that will say 'We won't care.' I think that'll be the easiest step of all."
Klein suggested framing these technologies not as "add-on cost, but [as] part of the cath lab purchase. That would be one way of doing it." Another way would be convincing institutions that it is much more expensive to train replacements for operators and techs who leave the field due to cath lab-related injury and illness. "It takes a long time for us to become experts in this area, . . . and to have continual turnover, continuous training costs the administration money," he said.
"It's a real issue for us, and it's something we need to push for," Tremmel said. "As technology improves, we need to take advantage of it, but we need things that will minimize learning and really don't affect our workflow so that we're getting less risk without any effort."

Yael L. Maxwell is Senior Medical Journalist for TCTMD and Section Editor of TCTMD's Fellows Forum. She served as the inaugural…
Read Full Bio
Sources
Tremmel JA. Fascinating lecture: using fundamentals of vision and novel eye-tracking technology to reduce radiation exposure in the cath lab. Presented at: TCT 2019. September 25, 2019. San Francisco, CA.

Paradis J-M. The Newton System: a simple and innovative medical device that reduces musculoskeletal problems related to radiation protection garments. Presented at: TCT 2019. September 25, 2019. San Francisco, CA.

Goldstein JA. A novel complete radiation protection system eliminates operator radiation exposure and leaded aprons. Presented at: TCT 2019. September 25, 2019. San Francisco, CA.

Belson A. Innovative robotic shielding device for elimination of radiation exposure in interventional suites. Presented at: TCT 2019. September 25, 2019. San Francisco, CA.
Disclosures
Tremmel reports receiving consulting fees/honoraria from Boston Scientific, Phillips, and Terumo and holding stock/equity in Recor.
Paradis reports being a co-founder of Newton Medical and holding relevant intellectual property rights.
Goldstein reports holding a financial interest/arrangement or affiliation with ECLS Inc which licenses IP to Image Diagnostics, Inc (manufacturer of the Protego Radiation Protection System).
Belson reports being the founder of Radiaction Ltd. and having a financial interest with the company.
Klein reports no relevant conflicts of interest.
Grube reports receiving consulting fees/honoraria from Medtronic, LivaNova, Highlife, Boston Scientific, Jena Valve, CardioMech, Mitral Technology, Millipede, Cardiovalve, Pie Cardia, Ancora, and MTEX; serving as a paid proctor for Medtronic; and holding equity/stocks in InSeal Medical, Cardiovalve, Claret, Shockwave, Valve Medical, Millipede, Pie Cardia, Imperative Medical, MTEX, and Ancora.
Madder reports receiving grant support from Infraredx and Corindus and consultant fees/honoraria from SpectraWave and Corindus.