CVD Claimed 20 Million Lives in 2021, but Disease Burden Varies Globally
High-income countries in the Asia-Pacific region had the lowest CVD rates, while Central Asia had the highest burden of disease.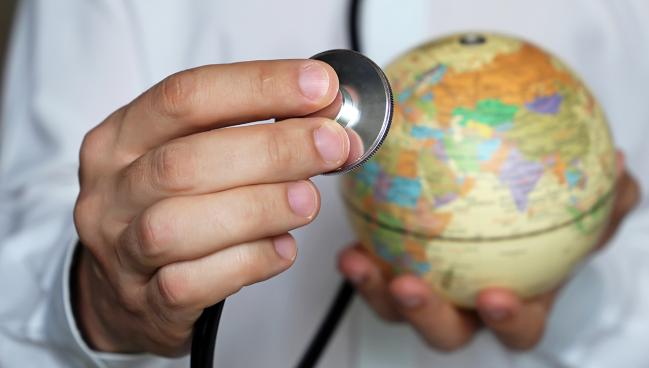 Cardiovascular disease remains the leading cause of death across the world, responsible for more than 20 million deaths and more than 400 million disability-adjusted life-years (DALYs) lost in 2021, according to a large, multinational study.
Ischemic heart disease was the most common cause of cardiovascular mortality, claiming more than 9.4 million lives and 185 million DALYs in 2021, while ischemic stroke, intracerebral hemorrhage, hypertensive heart disease, and rheumatic heart disease rounded out the top 5 leading causes.
Senior investigator Gregory A. Roth, MD, MPH (University of Washington, Seattle), said the findings emphasize the outsized role cardiovascular disease plays in causing premature death and disability. While that may not be surprising to cardiologists and others who care for patients, he noted, global health decision makers often focus their energy and resources in other areas.
"One of key drivers for us is to make sure that people have access to really detailed information about just how large a contribution cardiovascular disease makes to the overall burden of disease in the world," Roth told TCTMD.  
The Global Burden of Disease, Injuries, and Risk Factors (GBD) study is the world's largest effort to track population health. Working with roughly 8,000 researchers, the GBD has tracked trends in mortality and disability since 1990 and has provided updates on the status of cardiovascular health globally, regionally, and nationally. The new analysis, which was published December 12, 2022, in the Journal of the American College of Cardiology and led by Megan Lindstrom, PhD (University of Washington, Seattle), provides a detailed "almanac" highlighting not only the global burden of cardiovascular disease but also the differential risks around the world.  
For example, Central Asia reported the highest age-standardized number of deaths from cardiovascular causes, while high-income countries part of the Asia-Pacific region had the lowest age-standardized total cardiovascular mortality (516.9 vs 76.6 deaths per 100,000 people).
"It's very clear from the results of the study that there's a large amount of variation in cardiovascular disease from location to location," said Roth. "That appears to be the result of the variation in risk factors that we know about rather than some unknown factor. We see high levels of cardiovascular disease occurring even outside the high-income world, even in places with lower levels of development."
In North America and the European Union (and its associated states), there remains a fair amount of variation in the risk of 2021 deaths from cardiovascular causes, with the age-standardized rate ranging from 102.1 per 100,000 people in Canada to 224.8 per 100,000 in Greenland, 82.4 per 100,000 in Israel, and 214.6 per 100,000 in Cyprus.
There was wide variation in other regions, too. For example, cardiovascular mortality rates ranged from 124.9 to 421.6 per 100,000 people in Southeast Asia (Thailand and Laos People's Democratic Republic, respectively), from 345.8 to 475.7 in central sub-Saharan Africa (Equatorial Guinea and Central African Republic, respectively), and from 342.7 to 798.3 in Central Asia (Armenia and Uzbekistan, respectively).   
Risk Factors Differ Around World
Overall, high systolic blood pressure was the biggest driver of premature cardiovascular mortality, accounting for 10.8 million cardiovascular deaths. Dietary risks, which include a lack of fruits, vegetables, legumes, whole grains, nuts/seeds, milk, fiber, calcium, and healthy fatty acids, as well as the overconsumption of red meat, sugary drinks, sodium, and trans fats, accounted for 6.6 million cardiovascular deaths. High LDL-cholesterol levels, ambient particulate matter pollution, and smoking were the other leading risk factors responsible for cardiovascular disease deaths.
We need to redouble our efforts to focus on the risk factors that we know how to modify. Gregory Roth
Like cardiovascular disease burden, the risk factors driving events also varied significantly around the world. The highest rates of cardiovascular disease attributable to elevated systolic blood pressure were seen in countries part of Central Asia, central sub-Saharan Africa, and Eastern Europe, while the highest rates of disease attributable to poor diet were in countries in Oceania, as well as in countries part of Central Asia and Eastern Europe. 
The risk of cardiovascular mortality attributable to hypertensive heart disease increased by 53.3% in high-income North America, the largest increase in cause-specific mortality since 1990. In Western Europe, cardiovascular mortality attributable to stroke declined by 67% since 1990, while deaths attributable to endocarditis increased 86.0%. 
"The details are really important because different cardiovascular diseases require very different approaches and treatments," said Roth. "We want to help governments, decision makers, health systems, and physicians in all of these different regions to understand what makes their region unique and what kinds of cardiovascular disease and risk they're facing."
Role of Pollution
In terms of environmental exposures, both ambient particulate matter and household air pollution were the two biggest drivers of cardiovascular disease. Ambient air pollution was responsible for 3.1 million deaths in 2021 while household pollution from solid fuels was responsible for 1.6 million excess deaths. Combined, these two types of pollution led to nearly 100 million DALYs. 
Roth said that particulate matter and household pollution are two risk factors that are particularly relevant in countries with rapid development. With household pollution, some governments have recognized the problem and are now promoting alternative cooking systems, he said. In Rwanda, for example, there's been an investment in distributing low-cost, clean cooking stoves that have a large impact on reducing indoor air pollution, which in turn can improve both cardiovascular and lung health.
In general, though, the risk factors that are the biggest contributors to cardiovascular disease already have low-cost treatments or interventions, Roth said, "but we're not very good at delivering them."
The GBD study, he said, "is a reminder that coronary heart disease accounts for a huge amount of disease burden and not simply at the end of the life amongst the very oldest adults, and causes hundreds of thousands of deaths prematurely. That reminds us that we need to redouble our efforts to focus on the risk factors that we know how to modify—cost-effective interventions like antihypertensives and statins for lowering high cholesterol. It also means that we can't give up on working to reduce tobacco use to the lowest levels we can."     
Additionally, Roth stressed the importance of primordial prevention through a healthy diet and sufficient physical activity. Education is critical, he said, when it comes to modifying behaviors to improve health. "Probably the best place to that is in very young children," said Roth. "Educational interventions around social and emotional health, as well as behavioral health, can have a big impact when done at a really young age, like in 3- to 5-year-olds."   

Michael O'Riordan is the Associate Managing Editor for TCTMD and a Senior Journalist. He completed his undergraduate degrees at Queen's…
Read Full Bio
Disclosures
Roth and Lindstrom report no relevant conflicts of interest.