Digital Tools Show Promise for Helping STEMI and NSTEMI Patients Avoid Readmission
MiCORE study participants given an app, an Apple watch, and a blood pressure cuff had better adherence to medications and follow-up visits.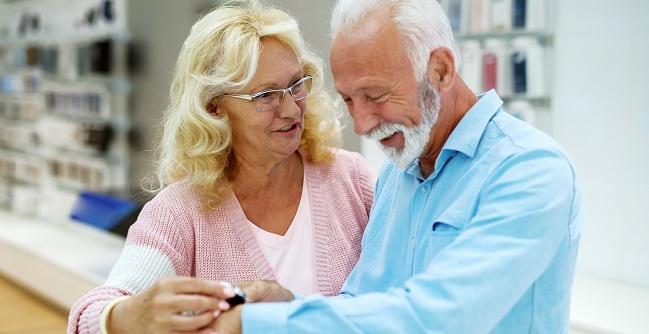 Acute MI patients who start using a digital self-care tool kit in the hospital soon after presentation and continue using it after discharge have a lower rate of all-cause readmission at 30 days than those given standard aftercare instructions, preliminary data suggest. Researchers used smart technology, including wearables, to provide reminders and help patients keep track of their self-care needs.
The intervention consisted of an app called Corrie that is loaded onto the patient's own smartphone, paired with an Apple watch and Bluetooth blood pressure cuff.
Francoise A. Marvel, MD (Johns Hopkins University School of Medicine, Baltimore, MD), said a designated member of the MiCORE team worked with each patient at their bedside soon after they came out of the cath lab to help them download the app, activate the watch, and understand how to use the blood pressure cuff to get accurate readings.
"What makes this novel is that patients are using these while they are in the hospital," Marvel added. "It's a way of getting practice time. Then when they go home they know how to use them because they've had time to get familiar with them and to ask questions." Patients in the study who did not have a smartphone had one given to them that they could keep when the 30-day intervention was over. All patients also kept the blood pressure cuff but were asked to return the watch.
"When you look at a patient who goes home after a heart attack, not only are they getting over the physical and emotional trauma of going through a really big life event, but now they have three or four new medications that they have to remember to take, they're trying to monitor their blood pressure, they're trying to remember all the doctor's appointments they have coming up. Tools that can help someone get through that process are vital," Joseph Ebinger, MD (Cedars-Sinai Medical Center, Los Angeles, CA), told TCTMD.
Ebinger moderated the session last weekend at the American Heart Association's Quality of Care and Outcomes Research (QCOR) 2019 Scientific Sessions in Arlington, VA, where Marvel presented results from the novel digital health intervention study, known as MiCORE.
Potential Cost Savings Identified
MiCORE enrolled 164 NSTEMI or STEMI patients who all received the intervention and compared them with 695 historical controls treated at the same institution. At 30 days the rate of all-cause readmission was 18% in the control group and 10% in the intervention group (P = 0.02). In propensity matching for age, sex, race, and MI type, the intervention group continued to have significantly lower odds of readmission than controls (OR 0.57; 95% CI 0.33-0.99). In addition, a Markov cost-effectiveness analysis concluded that the intervention had the potential to save institutions as much as $6,000 per patient, with an incremental cost-effectiveness ratio of $15,588 per additional quality-adjusted life-year. The savings were driven by better compliance with medications and follow-up visits.
When the researchers asked patients to rate how they felt in terms of knowing their medication schedules and understanding who and when to follow up with, the intervention group was more likely than historical controls to "agree" or "agree strongly" that they had a high level of comfort in those areas.
"This tool was designed to empower patients who've had a heart attack to take an active role in their healthcare, and we're seeing just that," said Seth Martin, MD (Johns Hopkins University School of Medicine), one of Marvel's co-investigators. One of the most important takeaways of the MiCORE study, he added, is that some of the sickest patients stand to benefit from new innovations in healthcare delivery.
"This idea goes beyond our individual study and really suggests to others out there to start thinking about how they can do the same thing for patients who are sick and in the hospital to really empower them," Martin said.
Ongoing Research and Questions
Marvel and Martin stressed that the results are preliminary. More patients are enrolled in the intervention at multiple centers within the Johns Hopkins hospital group, with those data yet to be analyzed. MiCORE was not randomized, something that Ebinger said is more difficult to do with new and innovative technologies, but stressed is still important.
"I do think that a randomized trial would be most helpful in this setting. People want to see randomized data to show that the intervention truly has the effect that we think it does," he said. "[The researchers] had relatively low costs due to funding of their study, but if you were to scale this up, that's a lot of technology you're going to be pushing out into the world and we need it to prove the efficacy."
Marvel and Martin said they are discussing several different options for a randomized trial while at the same time continuing to study how patients engage with the technologies. They currently have 2.6 million app interactions that they plan to analyze to try to understand what patients most frequently seek out from the smart technology and how that relates to decreasing readmissions.
According to Ebinger, another major concern that remains to be addressed is ensuring that advances in technology, despite how helpful they may be, do not lead to healthcare disparities.
"We already recognize that individuals of lower socioeconomic classes suffer from worse access to healthcare and worse outcomes," he observed. "Wearable technology, while ubiquitous, is not fully ubiquitous. I would hate for individuals who are unable to afford these types of things to be left behind."
While the MiCORE study provided smartphones to patients who did not have one, and let them keep it when the study ended, Ebinger said in the real world that those patients would be left with no way to continue the same aftercare routine.
"That's something that I think the healthcare industry and we, as a country and a society, have to look at and be able to address," he said. "It's not that I think this intervention is bad. I think it's incredibly good . . . but we need to make sure that everyone who needs it has access to it."
Ebinger added that it is for those reasons especially, that a randomized controlled trial could help pave the way for broadening access by showing proven benefits over standard care.

Sources
Marvel FA, Spaulding EM, Lee M, et al. The Corrie myocardial infarction, combined-device, recovery enhancement (MiCORE) study: 30-day readmission rates and cost-effectiveness of a novel digital health intervention for acute myocardial infarction patients. Presented at: QCOR 2019. April 6, 2019. Arlington, VA.
Disclosures
Marvel and Martin report being co-founders of and holding equity in Corrie Health, which intends to further develop the app.
Ebinger reports no relevant conflicts of interest.