DOAC Use Increasing in Patients With Bioprosthetic Heart Valves
Due to a lack of randomized evidence, physicians should be cautious about using DOACs in this setting, Ankur Kalra says.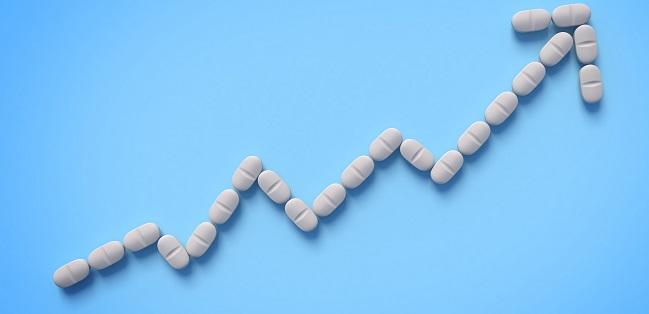 Patients undergoing surgical aortic or mitral valve replacement with bioprostheses in the United States are increasingly being prescribed direct oral anticoagulants (DOACs) at discharge, despite the lack of randomized evidence to support the practice and warnings against doing so, real-world data show.
Over a recent 3-year span, DOAC use at discharge increased from 3.30% to 6.64% in the aortic group and from 3.94% to 7.72% in the mitral group, Ankur Kalra, MD (Cleveland Clinic, OH), reported during the virtual CRT 2021 meeting.
DOAC prescriptions remained low at around 1% among patients who received mechanical heart valves, for whom there is a clear contraindication to use based on findings from the RE-ALIGN trial.
"Until the completion of randomized clinical trials that provide sufficient evidence for DOAC use, physicians may wish to exercise caution with regard to DOAC prescription in patients with prosthetic valves," Kalra concluded during his presentation.
But George Dangas, MD, PhD (Mount Sinai Medical Center, New York, NY), had a different interpretation of the data, pointing out that DOAC use was appropriately rare in patients with mechanical heart valves. There is no definitive evidence in the setting of surgical bioprosthetic valves (although GALILEO demonstrated the harm of DOAC therapy in the setting of TAVI), which is reflected in the minimal usage—less than 8%, even after the increase over time—observed in that group overall, he commented to TCTMD.
This affirms how physicians are prescribing DOACs judiciously in this scenario, Dangas said. "I think the data show that the physicians are exercising extreme caution because the use of all these things is under 10%."
DOACs Not Recommended for Prosthetic Valves
Labels approved by the US Food and Drug Administration for various DOACs note that use of the drugs is not recommended in patients with prosthetic heart valves. Kalra said he noticed off-label use of the agents for this purpose in the community, however, and wanted to take a systematic look at the issue.
For the study, which was also published online in JAMA Network Open, he and his colleagues dug into the Society of Thoracic Surgeons Adult Cardiac Surgery Database. The analysis included patients who underwent surgical aortic or mitral valve replacement with either mechanical or bioprosthetic valves between July 2014 and June 2017 and who were alive at discharge.
Of the 18,142 patients who received a mechanical valve in the aortic position, 1.10% were discharged on a DOAC rather than warfarin. Of the 13,942 who received a mechanical valve in the mitral position, the rate was 1.04%. Neither figure increased over time, but even 1% might be too high, Kalra suggested: "No patients with mechanical valves should be on any of the DOACs because there's a safety concern there."
Among the 39,243 patients who received a bioprosthetic valve in the mitral position and the 116,203 who received such a valve in the aortic position, overall DOAC use at discharge was 5.89% and 4.66%, respectively, with rates increasing over the course of the study period.
Regardless of valve type, patients who received a DOAC instead of warfarin tended to be older, to have a heavier comorbidity burden, and to be taking a factor Xa inhibitor prior to surgery. DOAC users also were more likely to have had a postoperative event, such as atrial fibrillation/flutter, venous thromboembolism (VTE), pulmonary thromboembolism, and deep vein thrombosis, in the hospital. That likely reflects the fact that these events influenced physician decision-making around anticoagulation, Kalra said.
A Lot of Unknowns
Kalra said the main limitation of the analysis was the lack of data on outcomes after discharge in the DOAC and warfarin groups. Nonetheless, "our study suggests that there was a prevailing . . . off-label use of DOACs in patients with prosthetic heart valves," he said.
Dangas pointed to another key limitation—the database does not provide details about why patients receive one treatment over another. Thus, it's likely that patients who received a DOAC despite the fact that it's contraindicated in mechanical valves and not recommended in bioprosthetic valves either couldn't take warfarin for some reason (perhaps due to allergy) or had another indication, like atrial fibrillation. These data, he added, do not necessarily indicate that DOACs were being prescribed specifically for the heart valve.
The growing use of DOACs after implantation of bioprosthetic valves is likely reflective of a growing familiarity with the agents over time coupled with their ease of use compared with warfarin, Dangas said, noting that insurance coverage has improved as well.
Kalra agreed that the convenience of DOACs versus warfarin likely played a role in their increasing use, citing the fixed dosing, the lack of a requirement for ongoing monitoring, and the lack of interactions with dietary choices. Moreover, prior trials in other clinical settings have shown that the newer agents carry lower risks of major bleeding, particularly intracranial bleeding, compared with warfarin.
Still, without randomized trials, physicians are extrapolating data from the atrial fibrillation and VTE literature to patients undergoing valve surgery, Kalra said. "Maybe clinicians need to take a step back and look at the labeling very carefully before prescribing these to patients with prosthetic heart valves," he said, adding that use of DOACs is "certainly a no-no with mechanical heart valves."
Note: Dangas is a faculty member of the Cardiovascular Research Foundation, the publisher of TCTMD.

Todd Neale is the Associate News Editor for TCTMD and a Senior Medical Journalist. He got his start in journalism at …
Read Full Bio
Disclosures
The study was funded by the Department of Cardiovascular Medicine, Heart, Vascular, and Thoracic Institute at Cleveland Clinic and makeadent.org's Ram and Sanjita Kalra Aavishqaar Fund at Cleveland Clinic Akron General.
Kalra reports being the Chief Executive Officer and Creative Director of makeadent.org.