Early Career Tips from a Master Interventionalist
Structural fellow Ankur Kalra, MD, talks with David Holmes Jr, MD, over lunch about his best advice for starting a career after training ends.
Visiting the Methodist DeBakey Heart and Vascular Center for a Grand Rounds talk on left atrial appendage (LAA) occlusion last month, I had the immense privilege of spending an hour over lunch with the celebrated, seasoned interventional cardiologist and past president of the American College of Cardiology David R. Holmes Jr, MD (Mayo Clinic, Rochester, MN). Among other topics, we discussed career path options following an advanced interventional and structural cardiology fellowship training year, and I requested his advice for the early career interventional cardiologist beginning an independent practice. Here's what he had to offer:
1. Ask for help
As an early career interventionalist, it is important to establish a safety track record, and be careful in performing high-risk cases independently. Whenever in doubt, ask for help from senior colleagues in private practice or at the university hospital where you're working. Not only will this translate into a rapport-building exercise, it will also instill confidence and faith of your partners and colleagues in your judgment and priority for patient safety.
2. Be available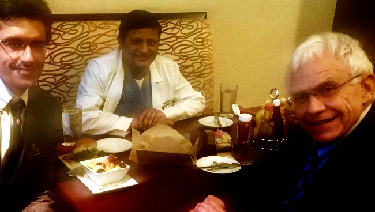 As a junior colleague establishing a practice, it is important to be available at all times. Be available to cover for senior colleagues, be available to take extra calls or shifts, and be available to lend an extra pair of hands in the cardiac catheterization laboratory. The ability to be available at all times and say "yes" will go a long way.
3. Always speak with the family and call the referring physician following the procedure
At the end of each case in the cardiac catheterization laboratory, be certain to speak with the family members in person and call the referring physician (internist, family practice, or cardiology colleague) to share updates on patient care or relevant procedural details. This practice will not only strengthen your referral base, it will also lead to long-lasting camaraderie and personal relationships with colleagues from different medical disciplines.
4. Know and treat the cardiac cath lab staff well
Early on in the job, it will be important to spend time with the cardiac catheterization laboratory staff and get to know them well. The staff members are technically-skilled and possess a greater depth of clinical experience than you, and they will know when you're nervous and not comfortable with a challenging clinical situation early on. If they know you well—and know that you mean well—they will look out for you.
5. Involve colleagues in projects
As you progress along in your career and start working on hospital-wide quality improvement initiatives, private practice growth, or clinical research projects, it will be important to invite your colleagues and seniors in the practice or the institution to be partners in your projects. This will accelerate your integration into the group's fabric, and before you know it, you will be an integral part of your group's or division's core.
Photo Credit: Ankur Kalra, MD.

Ankur Kalra, MD, is an interventional cardiologist at Franciscan Health in Indiana and co-chief executive officer of Kalra Hospitals in…
Read Full Bio