Early Results for Dock-Plus-Valve Approach Promising in Transcatheter Mitral Valve Replacement
Sapien 3, in a skirt, is raising hopes—and eyebrows. Just how the repair vs replacement debate shakes out in the mitral space remains a guessing game.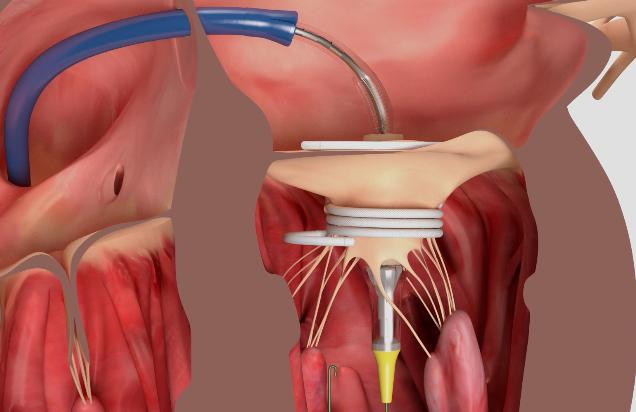 WASHINGTON, DC—Early results continue to trickle in from the first feasibility studies of transcatheter mitral valve replacement, but as experts said here, understanding what patients will benefit from which of these devices awaits larger trials. At CRT 2018, one new approach—using a familiar device—appeared to catch attendees unawares, raising tentative hopes that the challenge of transcatheter mitral valve replacement may yet find an easier, safer work-around.
Looming large, however, is the question of how much of the mitral regurgitation "market" will ultimately be dominated by repair versus replacement devices.
CRT 2018 attendees got updates from many of the first-in-human and feasibility programs still enrolling or just getting started, among them: Tiara (Neovasc), Tendyne (Abbott), CardiaAQ (Edwards Lifesciences), Intrepid (Medtronic), Caisson (LivaNova), Corona (Valcare Medical), and Cephea (Cephea). One newcomer to the scene—or rather, a familiar device wearing a new outfit—ended up snagging the spotlight. The very early data on Sapien M3 (Edwards Lifesciences), according to CRT program chair Ron Waksman, MD (MedStar Heart & Vascular Center, Washington, DC), were plucked from the case submissions to be presented as a late breaker.
And so it was that John Webb, MD (St. Paul's Hospital, Vancouver, Canada), unveiled the first-in-human experience with Sapien M3 during the Monday morning late-breaking session. The technology uses the Sapien 3 valve tissue and frame but with the addition of knitted PET skirt that helps create a seal between the native leaflets and a nitinol dock.
It was the dock that appeared to have audience members squinting at the screens during Webb's presentation. Made up of a series of encircling coils, the dock is introduced via a transseptal approach then coiled like a serpent around the native mitral leaflets, creating what looked like a short cupholder that serves as the anchor for the skirted Sapien device. A final "atrial turn," which is sutured, maintains the dock position prior to valve deployment. After the dock is delivered first, via its own dedicated system, then the Sapien M3 is introduced separately and expanded within the dock.
The first 10 cases, performed at five Canadian and US centers were "encouraging," Webb said. Mean age of these first patients was 74, with STS scores in the range of 4.9. Mean LVEF was 37.5, and all patients were in NYHA class III or IV heart failure.
Device placement was successful in all 10 patients, with one patient experiencing chordal rupture during dock deployment. The subsequent severe leak in this patient was closed intraprocedurally.
In news that seemed to be particularly eye-catching, all 10 patients were alive at 30 days, with zero patients requiring a conversion to surgery, experiencing device embolization or migration, or needing a second valve implantation. None developed hemolysis, left ventricular outflow tract (LVOT) obstruction, or rehospitalization related to the device.
"Early data suggests that use of the Sapien M3 system is feasible for treating patients with severe MR who are at high risk for mitral valve surgery and warrants further investigation," Webb concluded.
Early Learning Stages
Webb's presentation seemed to temporarily flummox the panel. "This is the first time we're seeing this," moderator Howard Herrmann, MD (Penn Heart and Vascular Center, Philadelphia), quipped before asking about potential complications. For example, he asked whether operators have seen any issues related to the size of the device in the LV, particularly in patients with lower ejection fractions, or if embolization will be a concern (no migrations/embolizations were seen in these first cases)
In response, Webb stressed: "We're really in the early learning stages with this," and enrollment criteria have been very restrictive. "As we go further along with the compassionate experience . . . we'll learn more," he said.
Reacting to the data, Sameer Gafoor, MD (Swedish Heart and Vascular Institute, Seattle, WA), seemed impressed. "I think M3 valve adds to the space in a unique way," he said, highlighting the retrievability and repositionability of the device and the relatively low-profile two-part system that minimizes the size of the system crossing the septum.
Most important to him was the 100% survival, which contrasts with results from most—if not all—other devices vying for the lead in this space. "Whether this is learning curve, valve design, patient selection, or random chance is too early to tell, and effectiveness/long-term stability is still to be proven," Gafoor said in a follow-up email to TCTMD. "It's just early feasibility data, [but] there's a signal that this transcatheter mitral valve replacement platform is, from the beginning, a seemingly safe procedure."
Asked about his apparent surprise in response to Webb's presentation, Herrmann said simply: "I had not seen this before the presentation, and it is certainly a unique and new approach to TCMV replacement."
The two-stage approach is "interesting," he added, noting that several other devices are also using a two-step process, using the mitral leaflets to secure a docking device before deploying a separate valve device. These include Caisson, HighLife (HighLife Medical), and MValve (M-Dock).
"This kind of approach with two stages may have some advantages for trans-MV replacement," Herrmann said. Sapien M3 "appears to be another very promising approach, but we have only the early outcome data. Some issues that will have to be clarified include how easy it is to do the procedure and to place the docking system and whether there is any early or late risk of embolization."
Of the 10 patients in Webb's series, procedure times ranged from 1.3 hours in patient 10 to 7.3 hours in patient 2, the one who suffered the ruptured chordae tendineae.  
Also commenting on the technology for TCTMD, Martin Leon, MD (Columbia University Medical Center, New York, NY), highlighted the complication-free survival, calling the M3 project a "sleeper" in the TMVR genre. "It's lower profile, has an established delivery system, no LVOT obstruction, less postprocedure atrial septal defects, more user-friendly, less anatomy dependent, and uses known components with demonstrated value and durability. . . . This may be more important than people realize."
Repair or Replace?
No interventional cardiology meeting in 2018 would be complete without a debate as to whether the future of transcatheter mitral valve regurgitation innovation will favor repair or replacement. COAPT results on the MitraClip (Abbott Vascular) will go a long way to helping people understand whether repair in the form of leaflet coaptation will move conclusively into the lead—or that's the hope.
Michael Mack, MD (The Heart Hospital Baylor, Plano, TX), who moderated a session on new mitral technologies, polled the panel: what proportion of patients in 5 years' time will be treated with transcatheter repair versus replacement?
For Eberhard Grube, MD (Heart Center Bonn, Germany), that split will likely be 60:40, repair: replacement. Mayra Guerrero, MD (Evanston Hospital, IL), had a similar prediction of 60:40 or possibly 70:30, "depending on the anatomy." Danny Dvir, MD (University of Washington Medical Center, Seattle), said he's waiting on COAPT, but added that if the trial results show efficacy, "then 90:10."
Everyone agreed it will be important to have options to tailor to individual patients. "As an interventional cardiologist, I obviously want to be more like a surgeon every day," Toby Rogers, MD (MedStar Heart & Vascular Institute), said, prompting chuckles in the audience. "So I'd say repair [potentially by] combining different repair approaches is the way forward, and if that isn't an option for the patient, then replace."
A 5-year horizon may also be a bit optimistic. Herrmann, who participated in the session chaired by Mack, called the slow progress of mitral valve innovation "sobering."
"We know all the different complexities and I don't want to belabor that, but we should remember that MitraClip started with eValve in the US in about 2002-2003 and the first transcatheter aortic valve study in the US was about 2006," Herrmann said. "Last year in the STS/TVT registry there were just over 40,000 TAVRs done commercially and 4,000 MitraClips, so [the mitral space] is an order of magnitude behind, despite having started first."
Photo Credit: Adapted from Webb J. Sapien M3 system: first 10 cases. Presented at CRT 2018. March 5, 2018. Washington, DC.

Shelley Wood is Managing Editor of TCTMD and the Editorial Director at CRF. She did her undergraduate degree at McGill…
Read Full Bio
Sources
Webb J. Sapien M3 system: first 10 cases. Presented at CRT 2018. March 5, 2018. Washington, DC.
Disclosures
Gafoor reports consulting for Medtronic, Abbott Vascular, and Boston Scientific.
Webb reports grant/research support from Edwards Lifesciences, Abbott Vascular, and Essential Medical and consulting fees/honoraria from Edwards, Abbott, and Vivitro.
Herrmann reports serving as a consultant to Edwards and receiving research funding from Edwards, Abbott, Medtronic, Boston Scientific, and St. Jude Medical.