EMBRACE HF: Empagliflozin Cuts PA Pressure in HF With or Without Diabetes
In patients remotely monitored with an implanted device, the differences appeared to emerge early and widen with time.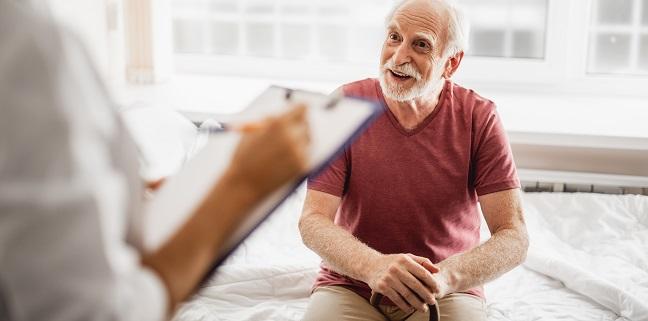 Empagliflozin (Jardiance; Boehringer Ingelheim/Eli Lilly) helps lower diastolic pulmonary artery pressure in patients who have heart failure with either reduced ejection fraction (HFrEF ) or preserved ejection fraction (HFpEF), regardless of diabetes status, according to results of the EMBRACE HF trial. Pressures were monitored remotely in patients who had an existing implanted device.
"We saw an early, significant effect on lowering pulmonary artery diastolic pressure that became apparent within a few weeks and continued to widen over time," said Mikhail Kosiborod, MD (Saint Luke's Mid America Heart Institute, Kansas City, MO). Pulmonary artery pressure is a strong predictor of clinical status, hospitalizations and death that had not previously been examined with sodium-glucose cotransporter 2 (SGLT2) inhibitors in this context, he added.
"We also know that the effect we observed appears to be, at least in my view, independent of loop diuretic management because there was no change in diuretic management between the treatment groups during the course of the study," Kosiborod told TCTMD.
The vast majority of patients in both the empagliflozin and placebo groups were on loop diuretics at baseline. Kosiborod said EMBRACE HF adds to data from DAPA-HF, which also suggested that the effects of SGLT2 inhibitors in improving HF are not mediated by diuretics. The study was presented this week in a late-breaking trial session at the Heart Failure Society of America (HFSA) Virtual Annual Scientific Meeting 2020.
Following the presentation, Lynn W. Stevenson, MD (Vanderbilt University Medical Center, Nashville, TN), said the study, while small, provides important evidence that ambulatory hemodynamic monitoring may provide value when initiating new HF therapies.
"This will help us to understand the hemodynamic impact and individualize dosing of new drugs, and ongoing therapies, to improve hemodynamic tolerability without excessive diuresis or vasodilation," she noted.
Long-term Benefit Unclear
EMBRACE HF enrolled 65 patients from eight centers in the United States who were randomized to empagliflozin 10 mg or placebo. All had at least a 16-week history of HFrEF or HFpEF, with or without type 2 diabetes, and had an existing implanted remote pressure sensor that measures pulmonary artery mean systolic and diastolic pressures (CardioMEMS HF System, Abbott). The device is indicated for monitoring pulmonary artery pressure and heart rate in HF patients with NYHA class III symptoms who have had a HF hospitalization in the previous year.
Included patients also had NYHA Class II-IV symptoms, with pulmonary artery diastolic pressure of 12 mm Hg or higher at baseline. Remote monitoring for pulmonary artery pressure was performed twice per day. Patients were predominantly men in their 60s, and most had been previously hospitalized for HF. Average ejection fractions were 47% in the treatment group and 41% in the placebo group, and approximately half of patients in each group had diabetes.
Compared with placebo, the difference in pulmonary artery diastolic pressure between weeks 8 and 12 cause was 1.5 mm Hg lower in the empagliflozin group (P = 0.02). Additionally, Kosiborod noted that the curves separated almost immediately in the first week and remained diverged throughout the study period, showing a clear advantage for the SGLT2 inhibitor.
In an on-treatment analysis that excluded the handful of patients in each group who did not complete the study, the difference remained significant. Similar findings were seen for pulmonary artery systolic and mean pressure, although those results did not reach statistical significance. There were no significant differences in 6-minute walk test or HbA1c between the treatment groups, but by 12 weeks, the empagliflozin group weighed less (P = 0.02). Additionally, a significantly greater proportion of patients treated with empagliflozin had declines in NT-proBNP and BNP compared with placebo at 6 and 12 weeks.
Empagliflozin was well tolerated, and there was no imbalance between groups in key safety events.
Pulmonary Pressures as Potential Endpoints
Given that patients in EMBRACE HF were only followed for 3 months, Kosiborod also said the trial leaves open the question of how much empagliflozin will reduce pulmonary pressure in the long run.
"What we observed was that the effect emerged early, but the curves continued to diverge over time," he said. "I would be curious to see what happens at 6 months, 9 months, 12 months, and when there is any plateauing effect, because we saw no indication that there was one."
Furthermore, Kosiborod said at the time he and his colleagues initiated EMBRACE HF in 2016, remote monitoring of pulmonary artery pressure with the CardioMEMS device was not commonly being done. He agreed with Stevenson's assertion that the ability to use remote monitoring noninvasively in patients with existing implanted devices opens important new avenues for HF research.
"It raises the question of whether pulmonary pressures should now be considered as one of the intermediate endpoints in heart failure trials, both to better understand the mechanisms of whatever the agent is that you're exploring and, also potentially in phase II trials as part of drug development, to make 'go' or 'no-go' decisions," he observed.

Sources
Kosiborod M. EMBRACE HF trial results. Presented at: HFSA 2020. October 5, 2020.
Disclosures
Kosiborod reports research grants from AstraZeneca and Boehringer Ingelheim; and clinical trial leadership/consulting for Amarin, AstraZeneca, Amgen, Bayer, Boehringer Ingelheim, Eisai, Glytec, GSK, Intacia, Janssen, Eli Lilly, Merck, Novartis, Novo Nordisk, Sanofi, and Vifor Pharma.
Stevenson reports unpaid consulting for Abbott.