Empagliflozin Safe in Acute HF, Improves 'Clinical Benefit' Over Time: EMPULSE
The results need confirmation in a larger trial but add to other emerging data supporting an early start for SGLT2 inhibitors.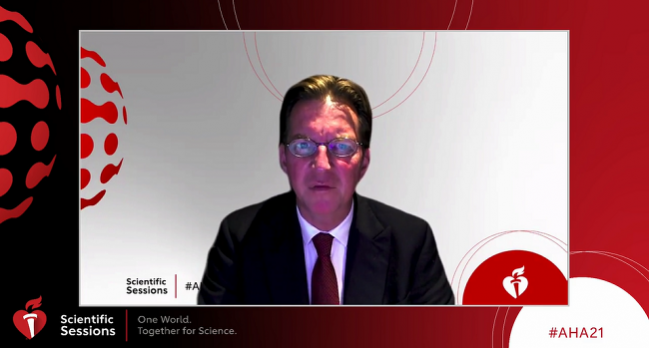 Patients with acute heart failure were safely started on empagliflozin (Jardiance; Boehringer Ingelheim/Eli Lilly) a median of 3 days after hospitalization and were 36% more likely to "experience a clinical benefit" over the next 90 days compared with patients taking a placebo, investigators for the EMPULSE trial say.
By looking at this specific time window, the 500-patient trial offers a "missing link" amidst the other sodium-glucose cotransporter 2 (SGLT2) inhibitor trials, said Adriaan A. Voors, MD, PhD (University Medical Center Groningen, the Netherlands), who presented the results during a late-breaking science session today at the virtual American Heart Association 2021 Scientific Sessions. These include EMPEROR-Reduced, EMPEROR-Preserved, and DAPA-HF—all of which enrolled patients with or without diabetes and looked at drug initiation in chronic heart failure (HF)—as well as SOLOIST-WHF. In that last study, diabetic patients with acute HF started sotagliflozin (Zynquista; Sanofi Aventis/Lexicon) during the initial hospitalization or within 3 days of discharge.
The benefits of empagliflozin in this very early acute setting, said Voors, included better survival, fewer hospitalizations, and greater improvements quality of life (QoL)—all of which made up the primary composite endpoint in this study. "Patients experienced improvements regardless of the type of heart failure, or whether they had diabetes or not," Voors continued. "And importantly, in these patients, there were no safety concerns with the use of empagliflozin."
The benefits of the SGLT2 inhibitors for patients with chronic heart failure have been well established in larger, randomized trials, but many heart failure specialists—most notably leading clinical trialists—have advocated for SGLT2 inhibitors to be started in the hospital as soon as patients are stable. Among clinicians more widely, however, "there is a little reluctance in starting a chronic heart failure drug in a more acute heart failure setting," Voors said at a press briefing.
As such, EMPULSE is "confirmative" for a number of reasons. "This supports starting the drug in hospital, not only because it's beneficial, but also because it's safe," he said. "We didn't see any effects of ketoacidosis, we didn't see hypotension, [and] we saw a slight drop in renal function, which disappears after 15 days."
And the proven benefits of the drug in the chronic setting appear to accrue early, warranting prompt initiation, he continued. "I think [EMPULSE] gives reassurance to physicians . . . that it's not only safe to start early in the hospital, but it's also beneficial to start early in the hospital, and no adverse events were seen and most of the adverse events were even more frequent in those patients on placebo."
"I love these results," Carlos Santos-Gallego, MD (Icahn School of Medicine at Mount Sinai, New York, NY), commented to TCTMD. He said they build on the limited evidence to date supporting early initiation in acute HF, including results from EMPA-RESPONSE-AHF in acute, decompensated heart failure, published last year. "There is already a huge interest, a skyrocketing interest, among cardiologists in SGLT2 inhibitors and their prescription for heart failure, and this will contribute to this trend, this revolution," Santos-Gallego said. "And it will probably convince some cardiologists to use it earlier, during an acute hospitalization."
Shelley Zieroth, MD (University of Manitoba, Winnipeg, Canada), a co-investigator and Canadian lead for EMPULSE, said, "This is very much in line with the data that we have on 'empa' thus far."
The drug "has now demonstrated efficacy really across a continuum of ejection fraction in the stable ambulatory outpatient population, and now in those admitted with acute heart failure," she told TCTMD. "These trial results will impact the practice of clinicians worldwide, and that's because acute heart failure is the number one cause of hospitalization in individuals over the age of 65 in many regions of the world. This is a widely available drug, so EMPULSE has massive implications in terms of use." 
EMPULSE Findings
EMPULSE investigators randomized 530 patients 1:1 to 10 mg of empagliflozin or placebo as soon as they were stabilized in the hospital (median 3 days), then followed them 90 days for the primary composite endpoint of time to death, frequency of HF events, time to first HF event, and change in QoL score from baseline. The primary analysis, Voors noted, was assessed as a stratified "win ratio," allowing for either empagliflozin or placebo to be a clear winner, or for them to tie.
Just under half of the patients in the trial had diabetes, more than three-quarters had hypertension, and two-thirds had valvular heart disease. Roughly two-thirds of patients had LVEFs less than or equal to 40%, with 29% of those randomized to empagliflozin and 35% of those randomized to placebo having an LVEF > 40%. In both study arms, one-third of the patients were hospitalized with de novo acute HF.
In terms of safety, rates of serious adverse events and any adverse events were both higher in the placebo arm. Acute renal failure, notably, occurred in 7.7% of patients in the SGLT2 inhibitor arm as compared with 12.1% of placebo-treated patients. No cases of ketoacidosis were reported.
For the primary composite endpoint, patients treated with empagliflozin were 36% more likely to experience a clinical benefit in the first 90 days (stratified win ratio 1.36; 95% CI 1.09-1.68). Numerically, rates of death (4.2% vs 8.3%) and heart failure events (10.6% vs 14.7%) were lower in the SGLT2 inhibitor arm. Improvement in quality of life was the key driver of the difference in the primary endpoint: placebo-adjusted mean difference at 90 days was 4.5 points favoring empagliflozin.
Digesting the Results
Zieroth, to TCTMD, pointed out that unique to EMPULSE is the fact that one-third of the patients randomized had new-onset acute heart failure, a group understudied in the other major trials to date. "That adds a new patient profile in whom we can start empagliflozin in hospital, that being the de novo acute heart failure patient population: there were a few in the SOLOIST trial, but there are appreciably more in EMPULSE."
Discussing the EMPULSE results at a press conference, Sana Al-Khatib, MD (Duke University Medical Center, Durham, NC), praised the investigators for trying to look at the individual components of the endpoint but cautioned: "I personally don't think that these differing components of the primary endpoint have the same weight, and perhaps for every patient, the weight may vary in terms of what's most important and what's least important."
Moreover, the size of the trial renders it impossible to get reliable insights into individual endpoints. "Once you start looking at those subgroups, the statistical power goes down significantly," she said. "That said, I do think that this trial is important and hopefully it will encourage more research in this area."
Other, larger trials are already underway in acute heart failure, including the DICTATE-AHF and DAPA ACT HF-TIMI 68 trials, both with dapagliflozin (Farxiga; AstraZeneca). During a press conference Q&A, Voors said that he expects to see a class effect of the SGLT2 inhibitors in this setting, as in others, but that the EMPULSE results apply only to empagliflozin.
Santos-Gallego, who earlier in the day presented an iron metabolism analysis from the EMPATROPISM trial, noted that EMPULSE alone will not be enough to change the US Food and Drug Administration-approved indications for use, which typically require clinical endpoints. But many physicians, he said, are already convinced that starting SGLT2 inhibitors as soon as possible is the way to go and are doing so off-label. That's due in large part to the observation that starting an SGLT2 inhibitor in the hospital, shown to be safe in EMPULSE, will lead to earlier accrual of benefit while also improving compliance.
"If you can prescribe 'flozins' during hospitalization, the patient pretty much always continues the medications at discharge . . . and he will continue on that in the future, [and] this is something that is very, very, very important," he stressed.
Moreover, unlike other guideline-directed medications, SGLT2 inhibitors are well tolerated and do not require uptitration, Santos-Gallego added.
In addition to getting clinical endpoint data from larger trials, another factor stands in the way of increased usage: the high price of the drug.
"Cost still remains, I think, a major barrier for initiation of many of our four foundational therapies that we recommend right now for HFrEF," Zieroth acknowledged. "This is a system issue and the cost of these drugs should not be put on the patient, which happens in many health systems at the present time. So it is a major challenge, and I hope administrators and insurance companies and our pharmaceutical partners take this into consideration." 

Shelley Wood is Managing Editor of TCTMD and the Editorial Director at CRF. She did her undergraduate degree at McGill…
Read Full Bio
Sources
Voors AA. Empagliflozin in patients hospitalized for acute heart failure: the EMPULSE trial. Presented at: AHA 2021. November 14, 2021.
Disclosures
EMPULSE was funded by the Boehringer Ingelheim & Eli Lilly and Company Diabetes Alliance.
Voors reports research support and consulting fees from Amgen, AstraZeneca, Bayer AG, Boehringer Ingelheim, Cytokinetics, Merck, MyoKardia, Novo Nordisk, Novartis, and Roche Diagnostics.
Santos-Gallego reports no relevant conflicts of interest.
Zieroth reports having received speaking and consulting fees from Boehringer Ingelheim and Eli Lilly and serving as national lead for the EMPULSE and EMPACT-MI clinical trials.