The End of BMS? LEADERS FREE II Shows Superiority of Polymer-Free, Drug-Coated Stent
For patients at high bleeding risk, the BioFreedom device looks like a better option than BMS, according to several experts.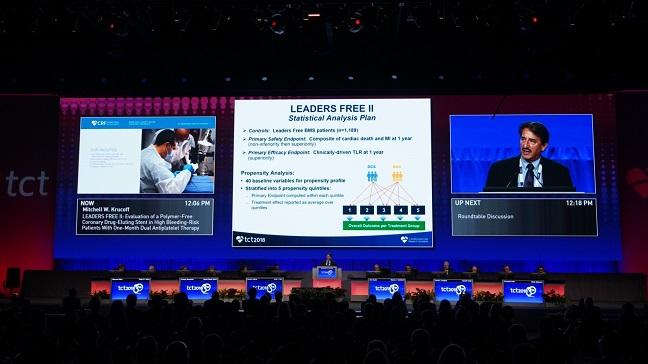 SAN DIEGO, CA—Compared with BMS, a polymer-free, drug-coated stent shows superiority at 1 year in terms of safety and efficacy among patients at high risk for bleeding, according to results of the LEADERS FREE II trial.
The study was designed with the aim of gaining device registration from the US Food and Drug Administration (FDA) for the BioFreedom polymer-free biolimus A9 drug-coated stent (Biosensors). Mitchell Krucoff, MD (Duke University Medical Center, Durham, NC), who presented the results today in a late-breaking trial session at TCT 2018, told TCTMD that the stent should be approved for use in high-bleeding-risk patients. However, he cautioned, "I think the 'but' here is we have a lot to learn in this area. These are patients who by and large have been excluded from every pivotal DES study and every pivotal [dual antiplatelet therapy (DAPT)] study."
Also, Krucoff emphasized, "in American practice, some centers are still putting bare-metal stents in double digit numbers. . . . I think bringing this stent forward with a label for 30 days [of DAPT] when we treat our patients is a yes."
Piggybacking off of the LEADERS FREE trial, this iteration included 1,148 patients in the study arm and 1,189 patients treated with BMS (Gazelle; Biosensors) in the original trial. The propensity-matched analysis showed the trial met superiority criteria for both its primary safety endpoint of cardiac death/MI (8.6% vs 12.3%; P = 0.0025 for superiority) and its primary efficacy endpoint of TLR at 1 year (6.1% vs 9.3%; P = 0.0111 for superiority). Bleeding rates were comparable between the two stents over 12 months.
Should This Replace BMS?
In a media briefing, Krucoff admitted that "there are a lot of issues in looking at this kind of trial—this is a single-arm study with propensity-matched controls, but very rarely have we seen a pivotal PMA application in the US for a device where a prospective, double-blind, well-powered, well-designed randomized trial has already been done outside the US. Usually, it's the reverse—we start with a smaller trial elsewhere and then do the randomized trial in the US."
But the red flag this trial raises for the field relates not to a defect in the device, but rather a flaw in practice, he said. "Our intuitive behavior in the practice of putting bare-metal stents into patients for whom we know are at high bleeding risk, so we're only going to treat them for 30 days with DAPT, is actually a safety signal. That we are doing potentially harm based on at least one look at this."
Contemporary BMS use for patients in the United States is as high as 20%. Speaking with TCTMD, Sunil Rao, MD (Duke University Medical Center, Durham, NC), said this needs to be reduced and a stent like BioFreedom could help with that. "I think that particularly when this stent becomes available, there's no question that it is more efficacious and safer than bare-metal stents," he commented. "So it should replace bare-metal stents in these high-bleeding-risk patients, which ostensibly is why physicians are using them."
Likewise, David Cohen, MD (Saint Luke's Mid America Heart Institute, Kansas City, MO), told TCTMD that he would be interested in having this stent as another option for his patients at high risk for bleeding. "Even though people say we should stop using bare-metal stents, we haven't. They come up still," he said. "I think the single take-home message from the two BioFreedom studies is that if a bare-metal stent is what you were thinking of using and you have a drug-coated stent, use that, because it's safer and better."
Future data might show that "the current drug-eluting stents are fine and better for those patients, but [for] that one we don't know the answer," Cohen continued. "So I really think if you sort of critically look at all of these studies and try to put them together, the [question] is where does the BioFreedom fit in? It fits in when you're not comfortable using the drug-eluting stents."
As for DAPT length, most patients can tolerate it for at least a month, he noted. Because of that, "I think if we had this stent available in the United States with these data, we would stop using bare-metal stents."

Yael L. Maxwell is Senior Medical Journalist for TCTMD and Section Editor of TCTMD's Fellows Forum. She served as the inaugural…
Read Full Bio
Sources
Krucoff MW. Evaluation of a polymer-free coronary drug-eluting stent in high bleeding-risk patients with one-month dual antiplatelet therapy. Presented at: TCT 2018. September 22, 2018. San Diego, CA.
Disclosures
Krucoff reports receiving grant/research support and consulting fees/honoraria from Abbott Vascular, Biosensors, Boston Scientific, CSI, Medtronic, OrbusNeich, and Terumo.
Rao reports no relevant conflicts of interest.
Cohen reports receiving grant/research support from Abbott Vascular, Boston Scientific, Edwards Lifesciences, Medtronic, Corvia Medical, and Svelte and receiving consultant fees/honoraria/speaker's bureau fees from Edwards Lifesciences and Medtronic.