The Evolving Role of Industry and the Interventional Cardiology Fellow
While it's important to be cautious for signs of bias, industry representatives can offer unparalleled learning resources.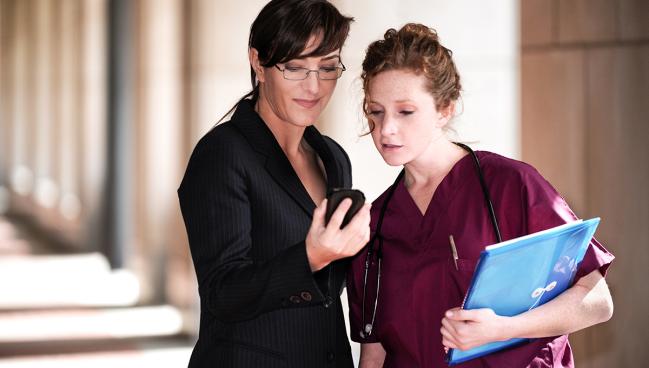 For better or worse, collaboration between clinicians and industry has been transformative. Especially in the field of interventional cardiology, it has propelled advancements in the expanding realm of therapeutic options for patients with structural heart disease and complex coronary disease.
In my training time, TAVI has been the poster child of success within structural heart interventions. Initially intended for those at prohibitive surgical risk, maturation in TAVI technology and expertise has transformed prognoses of those with aortic stenosis. The philosophy behind its success has undoubtedly been the confluence of scientific expertise from both heart teams and industry. This momentum has now been translated into mitral, tricuspid, and combination valve therapies to benefit an even bigger range of patients.
Renal denervation is another prime example of how the convergence of expertise between clinicians and industry has resulted in change, this time for the routine management of hypertension. Assuming the devices are approved elsewhere as they have been in Europe, the most appropriate technique, whether it be ultrasound, ablation, or alcohol-medicated denervation can be offered to carefully selected patients with poorly controlled BP without being limited by anatomy.
I've heard it said that the acronym PCI might even move away from the traditional percutaneous coronary intervention and toward the more general percutaneous cardiac intervention as the field of interventional cardiology branches out from coronary work. This trajectory will continue to bring a multitude of changes into the cognitive and clinical practices of cath lab teams, and undoubtedly to the current generation of interventional cardiology fellows. The wider team now includes the industry representatives who support and facilitate these more complex and potentially less-familiar procedures.
Clinical decisions regarding which device or what technique to use, and when, remain solely clinical and should be made hierarchically with heart team expertise. Industry's presence in clinical environments, particularly if frequent or when sponsorship is involved, can be questionable. It is as much the fellow's responsibility as it is the attending's to balance to any bias, which must always be acknowledged in any interaction with industry representatives. A way to do this may be to include the broader team in discussion and debates with these individuals to enhance clinical understanding as to why a particular product or approach over another is beneficial to patients. This helps to maintain transparency.
Fellows looking for a synergistic approach with industry reps can benefit if the resources they bring to patient care are balanced using the following steps:
Procedural planning
Particularly in complex cases or for novel procedures, a hierarchical management strategy will serve the patient best. A key role of the interventional cardiology fellow is executing plans for each individual patient. This is where industry representatives can play a very complementary role in key aspects of care such as optimizing device delivery. In TAVI or mitral interventions, this may look like enabling review of cross-sectional images to confirm valve sizing, particularly in valve-in-valve procedures, for example, or facilitating discussion with device engineers to clarify luminal expansion limits or other device adaptions and construction details. For renal denervation, industry representatives can offer guidance and support to the expert operator as well as fellows to identify the best technique suited to the patients' characteristics and anatomy. 
Familiarity with device or equipment
The industry representative's job is to thoroughly know their company's technology and devices. That means they can help fellows learn the ins and outs of specific technical knowledge. This could include discussing device construction, failure modes, and on- and off-label uses of the product. These are particularly pertinent in the structural heart procedures to close PFOs, ASDs, and paravalvular leaks. Furthermore, they should be able to offer lessons in facilitating procedural safety if equipment or generators fail. As fellows in interventional cardiology, our attendings already possess much of this knowledge. However, the granularity with which industry representatives can impart niche expertise in their own products is also worth paying attention to and bringing into day-to-day practice.
Learning specialized software
Fluent use of procedural software is integral to ensure that fellows achieve the best possible result for their patients, and this is often through correct interpretation of imaging. Intracoronary imaging, whether OCT or IVUS processing or valve-procedure allied software, is frequently used in the cath lab. Because imaging skills can be tricky to learn, industry representatives can impart tips, tricks, and better fluency to fellows, physiologists, and the wider team.
Team training and education opportunities
Visiting industry representatives can offer access to a variety of simulation learning opportunities to both fellows and lab team members to promote education and training: from utilization of simulation modelling device delivery and equipment setup to online resources that can aid patient care. While you might have seen similar setups at large medical meetings, not everyone can travel to these conferences, so having them brought to your institution is an amazing chance to learn. In my experience, they can serve as a good team-building exercise, too.
To maintain and build the momentum in growth our field has seen, we need to consistently harness what dedicated industry representatives can bring into our day-to-day teamwork and patient care. Technological innovation in medicine brings progress to patient care and, in my view, taking a hypercynical view of such partnerships is outdated. It is important to recognize and foster this partnership with industry at all levels, keeping in mind careful preservation of integrity and ethics that form the core of our practice. This can start in training for fellows where this synergistic approach to individual patient care can form the building blocks of larger-scale successes and advancements.

Poornima Mohan, MBChB, is an interventional cardiology fellow in the North West London Deanery (England), where she also completed her…
Read Full Bio