First Cardio-Oncology Guidelines From ESC Cover 'Tremendous' Territory
The writing committee will hold upcoming webinars to aid use of the document in clinical practice, says Daniel Lenihan.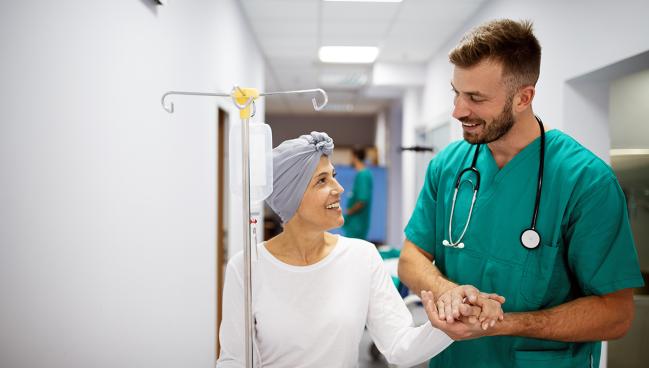 For the first time, the European Society of Cardiology (ESC) has released a guideline aimed at physicians involved in the care of cancer patients and survivors that is focused on CV health and wellness before, during, and after treatment.
Cardio-oncology, a growing field, in the last few years has been the subject of a consensus statement from the Society for Cardiovascular Angiography and Interventions (SCAI) on managing cancer patients in the cath lab, as well as a practice guideline from the American Society of Clinical Oncology (ASCO) on cardiac dysfunction in survivors.
Details of the new guideline were presented today at the European Society of Cardiology Congress 2022 in conjunction with its publication online in the European Heart Journal. The ESC developed the document in collaboration with the European Hematology Association (EHA), the European Society for Therapeutic Radiology and Oncology (ESTRO), and the International CardioOncology Society (IC-OS).
"This is an authoritative document, and it covers a tremendous amount of territory," Daniel J. Lenihan, MD (Saint Francis Medical Center, Cape Girardeau, MO), one of the document's authors and the president of IC-OS, told TCTMD of the 133-page document that the committee spent more than 2years creating. He added that among the goals they set were to broaden the scope of what those prior cardio-oncology documents had been able to accomplish.
"Over the last few years, the depth and breadth of important developments in the field has been very large, and this is an area with a high level of interest [as evidenced by] it now having its own journal, JACC: CardioOncology," Lenihan added. While the size of the guideline might seem daunting at first, he said the committee will hold upcoming webinars to help physicians utilize it as an educational resource, with an eye toward helping those who "have patients in front of them who have cancer and are trying to figure out how to effectively manage some of these problems."
Delving Into the Guideline
Written by a committee chaired by Alexander R. Lyon, MD (National Heart and Lung Institute, Imperial College London, England), the guideline contains guidance on definitions, diagnosis, treatment, and prevention of cancer therapy-related cardiovascular toxicity (CTR-CVT), and the management of CV disease caused directly or indirectly by cancer. "This area of medicine has limited trials and evidence on which to base decision-making and, where evidence is limited, this guideline provides the consensus of expert opinion to guide healthcare professionals," the authors write.
Throughout the guideline, the authors stress that decision-making is dependent on "the risk/benefit balance of oncology treatment efficacy and the severity and impact of CTR-CVT." Managing CTR-CVT is important, they add, since it impacts both therapeutic decision-making and long-term morbidity and mortality. An important reference in the guideline is the care pathways, which begin with baseline CV toxicity risk assessment that stratifies patients into low, moderate, and high or very high risk. A risk-assessment checklist is also included, with explanations about recommended examinations, cardiac imaging modalities, and other testing. The guidelines recommend cardiology referral for patients who are moderate risk or above, followed by the type and duration of recommended assessment. The referral should be done urgently, the document states, to minimize delays in starting cancer treatment.
"We wanted to get across the idea that that there is an important way of assessing a patient before they start therapy to get an idea how much risk for cardiovascular toxicity they may have," Lenihan said.
That's part of what these guidelines are intended to do: make you think in the [context of] the individual patient's history, how important those treatments are from a cardiovascular point of view. Daniel J. Lenihan
CTR-CVT severity is broken down into mild, moderate, and severe/very severe, and definitions are provided for its various types, including myocarditis, vascular toxicity, arterial hypertension, and cardiac arrhythmias. Another important section of the guidelines addresses primary and secondary CTR-CVT prevention strategies, recognizing that some patients may be referred for a second cancer treatment requiring more exposure to cardiotoxic chemotherapy and/or radiation.
Yet another section describes recommended anthracycline and HER2-targeted therapy surveillance protocols from baseline through 12 months after cancer therapy. Other therapeutic areas covered include: fluoropyrimidines, vascular endothelial growth factor inhibitors, various kinase inhibitor-related CV toxicities, multiple myeloma therapies and risk factors for venous thromboembolism, proteasome inhibitor surveillance, immune checkpoint inhibitors, androgen deprivation and endocrine therapies, and hematopoietic stem cell transplantation.
Ongoing Surveillance and Considerations
The section on diagnosis and management of acute and subacute CV toxicity covers various forms of direct toxicity to the heart and other organs, cancer-associated thrombosis, bleeding complications, and PAD, among others.
The guideline also addresses the timing of when the first CV assessment should occur after cancer treatment is completed and discusses the recommended education, support, and ongoing surveillance of these patients.
"The time after their cancer treatment is done is when we can anticipate that those who had radiation therapy to any vascular beds may be more likely to develop atherosclerosis, something that is not really on many cardiologists radar," Lenihan added.
"If you are asked to see a patient in the emergency room for chest pain, you're going to go look at their EKG and look at their blood tests and try to decide whether this is coronary artery disease or not, but you're not really going to explore their history for an important event from 10 or 15 or 20 years ago. But, if you know that they had a cancer history and radiation . . . this is where that historical event can change your decision-making," he explained. "So, that's part of what these guidelines are intended to do: make you think in the [context of] the individual patient's history, how important those treatments are from a cardiovascular point of view."

Disclosures
Lyon reports speaker fees, honoraria, consultancy, advisory board fees, investigator or committee member fees from Takeda, Pfizer, GlaxoSmithKline, AstraZeneca, Novartis, and Ferring.
Lenihan reports speaker fees, honoraria, consultancy, advisory board fees, investigator or committee member fees from Prothena, Eidos, Eli Lilly, Bristol Myers Squibb, Cytokinetics, Clementia, Myocardial Solutions, and AstraZeneca.