Fluoroless Cath Promises Less Radiation, but the Tech Is Still Early
Fiber optics can create images that aid in device navigation. Experts at ISET 2020 stressed the need for more study.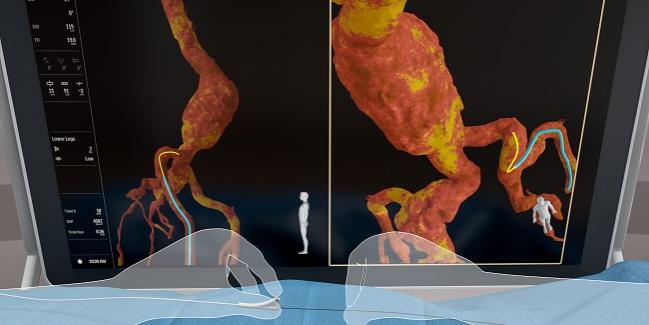 HOLLYWOOD, FL—Conventional angiography that depends on fluoroscopy to derive images carries the risk of radiation exposure to both patients and operators, a growing concern as procedures become increasingly complex and lengthy. To meet this challenge, as well as to explore ways to optimize interventions, novel imaging approaches such as intravascular ultrasound and optical coherence tomography have risen in prominence.
Here at the 2020 International Symposium on Endovascular Therapy (ISET), presenters described a new arrival, Fiber Optic RealShape (FORS; Philips), which uses light to image the vessels rather than relying on X-rays.
"We all resort to barrier technology," such as eye protection and lead shields, "to help protect us in terms of exposure," Constantino Peña, MD (Miami Cardiac & Vascular Institute, FL), told attendees during a session devoted to emerging options. One means to reduce radiation is "fusion technology," whereby magnetic resonance or computed tomographic imaging is used to create a 3-D picture and cut fluoroscopy time, he said. FORS, another option, has received CE Mark approval in Europe but does not yet have US Food and Drug Administration approval.
As a jumping off point, it's possible to create a "road map" of the patient's anatomy, whether by standard or CT angiography or by another X-ray image, upon which the FORS-derived details are overlaid. Additionally, FORS itself can aid in navigation of catheters and other devices by sensing the anatomy's shape; this enables procedures to be done faster and more effectively, Peña said, thus reducing fluoroscopy, radiation, and contrast media.
He cited several characteristics of the technology: the catheter and guidewire can be seen in real-time, colorful, 3-D images capable of being viewed from multiple angles.
FORS "is based on the concept of measuring strain in optical fibers, using light reflected from density fluctuations in these fibers," according to the Philips website. "To achieve this, an optical fiber is integrated into intrabody devices. By sending laser light into this fiber and then analyzing how it is reflected back along the fiber, [it is possible to] reconstruct and visualize the full shape of the devices."
The idea may strike some interventionalists as unusual. Indeed, Barry T. Katzen, MD (Miami Cardiac & Vascular Institute), later in the afternoon gave a talk entitled "Fluoroless Catheterization: Can It Be Real?" and settled on this tentative answer: "FORS appears to be a very promising, revolutionary new technology that has huge potential to improve endovascular procedures."
Being able to cath patients without the use of fluoroscopy, "if it could occur, obviously would be a major disruptive force in what we're doing," Katzen said, adding that a key unanswered question is whether this strategy affects outcomes.
First-in-human data were presented by Katzen last year at ISET 2019. In a group of 13 patients undergoing endovascular aortic repair and eight receiving peripheral interventions, FORS was used to perform 67 separate navigation tasks; among these, 91% were completed successfully and the remainder required different catheter shapes. Investigators evaluated the FORS guidance qualitatively. Three-quarters of the 21 people deemed it "better than standard guidance" and the rest said it was "at par."
Katzen said that currently five European sites are evaluating FORS, soon to be joined by five US sites. Eventually the hope is to widen the range of commercially available catheters that can be used in conjunction with the technology.
"The next step at this stage," said Peña, "is to work to improve the platform and continue to [assess] its clinical use."
Photo Credit: Philips

Sources
Peña CS. New technology to accomplish catheterization without fluoroscopy: FORS. Presented at: ISET 2020. January 22, 2020. Hollywood, FL.

Katzen BT. Fluoroless catherization: can it be real? Presented at: ISET 2020. January 22, 2020. Hollywood, FL.
Disclosures
Peña reports serving as a consultant to Philips Medical, Avanos, and Cordis; serving on the scientific advisory boards of Boston Scientific, Venture Medical, and Surmodics; being an investor in Cagent Medical and Integrity Spine; and being a speaker for Abbott Medical, BD, Cook Medical, Sirtex, and Penumbra.
Katzen reports being a consultant/scientific advisory board member of Philips Medical, Boston Scientific, and WL Gore.