FOURIER: Evolocumab Reduces Risk of CVD Events by 15% Compared With Placebo
(UPDATED) The study provides the first hard proof that lowering LDL with a PCSK9 inhibitor in patients with established CVD can impact clinical events.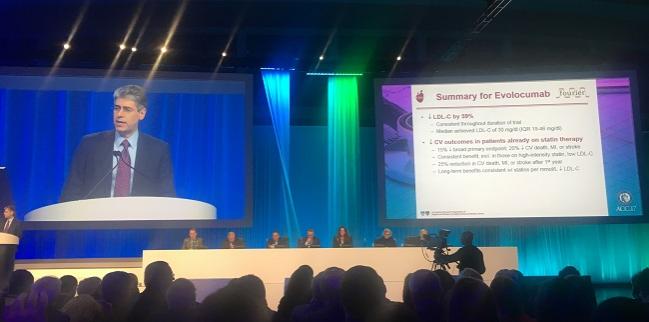 WASHINGTON, DC (UPDATED)—The eagerly anticipated final results of FOURIER, a large clinical trial testing evolocumab (Repatha, Amgen) in patients with stable atherosclerotic cardiovascular disease, show the PCSK9 inhibitor reduced the risk of cardiovascular death, MI, stroke, hospitalization for unstable angina, or coronary revascularization—the study's primary endpoint—by 15% when compared with placebo, an absolute difference of 1.5%.
Regarding the study's secondary endpoint, treatment with evolocumab reduced the risk of cardiovascular death, MI, or stroke by 20%.
Lead investigator Marc Sabatine, MD (Brigham and Women's Hospital, Boston, MA), who presented the results today at the American College of Cardiology Scientific Session, said the absolute reduction in risk observed in FOURIER—a trial with a median follow-up duration of 2.2 years—doesn't tell the full story. He noted the primary and secondary event curves separated during the first year and continued to diverge over time.
"We've seen this for all the statin trials as well," said Sabatine. "It takes time for LDL lowering to translate into healthier arteries."
Evolocumab, unsurprisingly, was also highly effective in lowering LDL cholesterol. Adding the PCSK9 inhibitor to optimal medical therapy reduced LDL cholesterol by 59%, down from a median of 92 mg/dL at baseline to 30 mg/dL at 48 weeks. Moreover, the reduction in LDL cholesterol was "rock steady" over the study's duration, say investigators.
The study was published simultaneously in the New England Journal of Medicine to coincide with the late-breaking clinical trial presentation.
Study Will Impact Clinical Guidelines
Steven Nissen, MD (Cleveland Clinic, OH), who was not involved in the trial, called FOURIER a remarkable study, one that is likely to change clinical guidelines, as it shows the benefit of lowering LDL cholesterol to unprecedented low levels. "This idea that lower is better for LDL cholesterol is robustly supported by the data," said Nissen.
For Michael Blaha, MD (Johns Hopkins Medical Institute, Baltimore, MD), proving evolocumab is an effective medical therapy for the prevention of cardiovascular outcomes is an important clinical milestone in cardiology. He agreed that FOURIER is likely to impact the clinical guidelines and alter practice patterns.
That said, Blaha admitted the results are a little "underwhelming."  
With the benefit observed in FOURIER—some had initially predicted evolocumab might reduce the risk of cardiovascular events by at least 30%—the issue will quickly shift to cost and identifying subgroups of patients who might benefit the most from treatment, said Blaha. A yearlong supply of evolocumab costs $14,100, while alirocumab goes for $14,600. At this stage, every statin is available as a generic medication at a fraction of that cost.
"If this were a cheaper medication, with the wonderful side-effect profile seen here, I think clinicians would be ecstatic about these results," Blaha told TCTMD. "However, given the price tag, even a back-of-the-envelope calculation suggests a costly clinical scenario."
Howard Weintraub, MD (NYU Langone Medical Center, New York), on the other hand, recalled the 2005 Treating to New Targets (TNT) study where atorvastatin 80 mg reduced the absolute risk of major cardiovascular events by just 2.2% compared with atorvastatin 10 mg. Despite a similar absolute reduction, TNT and others like it were regarded as breakthroughs.
People have a short recollection of how things work. . . . They really wanted this to be Babe Ruth comes to the plate and with one pitch goes deep into the right-field bleachers. Howard Weintraub
"People have a short recollection of how things work," said Weintraub. "They really wanted this to be Babe Ruth comes to the plate and with one pitch goes deep into the right-field bleachers."
Weintraub said Amgen may have been "burned" by earlier excitement over preliminary data from the safety studies, including OSLER with evolocumab and ODYSSEY-Long Term with alirocumab (Praluent, Sanofi/Regeneron). In those studies, which included a small number of clinical events, the PCSK9 inhibitors reduced the risk of cardiovascular outcomes by approximately 50%. 
"At the end of the day, you have to be realistic about what you're expecting," he told TCTMD. "FOURIER doesn't overwhelm you, but it's not underwhelming at all. It's in keeping with what we really should expect to see."
Hard Clinical Outcomes
In FOURIER, investigators randomized 27,564 patients with cardiovascular disease and LDL cholesterol levels 70 mg/dL or higher to evolocumab 140 mg every 2 weeks (or 420 mg monthly) or placebo. More than 80% of patients randomized to treatment had experienced a prior myocardial infarction.
Nearly 70% of patients in the study were treated with a high-intensity statin, such as atorvastatin 40/80 mg or rosuvastatin 20/40 mg, and 30% were taking a moderate-intensity statin. Slightly more than 5% of patients were also treated with ezetimibe (Zetia, Merck/Schering-Plough). The median duration of clinical follow-up was 26 months.
The primary endpoint occurred in 9.8% of patients who received evolocumab compared with 11.3% of placebo-treated patients (P < 0.001). Similarly, cardiovascular death, MI, or stroke occurred in 5.9% and 7.4% of the evolocumab- and placebo-treated patients, respectively (P < 0.001). Overall, treatment reduced the relative risk of myocardial infarction by 27%, the risk of stroke by 21%, and the need for coronary revascularization by 22%.
During the presentation, Sabatine presented data from a landmark analysis showing that the risk of cardiovascular death, MI, or stroke was reduced by 16% in first 12 months and by 25% beyond the first year. Similarly, the risk of fatal or nonfatal stroke was reduced by 19% in the first year and by 33% beyond 12 months.
Commenting on the failure of evolocumab to reduce the risk of cardiovascular mortality, Sabatine pointed out that the rate of this endpoint in FOURIER was significantly lower than that observed in the placebo-controlled statin trials, making it more difficult to show a survival benefit. Patients in this trial were very well treated, with optimal medical therapy including statins, aspirin, beta blockers, and ACE inhibitors/angiotensin receptor blockers. Sabatine added that more contemporary clinical trials testing high-intensity against moderate-intensity statin therapy also failed to show an effect on cardiovascular mortality.
For Nissen and Weintraub, FOURIER might be simply too short at 2 years to show a difference in mortality.
On the whole, Weintraub believes the data are encouraging and support his continued use of evolocumab in eligible patients. "If a patient has an indication of carotid, coronary, or peripheral atherosclerosis, and their LDL cholesterol is 70 [mg/dL] or higher, we go after it," he said. "If they're LDL cholesterol is over 100 [mg/dL], we're full guns."
Now the Discussion Turns to Cost 
Speaking with the media, Sabatine agreed the study supports treating patients to very low LDL cholesterol levels. When the researchers stratified patients by baseline LDL cholesterol, there were 6,961 patients with a level less than 80 mg/dL. Even in these patients, there was a significant reduction in the primary and secondary endpoint. At study completion, 25% of treated patients had an LDL cholesterol less than 20 mg/dL.
"Even lower LDL cholesterol appears to be even better," said Sabatine. "It's a very nice linear relationship."
Khurram Nasir, MD (Baptist Health South Florida, Miami), said one of the key questions now is just how much the PCSK9 inhibitor costs to prevent one clinical event. Even if evolocumab cost $10,000 a year, society would need to spend nearly $1.5 million to prevent one cardiovascular death, MI, or stroke if the number-needed-to-treat (NNT) over 2 years is 74, said Nasir.
And as Blaha points out, that clinical event would be nonfatal. While the FOURIER results are "great" for the LDL hypothesis, and important for clinical guidelines that will almost certainly see a return to LDL treatment target, the drug's price tag is now the large elephant in the room.  
"For routine use of evolocumab in clinical practice, I will need to be more convinced of its cost-effectiveness," said Blaha.
Nissen, though, he believes the issue of cost is a "straw man."
"If I have a patient that has had two myocardial infarctions, is scared to death, and doesn't want a third, and I have a drug that can lower his risk of a recurrent heart attack by 27%, am I going to offer him the drug? Should I?" asked Nissen rhetorically. "We spend $80,000 or $90,000 on some cancer drugs that extend life by 6 weeks."
We spend $80,000 or $90,000 on some cancer drugs that extend life by 6 weeks. Steven Nissen
To the media, Sabatine clarified that if follow-up is extended to 36 months, the NNT to prevent one cardiovascular death, MI, or stroke is closer to 50. Extrapolated to 5 years, which is the duration of the major clinical trials testing statins, the NNT to prevent one event is approximately 30. Cost-effectiveness analyses are underway, he added.
Treatment Is Safe, More Data to Come
Treatment with evolocumab did not result in a significant increase in adverse events, including new-onset diabetes or neurocognitive events. Data from the EBBINGHAUS study, a cognitive substudy of patients enrolled in FOURIER, will be presented on March 18, 2017, during a late-breaking clinical trial session.
To TCTMD, Blaha noted that longer-term follow-up on patient safety is still needed. If researchers can argue that the primary and secondary endpoint curves diverge over time, it might also be fair to wonder if a long-term safety signal could emerge with very low LDL cholesterol levels. That said, Blaha added, the data look good and there does not appear to be a hazard.  
For Robin Dullaart, MD, PhD (University of Groningen, the Netherlands), the study provides formal evidence that treatment with PCSK9 inhibition confers additional cardiovascular benefit. In an editorial accompanying the study, Dullaart points out that the median time from the last myocardial infarction was more than 3 years, meaning that the efficacy of evolocumab started more promptly after an acute event still needs to be determined. Similarly, clinical efficacy in high-risk patients without cardiovascular disease also needs to be studied, he writes.  
The ODYSSEY Outcomes study with alirocumab, which includes approximately 18,000 patients with acute coronary syndromes, is expected to be presented in early 2018.

Michael O'Riordan is the Associate Managing Editor for TCTMD and a Senior Journalist. He completed his undergraduate degrees at Queen's…
Read Full Bio
Sources
Sabatine MS, Giugliano RP, Keech AC, et al. Evolocumab and clinical outcomes in patients with cardiovascular disease. N Engl J Med. 2017;Epub ahead of print.

Dullaart RP. PCSK9 inhibition to reduce cardiovascular events. N Engl J Med. 2017;Epub ahead of print.
Disclosures
Amgen funded the FOURIER trial.
Sabatine reports grants from Abbott Laboratories, grants and personal fees from Amgen, grants and personal fees from AstraZeneca, grants from Critical Diagnostics, grants from Daiichi-Sankyo, grants from Eisai, grants from GlaxoSmithKline, grants and personal fees from Intarcia, grants and personal fees from Merck, grants from Roche Diagnostics, grants from Takeda, grants from Gilead, personal fees from CVS Caremark, grants from Poxel, personal fees from Alnylam, grants from Novartis, grants and personal fees from MedImmune, personal fees from Ionis, grants from Janssen Research Development, grants from Genzyme, personal fees from Cubist, personal fees from Esperion, personal fees from Medicines Company, personal fees from MyoKardia, personal fees from Zeus Scientific, and grants from Pfizer outside the submitted work.
Nissen reports receiving clinical trial funding through his institution from AbbVie, AstraZeneca, Amgen, Cerenis, Eli Lilly, Esperion, Pfizer, and The Medicines Company.
Nasir reports serving on the advisory board of Quest Diagnostics and consulting for Regeneron.
Dullaart reports other from Eli Lilly Company, outside the submitted work.
Weintraub and Blaha report no conflicts of interest.