FRAIL-AF: Warfarin Beats NOACs in Frail Elderly With AF
In a surprise, for this population excluded from prior RCTs, switching from the VKA to a NOAC led to more bleeding.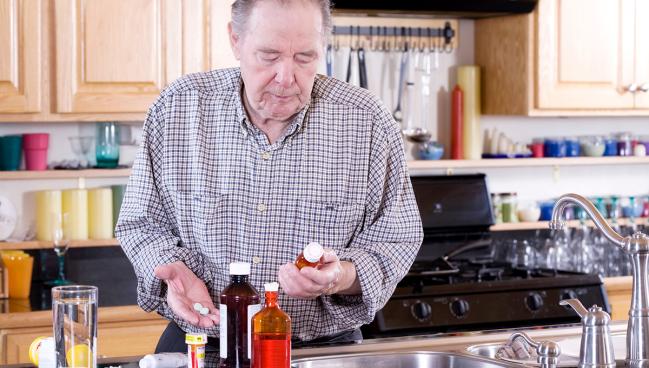 AMSTERDAM, the Netherlands—In a surprise finding that runs counter to more than a decade of research in younger patients, a randomized, multicenter trial in frail older adults has shown that switching patients off warfarin to instead take one of the more newly available non-VKA oral anticoagulants (NOACs) significantly increases the risk of major or clinically relevant bleeding.
"The results turned out different than we expected," said Linda Joosten, MD (University Medical Center Utrecht, the Netherlands), who presented the Hot Line trial Sunday at the European Society of Cardiology Congress 2023. "The hypothesis of this superiority trial was that switching from a VKA to a NOAC leads to less bleeding; however, we observed the opposite."
The study was stopped following an interim analysis by the data safety and monitoring board, "because switching from a VKA to a NOAC was clearly contraindicated," Joosten said.
The results turned out different than we expected. Linda Joosten
Session moderator, Carlos Aguiar, MD (Hospital Santa Cruz, Lisbon, Portugal), called the results "astonishing." What they should drive home, he said, is that "in the absence of randomized controlled trial data, we should be very cautious in extrapolating data from the landmark trials to populations not enrolled in those."
FRAIL-AF was published simultaneously in the Circulation.
Unexpected Findings
Ever since the first thrombin inhibitor, dabigatran, shortly followed by the factor Xa inhibitors, apixaban, rivaroxaban, and edoxban, first entered clinical trials a decade and a half ago, the NOAC class has consistently demonstrated superiority over warfarin for safety, with patients preferring the convenience of a pill that does not require INR monitoring. But elderly patients, particularly those with frailty, were excluded from those trials. Since this population is particularly susceptible to falls and bleeding, the assumption has been that frail patients, too, would likely fare better on the newer agents. While the prevalence of frailty in the community is 12%, that number rises to 18% in older adults, a group that also faces an increased risk of both AF and stroke.
As Joosten noted, the current ESC guidelines on atrial fibrillation, from 2020, specify that newly diagnosed atrial fibrillation patients should be started on a NOAC (Class IA); also, that those on warfarin with a low time in therapeutic range (TTR) should be switched to a NOAC. A 2023 expert consensus document on arrhythmia management in frailty, put out by the European Heart Rhythm Association, went one step further by suggesting that the advantages of a NOAC over warfarin were "likely consistent in frail and non-frail AF patients."
But that extrapolation from younger adults had never been tested, prompting the investigator-initiated FRAIL-AF trial. Joosten and colleagues, including principal investigator Geert-Jan Geersing, MD, PhD (University Medical Center Utrecht), randomized 1,330 patients stable on a VKA for non-valvular AF in an outpatient setting. Mean age was 83 years, just over one-third of patients were female, the mean Groningen Frailty Indicator score was 4, and comorbidities were common.
The study was open-label, and all four commercial DOACs were used, the most common being rivaroxaban (50.2%), followed by apixaban (17.4%), edoxaban (16.5%), and dabigatran (8.6%).
At one year, the composite of major and clinically relevant bleeding had occurred in 9.4% of the VKA arm and 15.3% of the NOAC arm (HR 1.69; 95% CI: 1.23-2.32). Analyzed separately, rates of major bleeding (2.4 vs 3.6, HR 1.52; 95% CI: 0.81-2.87) and clinically relevant bleeds (7.4 vs 12.9, HR 1.77; 95% CI 1.24-2.52) were all significantly lower in the VKA arm.
"FRAIL-AF is a unique study as it is the first randomized NOAC trial that exclusively included frail older patients," Joosten noted. "Without a clear indication, switching from VKA blood thinners to NOAC blood thinners should not be considered in frail elderly patients with atrial fibrillation."
Still 'New' Drugs
Discussing the trial after its Hot Line presentation, Isabelle C. Van Gelder, MD, PhD (University Medical Centre Groningen, the Netherlands), reminded the audience that as ubiquitous as they've become, NOACs "are still quite new drugs with possibly unknown interactions."
She offered "an enormous congratulations" to the investigators for this timely trial. "It gives an answer to an important gap of knowledge: how to anticoagulate elderly, frail patients," a group, she added, that cardiologists do not often see as often as general practitioners.
Of note, Van Gelder observed, the difference in event rates did not emerge until several months after switching, suggesting that the transition period itself was not responsible for the increased events. Some answers may lie in the choice of NOAC, she speculated—half of the patients were switched to rivaroxaban, which in multiple, observational studies has been linked with increased bleeding as compared with other NOACs.
In years past, the Netherlands was world renowned for the quality of its anticoagulation services. One possibility, suggested John G. F. Cleland, MD, PhD (University of Glasgow, Scotland), who moderated an earlier press conference, is that the caliber of VKA management in the Netherlands is simply unbeatable, even with the safer NOACs.
In response, Geersing, who presented the trial to the media, agreed, adding that these services have been dismantled somewhat, over time, but are still in place. "Of course, it could be part of the positive effects of this study, that it was done in the Netherlands," he acknowledged. "Being Dutch, of course I'm proud of this thrombosis service, but I think we shouldn't be overly optimistic about it. I think many countries checking for anticoagulation with patients on VKAs [are] well organized with TTR levels reaching 60%, 70%, 75%, so this [trial] is generalizable to settings where the TTR level is around that proportion."
I've got a patient who's perfectly happy on their anticoagulant, their control has not been troublesome, why rock the boat? John G. F. Cleland
Cleland, speaking with TCTMD, maintained that the fact that study sites were exclusively Dutch is important. "I think you would want to see this study replicated elsewhere before you would be confident in generalizing the results," he cautioned. "But this is the best information that we have at the moment, and if we're not going to be able to do any other studies in the field, then this is the best evidence that we have."
What's more, he said, "I think that it's actually consistent with what many sensible clinicians would do, which is, I've got a patient who's perfectly happy on their anticoagulant, their control has not been troublesome, why rock the boat?"

Shelley Wood is Managing Editor of TCTMD and the Editorial Director at CRF. She did her undergraduate degree at McGill…
Read Full Bio
Disclosures
Joosten reports having no relevant conflicts of interest.
Geersing reports payment to institution of unrestricted grants from Boehringer-Ingelheim, Bayer Healthcare, BMS Pfizer and Daiichi Sankyo.