Greater Need for Cooperative Care in Women's Heart Health, Two Studies Suggest
Women aged 35-54 years are making up an increasing proportion of acute MI hospitalizations, researchers reported at AHA 2018.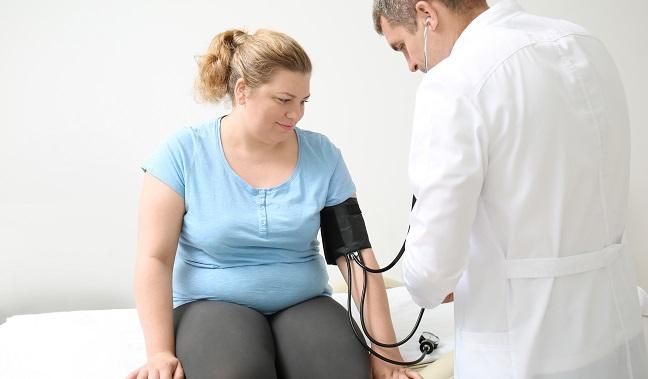 CHICAGO, IL—In an effort to increase awareness of gender-specific differences in cardiovascular outcomes, two new studies highlight some problematic trends and novel risk factors specific to women alone at the American Heart Association (AHA) 2018 Scientific Sessions.
The studies—one an analysis of the Atherosclerosis Risk in Communities (ARIC) database and another looking at postpartum depression's effects on CVD risk—showed "some interesting things and worrisome things and downright depressing things," according to Gina Lundberg, MD (Emory University School of Medicine, Atlanta, GA), who commented on the research for TCTMD.
Sameer Arora, MD (University of North Carolina School of Medicine, Chapel Hill), who presented the random-sample ARIC analysis on Sunday, told TCTMD that though prior research has shown consistent overall declines in acute MI severity over the past few decades, "we had a concern that that would not be the case for younger age groups because most of the attention has been on older age groups. . . and [cardiovascular disease has been considered] an 'old man's disease' mostly."
For their study, which was simultaneously published in Circulation, Arora and colleagues found that younger patients aged 35-54 years made up an increasing proportion of acute MI hospitalizations from 1995-1999 to 2010-2014 (27% to 32%; P = 0.002 for trend). This cohort also saw a rise in the prevalence of hypertension (59% to 73%) and diabetes (25% to 35%), but a decline in smoking (60% to 52%; P < 0.001 for trend for all).
Specifically, younger women saw the largest increase in proportion of hospitalizations, yet the annual incidence of acute MI for men aged 35-54 went down. Compared with younger men, younger women were less likely to receive lipid-lowering therapies, nonaspirin antiplatelet agents, beta-blockers, coronary angiography, and coronary revascularization (P < 0.05 for all). Both sexes received aspirin and noninvasive stress testing at similar rates. Interestingly, adjusted mortality at 1 year was similar for both younger women and men (HR 1.10; 95% CI 0.83-1.45).
'Perception' Is Key
If the healthcare community has been touting improvements in acute MI care for years, why has this cohort of younger women been seemingly left behind? "Perception is one of the major things," Arora said, noting that even today cardiovascular disease in women, especially younger ones, is not viewed nor treated the way it is in men. "[This] again just goes to show that women are not considered as high risk and men are considered more high risk for heart disease. . . . Interestingly, women were more likely to be managed by just simple echocardiography, which tells you that definitely there's concern because that's why they are doing noninvasive testing. [Clinicians] want to do something, but they don't want to be treating them that aggressively."
What is most upsetting for Lundberg, who has been active in promoting women's heart health, after viewing this data is that "we've been jumping up and down, wearing red dresses, and waving the banner of 'Go Red for Women' since 2004. And you would think that we would have had some impact by now," she said. "It's very sad to see we're not—that the graph of medical therapy is just like a graph from 10 years ago where women didn't get any therapy but nitrates."
We've been jumping up and down, wearing red dresses, and waving the banner of 'Go Red for Women' since 2004. And you would think that we would have had some impact by now. Gina Lundberg
The hurdle to better care for women might lie in a multitude of places, Lundberg added, questioning points of care from the emergency department through the cath lab and general cardiologists alike. "Where are we going wrong? Who should be stepping up and doing a better job with caring for these women? I think it's across the board," she said.
Ultimately, "it goes back to who they're seeing for their primary care," Lundberg continued. "Most women that are still of childbearing age are going to be seeing their OB-GYN, and then most of them aren't really addressing cardiovascular risk or cardiovascular health. They're doing what they do and they're looking at breast and genitourinary health. I think that's part of it. If these women aren't getting cardiovascular risk assessment with their annual exams, they're not going to get that benefit."
Men, on the other hand, are often in contact with a primary care doctor throughout their lives, she noted.
In an effort to bridge this gap, 3 years ago Lundberg began coming twice a month to see female patients in her institution's Women's Health Center. "[Doing so] helps patients actually come to the visit because once they're told, 'Oh you've got to go see the cardiologist,' they kind of freak out on you. But I'm there literally in the same office where they see their OB-GYN, so that's comfortable. They feel like 'Well, this is more of my women's health evaluation.' So it's better received," she said.
Citing a joint statement put out by the AHA and American College of Obstetricians and Gynecologists (ACOG) this year, Lundberg said OB-GYNs, preventive cardiologists, and even primary care physicians need to do a better job of continuing to work together to ensure female patients receive the whole-body care they need. "A lot of our OB-GYN colleagues don't realize that women who've had preeclampsia—a hypertensive disorder of pregnancy—or gestational diabetes are at risk long-term. I think they're also not thinking about the breast cancer survivor, the woman with rheumatoid arthritis or lupus, or the HIV patient or anybody with elevated inflammation," she said.
Postpartum Depression
Interspecialty cooperation is especially important given another potential risk factor, or at least marker, for cardiovascular disease identified by Punag Divanji, MD (University of California, San Francisco), and colleagues. Presenting data at AHA 2018 from almost 2 million pregnancies between 2005 and 2011, the researchers observed a more than threefold unadjusted risk of cardiovascular disease associated with postpartum depression (HR 3.76; 95% CI 3.33-4.25).
Notably, patients with postpartum depression were significantly more likely than those with no history of depression to have a history of diabetes, hypertension, obesity, chronic kidney disease, hyperlipidemia, smoking, and drug abuse. After adjusting for traditional, pregnancy-associated, and psychosocial risk factors, the risk of CVD was still elevated following postpartum depression (adjusted HR 1.67; 95% CI 1.37-2.03).
In this study specifically, it's possible that the depression was merely an identifier for a slew of other cardiovascular risk factors, Lundberg said. However, "this reinforces that depression is a serious risk factor in women, that it's definitely associated with all the other traditional risk factors and comorbidities, that it definitely leads to higher risk long-term, and needs to be addressed and identified by primary care doctors.
"Even as a cardiologist when I feel like a woman has serious depression, there's two or three antidepressants I'll use. . . . But once it gets more complicated, that's not my expertise, and then I want them to go see a psychologist or psychiatrist or both, and we don't have that many people to refer them to," she continued, adding that these patients often cannot be addressed in mere 15-minute appointment windows. "So I think that most of these women are undertreated."
Ultimately, "I just don't think the OB-GYN can do all the primary care for women," Lundberg said. "We have to start to realize that they need a team. Because we're not just the bikini part of our body—we're the brain and the heart and all these other things, too. So I think if they had counseling resources or a psychiatrist who worked with them, again maybe embedded in their clinic or working with their clinic, I think it would be very helpful. I think they do a tremendous job of being the primary care doctor for women, but I think they're overwhelmed by all they need to be doing."
She encouraged other centers to begin thinking about breaking down silos and facilitating cooperation between the various care centers women need. "I really do hope that this joint statement with [AHA] and ACOG empowers academic centers and private practice centers to say, 'Hey, these two groups need to be working together,'" Lundberg concluded. "It's not just the cardiovascular complications of pregnancy, it's the whole from the start of menses through menopause and beyond. Women need to have that care."

Yael L. Maxwell is Senior Medical Journalist for TCTMD and Section Editor of TCTMD's Fellows Forum. She served as the inaugural…
Read Full Bio
Disclosures
Arora, Divanji, and Lundberg report no relevant conflicts of interest.