'Heartless' Indifference Drives PAD/CLTI Amputations in Underserved Groups
A panel of experts called for action to address access to quality care, accountability, and health injustice in vulnerable patients.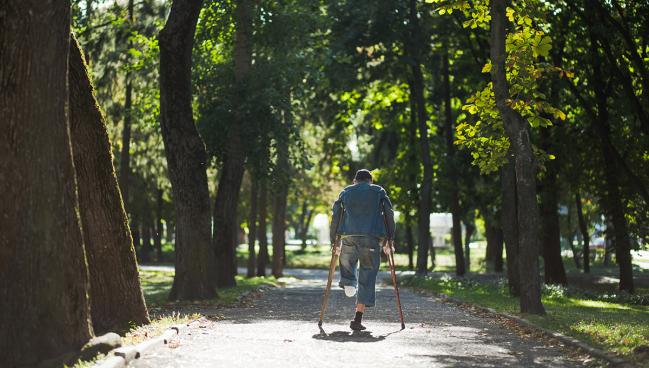 For patients living with PAD or chronic limb-threatening ischemia (CLTI) who are from racial/ethnic minority groups, economically disadvantaged, or living in areas without access to good vascular care, the future is often dimmed by unnecessary amputations and early death. That reality has been met by a profound lack of accountability and desire for change among the medical professionals they rely on for help, experts said in a special session at VIVA 2022.
While 20 million patients in the United States have PAD, the Black population carries the highest burden of both disease and risk for lower-extremity amputation, said Foluso Fakorede, MD (Cardiovascular Solutions of Central Mississippi, Cleveland), during his presentation.
"There's a disparity in terms of not only the undertreatment of these patients, but also the availability of revascularization opportunities for them prior to an amputation," he added. On top of structural inequities in care, "when you mix in the way we practice and also the systemic policies that are in place, that work in a fragmented form, that perpetuate disparities in care, you get patients who suffer in silence and violence."
Geographically, Fakorede said, the clustering of the highest areas of amputations continues to be in areas where enslaved Black people once lived. Compared with the national average, the rate of amputation among diabetic patients in Tupelo, Mississippi, for example, is 16-fold higher. But even in urban areas with large Black populations, such as Philadelphia, where access to good healthcare is within a few miles of where they live, Black patients still have extremely high rates of amputation, regardless of their economic status. The story is similar, Fakorede noted, for Hispanic patients as well as Native Americans.
His presentation also touched on a growing epidemic of amputation among Black women, where research is needed to understand whether many remain asymptomatic for long periods, have atypical disease, or have undertreated risk factors.
Compounding the inequities is the fact that amputation is too often the first resort, instead of the last, for vulnerable patients with no one to speak up for them. As Fakorede left the podium he played a video of a Black male patient who he had sent to a wound care center for amputation of a single toe following a successful revascularization procedure that restored blood flow to his foot. The patient explains that he tried to tell the doctor at the wound care center that he was only supposed to have one toe amputated as an outpatient procedure. In the video, he sits in a wheelchair with bandages around what remains of his amputated lower leg.
To TCTMD, Fakorede said the case is an all-too-common example of health injustice. "This is a tragic standard in my site of service, where no one is held accountable," he said. Although Fakorede asked for an explanation from the doctor at the wound center, he said he got no response. As for the patient, he didn't take legal action for fear of retribution against a relative who works at the center where his unnecessary amputation occurred.
'We've Got to Have Accountability'
Also speaking in the session, Bryan Fisher, MD (Centennial Medical Center, Nashville, TN), said the reality of what happens to these patients and what needs to be done to help them is "not sexy," but makes a huge difference in terms of whether they get to live full lives.
An amputation often means death within 2 to 5 years for the most-vulnerable patients, yet discussions around preventing amputation are muted, "and maybe the reason is because it's the least among us who are afflicted by it," Fisher added. "People that have the resources, they don't get their legs cut off. I think that we can all agree that there's something really, really wrong with that."
"Hospitals need to publicize their amputation measures and there should be quality metrics and a report card to go with each for payers to see," Fakorede told TCTMD. "Our job is to raise awareness, bridge the gap in inequities of care, provide access to quality care across the continuum of care, and restrain the heartless."
People that have the resources, they don't get their legs cut off. Bryan Fisher
Fisher said within his hospital system he's pushing for every amputation to be tracked. He also thinks there is room for grassroots interventions in PAD, citing the success of a barbershop-based effort that promoted hypertension awareness and treatment among Black men.
"The corporatization of medical care has really hurt so many of us and so many patients," noted panelist Misty D. Humphries, MD (University of California Davis, Sacramento), in her presentation. Rather than silos where one specialist does the revascularization without coordinating with a podiatrist or wound care specialists, Humphries said a multidisciplinary care model is needed for PAD and CLTI. This is particularly important in areas that are what she referred to as "vascular deserts," where no vascular providers are accessible.
She noted that millions of PAD and CLTI patients in the US "live outside of a place where they can get to a qualified, board-certified vascular surgeon, but they may have other providers that can do this care."
However, Humphries and colleagues got disappointing results when they conducted a study where they tried to teach primary care doctors and nurse practitioners in rural areas and vascular deserts to conduct ankle-brachial index (ABI) testing to check for PAD as well as how to listen to Doppler signals in the arteries.
"It epically failed," Humphries said. But what the research showed was a "huge knowledge deficit" where primary care physicians overwhelmingly did not know how to use a Doppler, how to calculate ABI, or how patients with calcified vessels in the peripheral arteries should be managed and referred. Humphries said many of the physicians in the study said they simply did not have the time to deal with it, didn't have the necessary tools or staff, or were put off by not being reimbursed for the testing. She said efforts to provide reimbursement for ABI in primary care may help improve the situation.
For his part, Fisher said primary care physicians should be called out when their patient undergoes an amputation, not to place blame but to identify what happened and offer assistance and education. His institution is doing this, though with mixed success.
"I think that we're headed in the right direction. I'm hopeful, and we're going to die trying, but we've got to have accountability," he added.
Advocating for Change
Fakorede, who felt drawn to work in the Mississippi Delta by the disproportionately high rates of unnecessary amputations among the community of largely poor people of color, believes that many cardiologists also have no idea how to manage severe limb disease due to inadequate exposure during their training.
"Unless you are in a high-volume center or you have a dedicated fellowship, it is not well taught in our fellowship training programs, it's not well taught in our medical school curriculums, it's not well taught across the board," he said. "You can give me all the fellows you want in the state of Mississippi, but what about the fellows that we need in Arkansas, in the diabetes belt of America, in all those 644 counties in metropolitan areas that also have vascular deserts?" There is a need to address the fact that fellows are not interested in this space, Fakorede said, "and we need to get them interested."
Our job is to raise awareness, bridge the gap in inequities of care, provide access to quality care across the continuum of care and restrain the heartless. Foluso Fakorede
The diabetes belt includes parts of Alabama, Arkansas, Florida, Georgia, Kentucky, Louisiana, North Carolina, Ohio, Pennsylvania, South Carolina, Tennessee, Texas, Virginia, West Virginia, and the entire state of Mississippi. Within it, there is also a tremendous lack of endocrinologists, with few incentives drawing them there, noted panelist and VIVA President Joshua Beckman, MD (UT Southwestern Medical Center, Dallas, TX). Fakorede said this may be where local and state government can help by supporting physicians practicing in those areas with funding to build their practices and to recruit others to join them.
Humphries runs a remote limb-salvage program for patients living in vascular deserts. It involves a combination of telehealth plus a single visit for a vascular intervention. She said those types of programs need funding too, with more research needed on how to build them into pathways of PAD/CLTI care. Still, such programs grow slowly as a consequence of the need to build trust with patients and their families, she added.
Fisher said he drives 45 minutes every other Tuesday to get to patients who can't come to him. Part of the reason he does so is the knowledge that there are physicians out there who never ask patients to remove shoes and socks, or even blatantly say they "don't want to know" if their patient has PAD because they don't want to deal with it.
According to Humphries, her research has identified 125 specific barriers to care for patients with CLTI, though that work also produced a list of potential solutions.
"We need to hit it on every front," she said. "We need to hit it from the government. We need reimbursement. We need a public health campaign. We need primary care doctors learning. We need specialists getting out into certain places."
Other things that are needed, stated Fakorede, include standardization of PAD care, establishment of centers of excellence for peripheral vascular care, and policies to address injustices incurred by patients when an amputation-first strategy is used. In addition to the man in the video, he told TCTMD he has 15 to 20 other patients with similar stories of unnecessary amputations who are unwilling or unable to speak out about it.
On a positive note, Beckman said he's optimistic that the US Centers for Medicare & Medicaid Services is interested in this topic and wanting to help, particularly with regard to the variation in rates of amputation and the historically low rates of enrollment of racial and ethnic minorities in clinical trials.
"The problem is equitable healthcare delivery more than innate differences in physiology," he added. "We as a vascular community, must take strong action to remediate the variances in access to clinical trials, medical therapies, and invasive therapies to improve outcomes."

Sources
Fakorede F. Amputation trends in different populations and regions around the country. Presented at: VIVA 2022. November 2, 2022. Las Vegas, NV.

Fakorede F. Putting it all together and moving forward: steps to improve care in the vulnerable population. Presented at: VIVA 2022. November 2, 2022. Las Vegas, NV.

Fisher B. Is there any other disease more associated with poverty than CLTI? Presented at: VIVA 2022. November 2, 2022. Las Vegas, NV.

Humphries M. How do we educate primary care doctors to identify CTLI before it's too late? Presented at: VIVA 2022. November 2, 2022. Las Vegas, NV.

Beckman J. Is the latest technology equitable in the United States? Presented at: VIVA 2022. November 2, 2022. Las Vegas, NV.
Disclosures
Fakorede reports no relevant conflicts of interest.
Fisher reports honoraria from Abbott Vascular, Bard Peripheral Vascular, Contego, and Shockwave Medical.
Humphries reports honoraria from Cook Medical and Shockwave Medical; consulting for Shockwave Medical; and research, clinical trial, or study funding from Janssen, Shockwave Medical, and Gore.
Beckman reports consulting for Janssen, JanOne, and Novartis; and research, clinical trial, or study funding from Bristol-Myers Squibb.