How HF Drugs Help and Harm Female Patients: A Call for Sex-Specific Reporting
Two new studies looking at adverse drug reactions and outcome reports for HF clinical trials suggest room for improvement amid encouraging signs.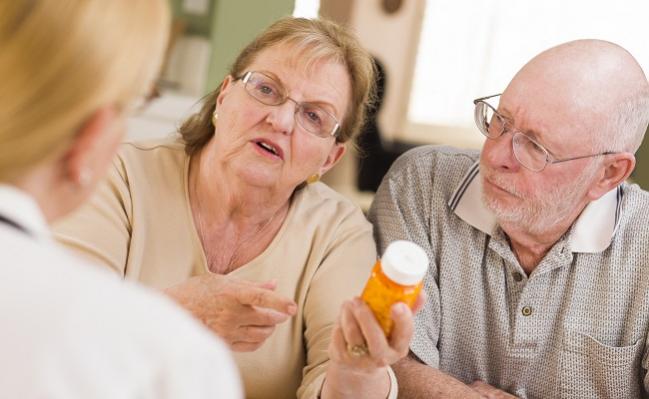 Not only are women underrepresented in heart failure (HF) clinical trials, but also the lack of sex-specific data on adverse drug reactions (ADRs) in these studies leaves physicians with little information regarding the risk-benefit trade-off of different HF medications to guide their use in women. Authors of a new review, led by Sophie Bots, MSc (University Medical Center Utrecht, the Netherlands), say it's time for ADRs to be reported separately for men and women.
Their paper, published online in a special issue of JACC: Heart Failure this week, appears alongside a second paper tracking sex-specific efficacy reporting in heart failure trials. Here, Muthiah Vaduganathan, MD (Brigham and Women's Hospital, Boston, MA), and colleagues report seeing "encouraging signs" that researchers are doing a better job of reporting treatment responses by sex.
Both sets of authors stress the need for clinical trial designs that look at outcomes and adverse reactions by sex.
"I think we should stop pooling data and calling people 'patients,'" Hester M. den Ruijter, PhD (University Medical Center Utrecht), senior author on the ADR paper, told TCTMD. "There is no such thing as a patient: it's either a man or a woman and they had different body composition, different sex chromosomes, different hormones, etc. We're very similar but also very different in many ways, and we know that is also [the case] in the pathophysiology of HF and atherosclerosis. So there is every reason to do this in a systematic way, especially in these fields of cardiology."
Different Sexes, Different Reactions
In the analysis by Bots and colleagues, researchers reviewed three decades' worth of ADR information across the spectrum of HF drugs by conducting systematic searches in PubMed and EMBASE, ultimately identifying 155 papers (in English or Dutch). Just 7% of the studies reported ADR information separately for men and women, with no improvement in sex-specific ADR reporting over the six decades studied.
Three studies reported a higher risk of ACE inhibitor ADRs in women, one showed a higher risk of mortality with digoxin in women, and one pointed to an increased ADR risk for men with mineralocorticoid receptor antagonists. The pooled studies showed no differences in ADRs for angiotensin II receptor blockers or beta-blockers, and no data were available to address sex-based differences for ivabradine.
There is no such thing as a patient: it's either a man or a woman. Hester M. den Ruijter
"These results underline the scarcity of ADR data stratified by sex," Bot et al conclude. "The study investigators call for a change in standard scientific practice toward reporting of ADR data for women and men separately."
Speaking with TCTMD, den Ruijter pointed out that part of the problem of collecting adequate ADR data stems from the underrepresentation of women in clinical trials, whose prevalence has hovered at 25% for decades. But this is no excuse for not reporting efficacy and ADR data by sex, since the lack of data could subsequently be addressed in meta-analyses, she stressed. "Even if you have limited numbers of women in these studies, please report the data by sex, even if it's just 10%."
She and her co-authors also make the point that phase I dose-finding and toxicity studies typically have even lower representation of women, in large part due to fears about drug effects in those who become pregnant. "I think that these pharmaceutical companies are not so keen on having women in these early-phase clinical trials; on the other hand, if women are on oral contraceptives I don't see any harm in getting a good idea as to whether new drugs are safe for women as well," den Ruijter said.
Efficacy Disparities
In the second paper, looking at HF drug efficacy between the sexes, Vaduganathan and colleagues conducted a systematic review of phase II to IV HF trials published between 2001 and 2016, identifying 118 studies in total. Women made up, on average, 27% of study composition.
Of the 81 out of 118 trials that included analyses by sex, 95% reported no significant differences in treatment effect for the primary endpoint. Reporting of outcomes by sex improved over the study period, climbing from 57.1% in 2001 to 2004, to 71.9% in 2013 to 2016.
Four trials did see differences by sex, including three that saw more benefit in women than men and one that suggested women fare worse than men with vagal nerve stimulation; none of the studies, however, were powered to look at sex-based differences. In general, investigators typically concluded that baseline differences—not sex-specific factors—explained any imbalances in outcomes between men and women.
"With increasing representation of women in future clinical trials, reporting of treatment responses by sex should be complete and encompass efficacy and safety endpoints," the authors conclude.
Done by Decree
JoAnn Lindenfeld, MD (Vanderbilt Heart and Vascular Institute, Nashville, TN), is a co-author on the Vaduganathan paper and also on an accompanying editorial with JACC: Heart Failure Editor-in-Chief Christopher M. O'Connor, MD (Inova Heart & Vascular Institute, Falls Church, VA). They note in their editorial that they were "overwhelmed" by submissions when the call for papers on this subject went out. Indeed, the special issue of the journal also includes studies on sex-differences with spironolactone seen in the TOPCAT trial and another looking at sex-related differences in usage and outcomes with LVADs as bridge to transplantation.
Speaking with TCTMD, Lindenfeld pointed out that it's only in recent years that investigators and clinicians have come to understand some of the fundamental differences in heart failure etiology and presentation between men and women. Today, it's much more widely understood that women are more likely than men to present with heart failure and preserved ejection fraction (HFpEF) and men with reduced ejection fraction (HFrEF). And while there is some overlap, said Lindenfeld, "women are more likely to have hypertension and diabetes, whereas men are much more likely to have coronary disease as the underlying pathophysiology."
There are plenty of other reasons to expect that drug treatments would work differently, too, a point made by the authors of both papers and by the editorialists. "There's body weight, which may affect women differently than men," said Lindenfeld. "There's menopause, which may have differential effects on drug therapy and adverse events; women are known, for instance, to have cough more often, even with antihypertensive drugs. And then, as you're probably aware, women. . . have a slightly better [survival] but have worse symptoms and quality of life and we don't know all the reasons for that."
When the NIH makes these decrees, something happens. JoAnn Lindenfeld
Lindenfeld and O'Connor point to the profound impact of the US National Institutes of Health (NIH) Revitalization Act of 1993, which mandated that trials proportionally enroll women and minorities in a manner representative of the population that would ultimately be receiving a drug or intervention. Years later, in 2015, the "Research for All Act" was introduced to the US Congress, directing the Food and Drug Administration to ensure that the design and composition of all clinical trials for new drug or device seeking approval (that is, not just those funded by the NIH) would include sufficient numbers of women and minorities to ensure safety and efficacy for all. That bill stalled after being referred to the House Committee on Energy and Commerce.
Lindenfeld is blunt in her belief that it will require actions like that taken by the NIH—and attempted in Congress—to boost the representation of women in trials. "When the NIH makes these decrees, something happens," she said.
Representation of women on the steering committees is a separate issue, she noted, but pointed out that this, too, helps in the early trial design to insure that data are collected appropriately. It was the BEST trial of bucindolol in patients with heart failure and reduced EF that, after failing to enroll sufficient numbers of women in the late 1990s, led to the observation that women more commonly had HFpEF. Lindenfeld at the time was the sole woman on the BEST steering committee and charged with figuring out why enrollment of women was so sluggish. "When you focus a light on these issues you tend to find important data or have important ideas that can be tested," she said.
Lindenfeld and O'Connor conclude their editorial by calling for more research to address outcomes by sex as well as for better awareness of heart failure in women, "and the important differences between men's clinical characteristics, presentation, and outcomes and those of women."
But is that the purview of clinical trials, or can it be done in clinical practice? 
den Ruijter thinks it can. She believes physicians need to be more aware that drug trials, even the big ones, may not have tracked ADRs by sex and should keep that in mind when they are treating patients in practice. "The next step is probably looking at both monitoring ADRs that are just happening in our society so that we can see whether we can [identify differences]," she suggested.
Javed Butler, MD (University of Mississippi, Jackson), the senior author on the Vaduganathan paper, offered a note of caution, however.
"We definitely need to continue to push for more women enrolled in trials (and also women researchers, although that's a separate issue)," he told TCTMD in an email. "But we also should not sound the alarm without a good reason.
"There's the potential that, without any evidence of harm or lack of benefit, just because fewer women were enrolled, we don't give then medications that may otherwise be very helpful. Observational data certainly will be helpful, but again due to confounding and biases, the best option is to increase trial enrollment," Butler said.

Shelley Wood is Managing Editor of TCTMD and the Editorial Director at CRF. She did her undergraduate degree at McGill…
Read Full Bio
Disclosures
Bots, den Ruijter, and Vaduganathan report no relevant conflicts of interest.
Lindenfeld reports receiving grant research support from Novartis and consultant support from St. Jude, Abbott, Relypsa, RESMED, Cardiokinetix, and CVRx.
O'Connor reports receiving research funding from and has served as a consultant to ResMed, Merck, and Bristol-Myers Squibb; has served as a consultant to Stealth Peptides; and is a co-owner of Biscardia.