Lagging Behind: Guidelines Can't Keep Up With Growing TAVR Evidence Base
Should the ACC/AHA adopt "rapid recommendations" to keep up with the accumulating evidence? One expert says it's worth considering.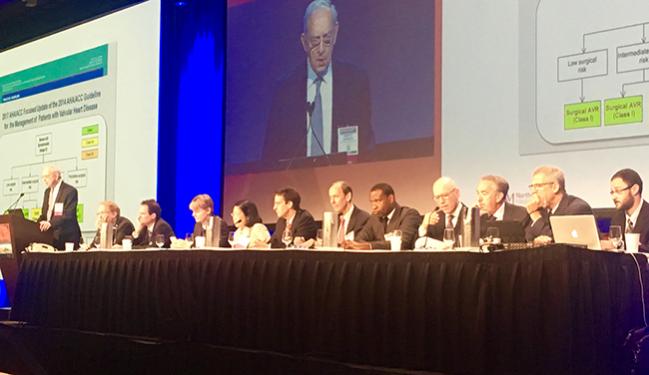 CHICAGO, IL—In a session devoted to the constantly evolving field of transcatheter aortic valve replacement for the treatment of aortic stenosis—a field that saw the first "proof-of-concept" procedure performed 15 years ago—experts in charge of drafting clinical guidelines are struggling to keep pace with the rapidly shifting evidence base.
Speaking at TVT 2017, Robert Bonow, MD (Northwestern University Feinberg School of Medicine, Chicago, IL), was asked whether guidelines, even the most recent focused update, lag behind the clinical trial data, not to mention what is currently happening in clinical practice.
"The answer to the question is very simple," said Bonow, a member of the 2014 and 2017 American Heart Association/American College of Cardiology (AHA/ACC) guidelines for the management of patients with valvular heart disease. "No, we're not keeping up with clinical practice."
Bonow stressed, though, that "guidelines are just guidelines, not handcuffs," advising that the heart team should still use their clinical judgement when determining who might be a good candidate for TAVR.    
Speaking during the session, Martin Leon, MD (NewYork-Presbyterian/Columbia University Medical Center, New York, NY), said TAVR leaders have been committed to accumulating solid data supporting the therapy's use since the beginning. In the last 10 years, there have been more than 15,000 US patients randomized in eight clinical trials with multiple TAVR systems. Worldwide, there are now 24 randomized clinical trials with nearly 25 different companies either manufacturing or developing TAVR systems.
"This is really an evidence-based avalanche," said Leon.
What the Guidelines Currently Say
In patients with severe symptomatic aortic stenosis at prohibitive surgical risk, TAVR is an uncontested class I indication.
This is really an evidence-based avalanche. Martin Leon
All the way back in 2014, though, the AHA/ACC guideline writing committee established TAVR as a class IIa indication for patients at high surgical risk and left surgical aortic valve replacement as a class I indication. In the intermediate-risk patients, surgical valve replacement, not TAVR, was recommended. "In 2014, we had one clinical trial, the PARTNER 1 trial," said Bonow. "And since then, of course, there've been enormous advances, all rapidly occurring, in very good randomized trials and huge registries."
Even in 2014, there were some rumblings that TAVR for patients at high surgical risk should have been a class I indication. And in fact, many physicians were already convinced that the procedure would also benefit intermediate-risk patients and wanted to see the guidelines reflect that. Even the US Food and Drug Administration (FDA) indications all appeared to move faster than the AHA/ACC guidelines. Last summer, Sapien XT and Sapien 3 (Edwards Lifesciences) were approved for intermediate-risk patients.
In March 2017, the AHA/ACC updated their guidelines, making TAVR a class I indication for patients at high surgical risk, but gave intermediate-risk patients a class IIa recommendation based on results from the PARTNER 2A trial.
"Within a week of us publishing those guidelines, based upon one clinical trial, SURTAVI comes out," said Bonow. "Now we have two clinical trials. So how do we begin to move more rapidly within this space? Should we be saying that with SURTAVI we now have two randomized clinical trials and transform that class IIa indication to a class I? Probably."
Even among low-risk patients, clinical trials are ongoing. In 2016, the FDA gave the greenlight to two studies comparing TAVR with aortic valve replacement surgery in low-risk patients: the Edward Lifesciences' PARTNER 3 trial with Sapien 3 and Medtronic's study with CoreValve Evolut R. In addition, the UK-TAVI registry is including low-risk patients and NOTION-2, a Scandinavian study assessing the safety and efficacy of TAVR in low-risk patients, is also ongoing.
Leon noted the EARLY TAVR trial, a study randomizing asymptomatic patients with severe aortic stenosis and a normal stress test to TAVR or ongoing clinical surveillance, is also planned (although it is not yet enrolling patients). 
Moving to Rapid Responses?
During his presentation, Bonow noted that the BMJ issues "rapid recommendations," a new initiative that shortens the time it takes to revise guidelines so that important trial results can be incorporated quickly into clinical practice. As reported by TCTMD when they were published in 2016, the BMJ recommendations provide timely guidance for interventional physicians on how to manage intermediate- and low-risk patients. 
How do we begin to move more rapidly within this space? Robert Bonow
For Bonow, the guidelines need to adapt faster to the available evidence, and he suggested the writing committee may want to consider issuing rapid updates not unlike the BMJ's when newly available clinical trial data are available.
Leon, speaking to the future of TAVR, commented that there is a need to "continue the momentum and take this to another level." To do so, guidelines need to do a better job keeping pace with an exploding field, where many populations remain underserved. Data from the TVT Registry showed that 94.0% of treated patients are Caucasian and just 3.8% are African-American and 1.1% are Asian. Leon added the global growth of TAVR is expected to increase by a factor of four, with approximately 290,000 cases predicted to be done in 2025. 

Michael O'Riordan is the Associate Managing Editor for TCTMD and a Senior Journalist. He completed his undergraduate degrees at Queen's…
Read Full Bio
Sources
Presentations at: TVT 2017. June 16, 2017. Chicago, IL.
Disclosures
Bonow reports no conflicts of interest.
Leon reports grant/research support from Abbott, Boston Scientific, Edwards Lifesciences, Medtronic; consulting fees from Abbott and Boston Scientific, and shareholder/equity in Claret, GDS, Mitralign, and Valve Medical.