Large Review Plumbs Possibilities, Pointlessness of Antioxidant Supplements
The review helps flesh out the role for micronutrients in some settings, while reinforcing the futility of others.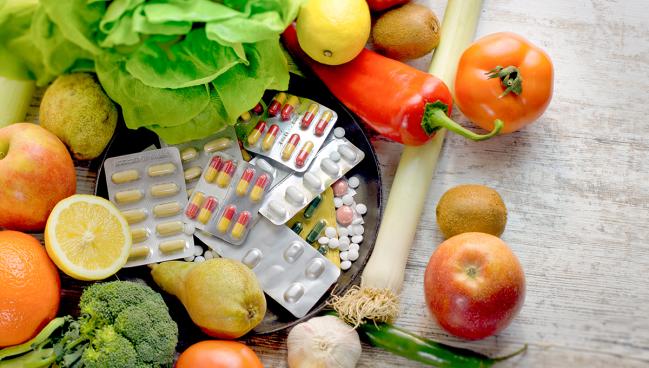 A large-scale review of nearly 900 randomized controlled trials highlights the cardiovascular benefits—or lack thereof—of several micronutrients with antioxidant capabilities.
Supplementation with n-3 fatty acids, folic acid, and coenzyme Q10 all had positive effects on various endpoints, but others, such as vitamin C, D, and E, as well as selenium, had no effect on cardiovascular disease or type 2 diabetes risk. Beta-carotene, on the other hand, actually increased the risk of all-cause mortality.
"The take-home message is that micronutrients definitely have an important role in preventive medicine and identification of a mixture of micronutrients with the right dosage may be important, as not all micronutrients are beneficial and some may even have harmful effects," said senior investigator Simin Liu, MD, ScD (Brown University, Providence, RI). "For certain micronutrients, further study is still needed, including large, high-quality interventional trials to investigate their long-term effects on cardiovascular diseases. A personalized, precision-based dietary intervention involving certain combinations of beneficial micronutrients may promote cardiometabolic health outcomes."
The new study, which was led by Peng An, PhD (China Agricultural University, Beijing), and published this week in the Journal of American College of Cardiology, "highlights the importance of micronutrient diversity and the balance of benefits and risks in the design of whole food–based dietary patterns," say researchers.  
To TCTMD, Liu said there is little consensus about the effects of specific antioxidants on CVD outcomes, although oxidative stress is involved in the pathogenesis of cardiometabolic diseases, such as CVD and type 2 diabetes. Their team, he said, has been looking at the roles of environmental and genetic determinants of chronic diseases for nearly 30 years, including the role of micronutrients, minerals, and trace elements.
"Several large intervention trials have consistently shown beneficial effects on clinical cardiometabolic outcomes of a diet pattern rich in micronutrients, although research on micronutrient supplementation has mainly focused on the health effects of a single or a few vitamins and minerals," said Liu. "We decided to take a comprehensive and systematic approach to evaluate all the publicly available/accessible studies reporting all micronutrients including phytochemicals and antioxidant supplements and their effects on cardiovascular risk factors as well as multiple cardiovascular diseases."
General Agreement With USPSTF
The new analysis included 884 randomized controlled trials testing 27 micronutrients in 883,627 participants.
In total, seven micronutrients—L-arginine, L-citrulline, folic acid, magnesium, alpha-lipoic acid, genistein, and resveratrol—lowered systolic and diastolic blood pressure, with systolic pressures reduced anywhere from 3 to 10 mm Hg. Additionally, seven micronutrients reduced blood lipid levels. For example, anthocyanin, folic acid, n-6 fatty acids, and genistein reduced LDL-cholesterol levels anywhere from 7 to 16 mg/dL. Eight micronutrients, including curcumin, zinc, L-arginine, folic acid, vitamin D, catechin, flavanol, and genistein, had a positive effect on blood glucose levels.
Of the eight micronutrients tested for effects on hard clinical outcomes, supplementation with coenzyme Q10 (median dose 50 mg/d) reduced all-cause mortality (RR 0.68; 95% CI 0.49-0.94). Supplementation with n-3 fatty acids (median dose 1.8 g/d) reduced CVD mortality (RR 0.93; 95% CI 0.88-0.97), MI (RR 0.85; 95% CI 0.78-0.92) and coronary heart disease (RR 0.86; 95% CI 0.80-0.93). Folic acid (median disease 3 mg/d) reduced the relative risk of stroke (RR 0.84; 95% CI 0.72-0.97).
While vitamins C, D, E, and selenium had no effect on CVD events, beta-carotene (median dose 20 mg/d) was associated with an increased risk of all-cause mortality (RR 1.12; 95% CI 1.05-1.15) and stroke (RR 1.09; 95% CI 1.01-1.17).
The United States Preventive Services Task Force (USPSTF) issued updated guidance regarding vitamin and mineral supplements for the prevention of CVD and cancer earlier this year. In their evaluation of the data, there was little or no benefit of vitamin and mineral supplements for preventing CVD or cancer, and they specifically recommended against the use of beta-carotene and vitamin E supplements.
Liu said the findings of their study are in general agreement with the USPSTF conclusions, particularly with respect to vitamins E and D and beta-carotene. Unlike the task force, which focused on the supplemental effects of just seven vitamin or minerals, theirs is a more comprehensive analysis looking at an array of different micronutrients, including fatty acids, vitamins, minerals, polyphenols, and antioxidant supplements.
Meta-Analysis Findings vs VITAL, ASCEND
Luke J. Laffin, MD (Cleveland Clinic, OH), who led the recent SPORT trial debunking the benefits of a number of over-the-counter heart products, said the current consensus is that the best way to obtain micronutrients is through a healthy diet.  
"Supplementation is unlikely to be beneficial," he told TCTMD.
While the new meta-analysis suggested there is some benefit to omega-3 fatty acid supplements, Laffin pointed to the large US National Heart, Lung, and Blood Institute-funded VITAL trial, which was published in 2019. That study showed there was no benefit to marine omega-3 fatty acid supplementation, as well as no benefit to vitamin D, in the prevention of major cardiovascular disease events or cancer. The 15,000-patient ASCEND trial also showed no benefit of marine n-3 fatty acids—a mixture of 460 mg of eicosapentaenoic acid (EPA) and 380 mg of docosahexaenoic acid (DHA)—in patients with type 2 diabetes.
"This [meta-analysis] probably doesn't add a whole lot to the way that I think about supplementation," said Laffin. "I don't think there's a role for fish oil, particularly the combined EPA and DHA."
In the meta-analysis, investigators included 168 studies of unsaturated fatty acids, including different combinations of EPA and DHA, prescribed at different doses in a range of healthy and unhealthy patients with various conditions, including metabolic syndrome, diabetes, hypercholesterolemia, hypertension, and obesity. Combining a large number of trials, said Laffin, increases the likelihood of investigators seeing a positive signal with some of micronutrient supplements, including omega-3 fatty acids. With respect to coenzyme Q10, which is involved in energy production, Laffin highlighted that the 2014 Q-SYMBIO trial in heart failure patients, noting that long-term supplementation was shown to reduce major adverse cardiovascular events.
Liu, when asked about the conflicting findings with VITAL, said the effect of n-3 fatty acids supplementation may be modified by the underlying conditions of the study participants. "Dosage may be a factor as well," he said. "So is the EPA/DHA ratio in a specific population, although our analysis indicates that there is indeed an overall favorable effect of receiving any form of n-3 fatty acids on cardiometabolic outcomes."
In terms of his clinical recommendations, Laffin said that rather than thinking about dietary supplements, primary and secondary prevention patients should be focused on healthy, long-term changes to what they eat.
"If you're following one of these heart-healthy dietary patterns, such as the [Dietary Approach to Stop Hypertension] or the Mediterranean dietary pattern, you're going to get the vast majority of these micronutrients within your food," he said, noting that the researchers also alluded to this as well. "The best thing that you can do, and we can inform our patients, is to really focus on making those sustainable dietary choices. Not the flash in the pan diet for 6 months, but the sustainable dietary choices where we can get as many of these micronutrients as possible."
In an accompanying editorial, Juan G. Gormaz, PhD (University of Chile, Santiago), and Rodrigo Carrasco, PhD (Chilean Society of Cardiology and Cardiovascular Surgery, Santiago), say that the role of antioxidants in the prevention of CVD remains controversial. While there is a scientific rationale supporting antioxidants, namely the involvement of oxidative stress in cardiovascular pathophysiology, there is a lack of consistency in clinical studies that has slowed the inclusion of antioxidants into preventive cardiology.
While n-3 fatty acids have antioxidant properties, they also have other pleiotropic effects, including antiplatelet and anti-inflammatory effects. "Given that the compounds with more pleiotropic properties produced the better outcomes, the antioxidant paradigm on cardiovascular prevention can be challenged," write Gormaz and Carrasco. Beta-carotene, they point out, is an antioxidant with limited pleiotropic effects and it worsened outcomes.  

Michael O'Riordan is the Associate Managing Editor for TCTMD and a Senior Journalist. He completed his undergraduate degrees at Queen's…
Read Full Bio
Disclosures
An, Gormaz, and Carrasco report no relevant conflicts of interest.
Laffin reports consulting for/serving on a steering committee for Medtronic, Eli Lilly, Mineralys Therapeutics, AstraZeneca, and CRISPR Therapeutics. He reports research funding from AstraZeneca and serving as an advisor to LucidAct Health and Gordy Health.