Less Paravalvular Leak With Newer Acurate neo2 TAVI: Registry
Design changes, especially a taller skirt, have helped with the high rates of aortic regurgitation seen with the first-gen device.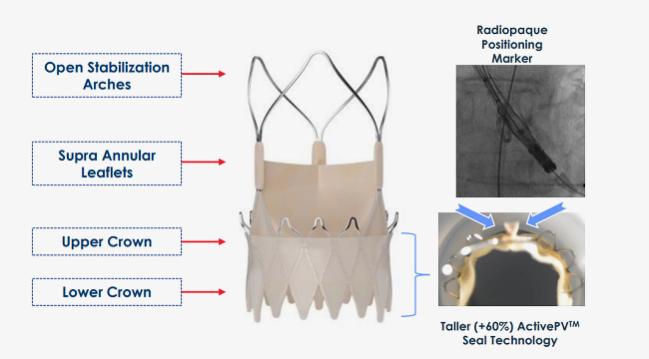 CHICAGO, IL—Design changes to the Acurate neo (Boston Scientific) transcatheter heart valve appear to have addressed its Achilles' heel of paravalvular leak, according to a new study presented last week at TVT 2022.
Patients treated with Acurate neo2 had a significant reduction paravalvular aortic regurgitation (PAR), with just 2% of treated patients having moderate or worse PAR at discharge versus 5.0% in those treated with the first-generation Acurate neo, report investigators. The lower PAR rate puts the device in the same ballpark of other currently approved TAVI valves.  
"In the SCOPE I and SCOPE 2 randomized trials, the valve was found to have higher rates of moderate or severe paravalvular leak," Andrea Scotti, MD (Montefiore Medical Center/Albert Einstein College of Medicine, New York, NY), who led the new study, told TCTMD. "It was a drawback of the previous generation and why they designed the new valve with this taller skirt. What we saw in the registry was that this tiny detail had a huge impact on the reduction of paravalvular leak."
The Acurate neo valve failed when it went to head-to-head with Sapien 3 (Edwards Lifesciences) in SCOPE 1 and missed the mark again in SCOPE 2 when it went up against CoreValve Evolut (Medtronic). The failure in both of these noninferiority trials was attributed to significantly higher rates of paravalvular leak, although use of the device was also associated with more bleeding and acute kidney injury. In SCOPE 1 and 2, the rates of moderate/severe PAR were 9% and 10%, respectively, whereas Sapien 3 and CoreValve Evolut had rates of just 3%.
Vascular Complications Low, as Well
The better results, which were published simultaneously in EuroIntervention, are taken from the NEOPRO and NEOPRO-2 registries of patients treated with the supra-annular, self-expanding Acurate neo/neo2 or the Evolut PRO/PRO+ valves. In this analysis, investigators focused on 2,026 patients treated with Acurate neo (n = 1,263) or neo2 (n = 763). Those treated with neo2, which gained European CE Mark in 2020, were slightly lower risk than those treated with neo, although patients were similar with respect to comorbidities.
As noted, there was significantly less moderate/severe PAR with neo2. Additionally, 59% of patients had no/trace PAR (vs 38% with neo) and 39% had mild PAR (vs 57% with neo). The reduction in PAR was driven by less leak in patients with heavily calcified aortic valves, say investigators. The 30-day rates of technical success and device success were similar between the two valves, as was the need for permanent pacemaker implantation (9% with neo vs 8% with neo2; P = 0.46).
"Vascular complications were also very low," said Scotti, noting that 94% of patients treated with neo2 had none at all (vs 83% with Acurate neo).
Scotti said that postprocedural moderate/severe PAR is not benign, calling it a relevant complication associated with adverse short- and long-term clinical outcomes, including a higher risk of death. He added that the results seen in the NEOPRO registries match those observed in the ITAL-neo registry. There, the rate of moderate or greater PAR with neo2 was 3.5% compared with 11.2% (P < 0.001) in the neo-treated patients. 
Given the limitations of the first-generation valve, the Acurate neo2 sealing skirt was enlarged by 60% and a radiopaque marker was added to facilitate better positioning within the aortic annulus. Additionally, the manufacturer created a new 14-Fr expandable sheath that wasn't available with Acurate neo.
Raj Makkar, MD (Cedars-Sinai Medical Center, Los Angeles), and Michael Mack, MD (Baylor Scott & White Health, Plano, TX), are currently conducting the Acurate Investigational Device Exemption trial that is required for US approval. That study, which includes roughly 1,600 patients with varying surgical risk, will compare Acurate neo2 against either Sapien 3 or CoreValve Evolut R/PRO and results are expected in 2024.
Ran Kornowski, MD (Rabin Medical Center/Beilinson Hospital, Petach Tikva, Israel), who participated in the TVT panel discussion, and whose center is part of the NEOPRO registry, called Acurate neo2 a "predictable" and "user-friendly" valve, saying it is "very difficult to whiff the implantation."
Michael O'Riordan is the Associate Managing Editor for TCTMD and a Senior Journalist. He completed his undergraduate degrees at Queen's…
Read Full Bio
Disclosures
Scotti reports consulting fees/honoraria from NeoChord.